Whore or drug mule? Those were Teresa Mendoza's choices in Queen of the South Season 1 Episode 2. 
Even if she would have died after swallowing those drugs, I still couldn't say she chose wrong. 
As Adaline told Teresa to stick close and she'd turn out just like her, I figured that was a bad idea even before the woman dropped dead in front of her.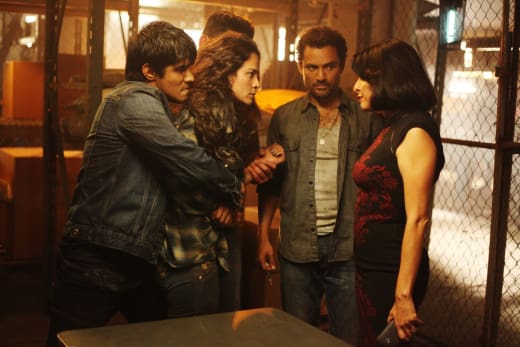 And that was a great scene. One minute she's talking and the next you see the light go out of her eyes. No fanfare. No drama. One minute she's alive and the next she's gone.
More disturbing than the woman's death was the way the men immediately sliced her open and began digging around in her gut for their drugs. She was nothing more to them than a living, breathing storage container, and now that she was dead she was no longer of use. 
Even after watching it happen, Teresa still chose to be Camila's drug mule because the risk was worth it in order to not become just another junkie whore. 
But what Teresa really was, was a pawn in a war between husband and wife who were only interested in outmaneuvering one another. 
What was in that journal that Teresa hid and will she be able to get it back? I was a little surprised she hadn't offered it to Camila already, but then again it really is her only leverage in a game she doesn't quite understand. 
I don't know which scene made me more ill. Watching Teresa swallow 23 packets of drugs or watching her throw them all back up. 
Teresa's future self continued to send her messages as in this Queen of the South quote…
I said welcome to America, I never said it was going to be easy.

Teresa
The future self trope doesn't really work for me and I'm glad they didn't over use it in this episode. 
For a moment, I wondered why Teresa didn't run or ask for help when she got to the airport in Texas, but then I realized that I was looking at it from my perspective and not Teresa's. She's a poor woman from Mexico. She's never been to the U.S. and she doesn't know who to trust. 
The truth is, Camila was probably right. Teresa doesn't know enough about the drug operation to be of any use to authorities. She'd probably be deported back to Mexico where Epifanio would ultimately find her and kill her. 
If she wants to die, she should run. If she wants to live, she should stay with me.

Camila
Then there's Brenda, whom I never thought would still be alive. Brenda has turned out to be far scrappier than I ever expected. 
Of course she was robbing people and setting trucks on fire when she was 11! Poor Oscar. Apparently crossing paths with Brenda has never turned out well for him.
Will Teresa eventually become an ally to Camila instead of just a tool to be used? Check back in next week when I review Queen of the South Season 1 Episode 3.
If you can't wait until then, you can watch Queen of the South online here at TV Fanatic. 
C. Orlando is a TV Fanatic Staff Writer. Follow her on Twitter.