Rizzoli & Isles Season 7 Episode 7 Review: Dead Weight

Jack Ori at . Updated at .
Sometimes change can be a good thing.
On Rizzoli & Isles Season 7 Episode 7, Jane reluctantly goes to Quantico to give a lecture while Maura works with Frankie, and Angela searches for a new apartment.
Did these changes really do anything for the series?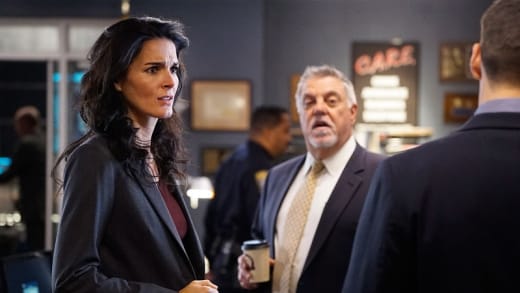 Who else knew Jane would find something to investigate at Quantico? I did from the moment she began whining about leaving Boston to visit.
Why do you have case face?

Maura
The case Jane found could have been a little bigger, but it was an entertaining side line. The student who targeted Jane for misogynistic comments and borderline sexual harassment was obnoxious and deserved some comeuppance.
It would have been even more satisfying had he actually had a hand in his classmate's death rather than being an obnoxious dude that probably contributed to her suicide in some way or other.
In any event, Jane's demonstration of interrogation techniques was amusing, and I was surprised it ended up being connected to her investigating the obnoxious student. It would have been fun even if it wasn't really a major part of the story.
Jane: Are the arms still attached?
Maura: I find your interest in this a bit grotesque.
The main case was quirky, as usual. Frankie was certainly disappointed that it was a run-of-the-mill bombing case and not a case of spontaneous combustion. At least he wasn't too much like a teenager during this story.
Considering the silliness of a bomb made out of fat removed during liposuction, that's no small feat.
I have been looking at apartments, but not because living with you has been anything but delightful.

Angela
Angela's sidelines are usually comic relief, and in some ways the apartment hunt was no different.
Angela must be the only person in America who still uses a highlighter and a hard copy of classified ads to find an apartment, and her inability to figure out another way to do it was funny.
Angela's story about Frankie's haircut was confusing as it wasn't clear what the point was.
After her talk with Maura, it made sense. Frankie wanted to be independent at 15 by going to the barber instead of letting his mom cut his hair, just like Angela wants to be independent now.
However, it made little sense while it was going on, and I was waiting for the punchline. 
Vince: He was an entrepreneur.
Frankie: How do you figure that?
Vince: The meth lab kind of gave it away.
The main case was also a bit confusing. Did everyone else understand what Dr. Belle was doing with the fat containers? I was a bit lost.
Maura being the one to catch the suspect was a nice touch, as she doesn't usually do that. However, I could have done without yet another chase where someone almost gets run over.
Why do none of these criminals ever get that running from the police doesn't work and doesn't make them look innocent?
Frankie: Rizzoli.
Maura: Isles.
Jane: That doesn't sound right.
Having Maura work with Frankie while Jane was away was an interesting experiment, but the hour wasn't really much different than any other Rizzoli & Isles story. If anything, the banter between Jane and Maura was better while Jane was away.
Do you think Agent Davies will be back as a potential love interest for Jane as the series wraps up? Do you want him to be? What'd you think of  "Dead Weight"?
Weigh in below, and don't forget you can always watch Rizzoli & Isles online if you missed anything.
Jack Ori is a senior staff writer for TV Fanatic. His debut young adult novel, Reinventing Hannah, is available on Amazon. Follow him on Twitter.