Surely, Jack isn't going down without a fight.
He finally realized the enormity of the case he was representing, getting details, including the number of times Andrea was stabbed, and taking a look at the crime scene on The Night Of Season 1 Episode 3.
That sent Jack over to see Nazir's parents and talk about fees, which in turn kind of blew their minds.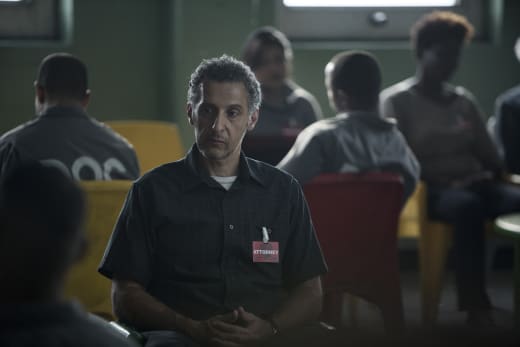 It gave them enough hesitation that another, more prestigious, attorney swooped in and stole the client out from under Jack.
Just because an attorney charges a fee or works with the lower classes on smaller cases doesn't mean he cannot handle himself on a bigger case. 
It might mean he's realistic about those he represents. The people with whom Jack usually comes into contact are guilty. Making a plea bargain would be in their best interest. 
And if you're not with a large law firm who takes on both corporate and criminal cases, you have to get your money somewhere. 
We haven't seen what Alison Crowe will be doing, so I'll hold out any judgment on her capabilities until we get to that point. 
Something tells me, though, that she won't be shopping for clothes for Naz and offering to put cash into his commissary account. Jack was putting himself directly into the case for Naz, something that doesn't seem to be the norm for any attorney.
What's worse is that he walked past the clothes store afterward and you could see him wondering if he'd dressed better if he would have been taken more seriously. 
Just like Naz kind of represents the "everyman" charged of murder who has no criminal past and has never been in prison, so does Jack represent that man in his profession. He's not the best nor the worst.
He makes a sustainable living, but isn't breaking down any walls. That doesn't mean he wouldn't like to, but not every attorney are like the ones we see on TV. He's just a regular guy. 
While Naz's case could have helped (and might still help) with his reputation as a better attorney than he was seen as previously, it didn't mean he was keeping the case for that point only, as he was interested in the case and cared about Naz. 
It seemed like he was in it for all the right reasons, and would get the cherry on the top of bolstering his career if he could pull it off.
I liked that Naz had a question about Alison Crowe. It's the same one I have.
Dad: This new attorney doesn't want anything. Only to help!
Naz: Why?
Dad: Why.
Naz: Why?
I'm afraid she might be in it for the Muslim angle. Is she looking to exploit that in some way? I can't imagine anything else she might see in the case to take it pro bono.
That she took someone who might be able to speak the native tongue of Naz's parents is what's leading me in that direction, especially because she didn't know that they spoke anything other than English. She was immediately out to impress them specifically based upon their heritage.
At Rikers, Naz was processed in and one of the unlucky who didn't make it into an actual cell. Nothing like being the number one most wanted man and sleeping in the common area.
The big dude on campus, Freddie, kindly gave Naz a pair of running shoes "for traction" and finally invited him up to his cell.
Naz is kind of like the antihero of the quad because he allegedly raped and murdered a girl. The other guys look down upon that here. Add to that his Muslim faith by birth when the others are faking it to get special treatment and he's a double threat.
If the entire group is going to pick on one inmate, it's going to be Naz. 
Freddie offered his protection, but we didn't learn what he wanted in return. There's always a price. Naz may be naive, but he's one moral naive SOB. It's impossible to hate on him because he seems so stupidly brave.
Even telling Jack that he wasn't his attorney any longer isn't probably something any other inmate would do. Others would have waited to meet their new attorney, or at the very least let Jack fill their commissary account. Not Naz.
The story Freddie told Naz about veal (which I have always hated and is why I try so very diligently to remember why I don't want to like the taste of veal, even though if we're going to have milk, we will always have veal), somehow connected to both Naz and kitty.
Kitty!! Will Jack finally start taking his antihistamines when he decides to adopt Andrea's cat? He's such a kind soul. He couldn't let the cat starve, nor could he allow it to look in at a home that now stands empty waiting for his owner to come home.
Learning most people want pure bred or "pretty" cats (who says that cat isn't pretty") so this one won't likely be adopted gave Jack hesitation. It already sort of adopted him by rubbing lovingly upon his saran wrapped, Crisco saturated feet. Jack won't leave it past ten days. Right? 
Yes, somehow it seems just as important Jack save the cat, who Andrea loved, as it does he represent in some manner the man who might have killed her. It just does.
The other story lurking around out there is with the cab owners being told they could charge Naz with grand theft auto. Now that Jack isn't representing Naz, will he take on that case? Would he be hurt enough to do that? It could happen. He's only human, after all.
Where do you stand on all things The Night Of after "A Dark Crate"? There weren't a lot of clues, but it was still a nice, dramatic hour to soak in. So well acted and written so interestingly. Have your say in the comments!
Carissa Pavlica is the managing editor and a staff writer and critic for TV Fanatic. She's a member of the Critic's Choice Association, enjoys mentoring writers, conversing with cats, and passionately discussing the nuances of television and film with anyone who will listen. Follow her on Twitter and email her here at TV Fanatic.