The Originals Season 4: Time Jump, Haylijah!
Paul Dailly at .
Those pesky Mikaelsons invaded the San Diego Comic-Con and brought a whole bunch of details with them.
We finally got confirmation that the show will be jumping five years into the future. That will put it a bit ahead of The Vampire Diaries' timeline.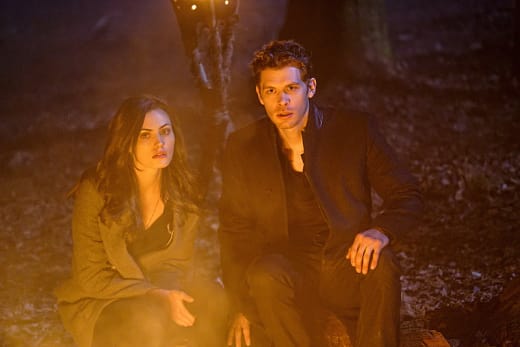 Kicking off the panel was a video of Hope asking Hayley if they are going to save Klaus. 
"She was two years old when we left her … and she's now a little person," Michael Narducci said of Hope. 
"She's got dialog and hopes and dreams, and she misses her dad and understands her family has suffered a great loss. … Hayley's a great mom."
It was always a given that Hayley would be a great mother. Throughout her time on The Vampire Diaries and The Originals, she strived to find her place in the world and to have a sense of belonging. 
"When we met Hayley, all she ever wanted was family," Phoebe Tonkin acknowledged.
"Through the events that happened, she created a family on her own with her daughter. I don't think she feels alone — one, because she has five bodies in the back of her car — and because she has a purpose, a family-driven purpose."
We also got to find out exactly what Hayley needs to do to save everyone. She needs to locate seven werewolf packs. 
"She has to explore the werewolf side that's going to connect her to those packs," Narducci teased. 
If you were one of the many who loved Yusuf Gatewood's performance as Vincent, then you're in for a treat because the show will be delving into his backstory. 
Can we expect a reunion for Haylijah? That was always going to be a hot topic. Julie Plec opened up about their relationship. 
"With Hayley and Elijah, we felt they'd gotten to dance around each other early on, then become terribly separated, emotionally and physically," Plec said.
"Knowing this family was going to be split apart for the next five years, giving them the opportunity to [get together one more time] felt right. … Time will tell how much happiness they're able to have — or not have."
It's very clear that The Originals still has a whole lot of story left to tell, but could the end of The Vampire Diaries spell the end for the Mikaelsons?
What do you think about the latest scoop?
When should The Originals end?
Hit the comments below!
Paul Dailly is the Associate Editor for TV Fanatic. Follow him on Twitter.