Killjoys Season 2 Episode 7 Review: Heart-Shaped Box

Henry A. Otero at . Updated at .
Yup, I guessed it several episodes back folks. Sabine was Level Six!
It's always amazing to me how much story and detailed information is crammed into each 10 episode season of this series. Killjoys Season 2 Episode 7 dropped several important bits like Khlyen being there at the start of it all and Double-Dutch's name.
I'm still not sure how everything ties together, but I'm dying to find out.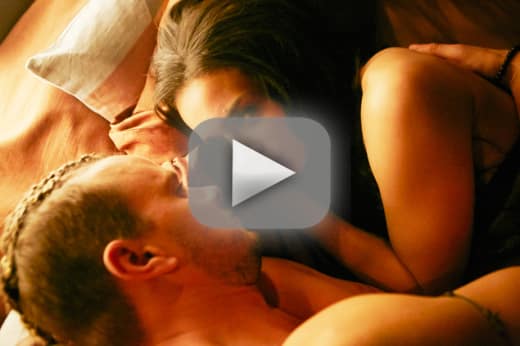 Well, the sexytime between Dutch and Alvis doesn't seem to be letting up any time soon. Sadly, we can't say the same for D'av and Sabine, but more on that in a bit.
Did the appearance of "Double-Dutch" freak you out as much as it did me? Hopefully that was just a bad dream and not a sign that Alvis' days are numbered. I really dig monkpants and his role on the series, so I'm hoping he sticks around. That said, I have a bad feeling not everyone is going to make it out of this season alive.
Back in Old Town, D'avin realized he had not killed Sabine and instantly went looking for Johnny. By the way, I totally understand John's position and what he's trying to accomplish, but I just hate that he's lying to the team. Anyone else feel he's going from bad to worse?
Dutch's reaction to the whole Sabine thing was comedy gold. Hannah killed that scene.
Dutch: It's Sabine.
Johnny: Yeah.
Dutch: It's Sabine in a bag.
Johnny: Yes.
Dutch: Johnny, why did you bring me Sabine in a bag?
Johnny: Not a lot of better options.
Dutch: Oh I think when you're in girl in bag territory you skipped way the hells past better choices. What is going on?
D'avin: She's a Six.
While I wasn't 100% sure why Sabine reacted the way she did to D'avin, the fact she was a Six was definitely the easiest explanation. Several folks made an interesting connection between the scarback tree, the plasma and the peaches but I think things played out nicely this way.
We learned much more about Sabine and the Sixes. I'm still holding out hope her nanites saved her from Dutch's death blow. That said, Tori Anderson is starring in The CW's new show "No Tomorrow" so she may be on to bigger and better things. Awwww.
Sabine/Killjoy Jenny looked pretty damn good for 89, right?
I laughed so hard when she finally came to and Dutch knocked her out. "Now she's normal unconscious, we can work with that" Dutch told the guys. This episode was written by Michelle Lovretta, so there were lots of great little moments like that sprinkled in.
The interrogation scene was intense. Dutch was ruthless, wasn't she? "I'm a torture expert" she told D'avin. Gross was right, Ha!
I couldn't help but feel sorry for Sabine, and I'm sure I am not the only one that bought her story. It made sense that Khlyen planted her at The Royale to keep an eye on D'av. Yup, I totally fell for that one. The fact she was Black Root never even occurred to me.
Turin and his creepy interrogator were somewhat useful, but that beheading was unexpected.
When Dutch fought Romwell on Killjoys Season 2 Episode 6, I honestly thought his head was going to drop on the floor. Then I figured that would probably be too graphic for Syfy... not so much. Creepy Phil lost his head big time. Ouch!
Turin: I gotta go dark for a while. Clean house. You and your team are on your own.
Dutch: You're taking Sabine then, right?
Turin: Can't do it. Her people will probably send the Black Root for her here.
Dutch: Khlyen mentioned them. What are they?
Turin: They're like a secret police of the Sixes. Keep their people in line.
So, we learned a bit more about the Black Root and their connection to the Sixes, but what about "The Lady." I believe there was just one mention of her early on, but my guess is that person is either Double-Dutch or her mother. Any theories?
I loved the way D'avin stood up to Dutch in that hallway scene. Maybe I'm just a sucker for a pretty girl, but I liked Sabine from day one and the fact she turned out to be a Six didn't change that. I'm fairly certain I would have released her too, so I don't blame D'av at all. On the contrary, I totally get it. Besides, Sabine giving up all those Sixes was a huge deal. I'm surprised Dutch didn't cut her more slack.  
The glowing blue bathtub scene gave us our half-naked D'avin moment of the hour. Though this time, Sabine joined in as well just a tad overdressed if you ask me.
What were all those visions that flashed on the screen? I wonder if we'll get a real explanation, or if they were just Sabine's memories. We did learn that the silver box/mirror cube was one of several safe houses of Khlyen's.  
Luke MacFarlane and Tori Anderson had such wonderful chemistry. Their last few scenes together were quite emotional. There might have been something in my eye.
Do you think Sabine would have really tried to kill the entire team? I guess she would not have had much choice once the green kicked back in. Perhaps she was seeking Khlyen's help to be free of it all. I think she genuinely fell for D'avin.
D'avin: I let Sabine go. I know you're not gonna agree...
Dutch: Stop. I can't hear you over the knife in my back.
D'avin: Dutch.
D'avin: She's Black Root. She's not some Level Six guardian angel with boobs, or whatever the hells you thought she was.. Khlyen didn't send her to watch us. She was using us to find Khlyen.
Good thing D'av hid a tracker on Sabine. That was a smart move. Though I loved the character, it's hard to believe Sabine survived that gunshot to the head. Talk about sudden brain death. Still, D'av asked about it and the Black Root picked up her body so you never know. Remember Turin survived that sword through the midsection.
Wasn't it nice to see Bellus this episode? I've been missing Khlyen and Fancy as well. Though I've got zero complaints about the storyline this year, I do wish we'd had a chance to spend more time with some of our favorite supporting characters. Hey, there's always Killjoys Season 3. #RenewKilljoys Syfy
Anyway, so Johnny played hardball with that scientist lady and found out the controls to "The Wall" were in Jelco's office. I wasn't surprised he got caught, but boy are Dutch and D'av going to be disappointed in him. Will Jelco torture Johnny? Things are not looking good for him.
What did you think of "Heart-Shaped Box"? Did you know Sabine was a Six? Is Double-Dutch's name Aneela? Who is this mysterious woman? Are you feeling a bit disappointed in Johnny? You're up guys, sound off in the comments below.
The season finale is getting close. Watch Killjoys online via TV Fanatic to get caught up.
NOTE: Killjoys Season 2 Episode 8 is titled "Full Metal Monk" and airs on August 19.