Outcast Season 1 Episode 9 Review: Close to Home

Lisa Babick at . Updated at .
Well, that just blew my mind.
Even though I gave in and read some of the comics today, I am still in shock. Not so much with Megan's transformation (which was still shocking in its own right), but more with Mark's demise.
Fear. Joy. Death. What a way to end Outcast Season 1 Episode 9 and prepare us for next week's season finale.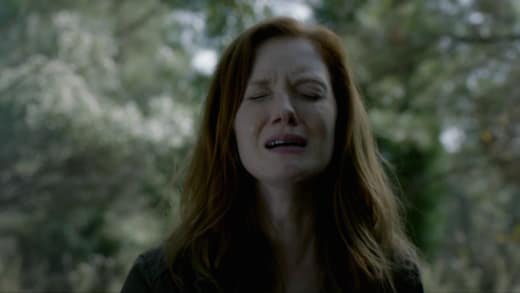 Wow has pretty much become my mantra for Outcast since the beginning. But, watching Megan's transformation in those closing minutes was truly mind-blowing. 
It was a much more powerful taking over than the one we saw with Sidney on Outcast Season 1 Episode 8. Maybe because we weren't expecting it to happen the way it did.
Megan and Mark were having quite the emotional moment when she told him she was pregnant. While she was wound up with worry, he was a sea of calm. He unwound her with ease using his extraordinary kindness and love for her.
Once again, Mark showed her that no matter how difficult it all looked, everything was going to be okay, which is why the possession scene was that much harder to digest.
From the moment she stepped out of the shower to the moment she yanked the glass out of Mark's neck, watching Megan transform from a happy pregnant lady to a crazy demon lady was amazing.
Props to Wrenn Schmidt for that brilliant performance. She made it real, and it was one of the best scenes of the series so far.
As far as Mark is concerned. What a shocker. It wasn't so much Megan slamming his head into the mirror as it was him pleading for help and her just watching him and doing nothing.
I can't even imagine what was going through his head. And, I guess that's what Ogden meant when he said there was an adjustment period. You have to wonder, though, if what Sidney told Kyle was true about the host coexisting with the demon.
Was Megan able to comprehend everything going on? Is that why she took the glass out of her husband's neck? Or was the demon just fascinated with all the blood?
There's something else going on there, and it's frightening to think what's happening with Holly and Amber. Hopefully, Kyle will get there before something horrible happens.
Sidney is building up quite the army. Not only does he have the help of the church council, but he's got Aaron. While I don't think Aaron is possessed, he might as well be. That kid is a loose cannon, and Sidney is taking full advantage of him.
And what's with that basement full of mannequins? I'm not sure if Ogden was thrilled to be getting out of town, but he certainly wasn't happy to be doing Sidney's bidding. That is, until demon Kat had her way with him. Whatever floats your boat, guy. But, still. Demons and mannequins don't seem like a good mix. 
Poor Reverend Anderson is pretty much up the creek without a paddle. He doesn't have any friends left, and he's screwing himself at every turn. I'm not sure what he thought he was going to accomplish by beating up Sidney at church, but I absolutely loved his response to Giles.
It's not every day you get to punch the devil in the face.

Rev. Anderson
The fight scene was great, but it's hard to believe that Rev. Anderson fell right into Sidney's trap, no matter how giddy he was about punching the devil in his face. He had to know he was being set up, so why was he so stupid? 
Not only did he mess up with the church council, he messed up with Patricia too. He did not handle that situation well at all. He should have just kept his mouth shut and let Patricia do the talking. Would have saved himself a lot of heartache.
But, Reverend Anderson isn't doing a lot of thinking these days. His world is all about reacting.
Luckily for him, Kyle hasn't turned his back on him. I was surprised Kyle actually gave him the time of day after their big fight last hour. I was even more surprised that the Reverend admitted to his jealousy. Maybe now that it's out of his system, he and Kyle can work together again to set the town straight and stop all these demonic possessions.
Obviously, their first new case together is going to be Megan. That's going to be one big mess for sure.
So what do you think? Will Kyle and Reverend Anderson be able to beat Sidney and the other demons? What are your thoughts about Megan? Hit the comments and let us know.
If you missed any of the action, you watch Outcast online right here via TV Fanatic!