Pretty Little Liars Season 7 Episode 9 Review: The Wrath of Kahn
JennTVQueen at . Updated at .
Hanna may have learned fashion, but she also learned how to use a date rape drug in college.
We find this out all too well in Pretty Little Liars Season 7 Episode 9, but maybe Hanna should stick to fashion. Hanna pulls out all the stops to take down Noel. But too bad she didn't think about Noel out smarting her.
Noel has hosted many parties Hanna, he knows a roofied drink when he sees one. I love Hanna, and of course her one-liners, but she needed the girls to take Noel down.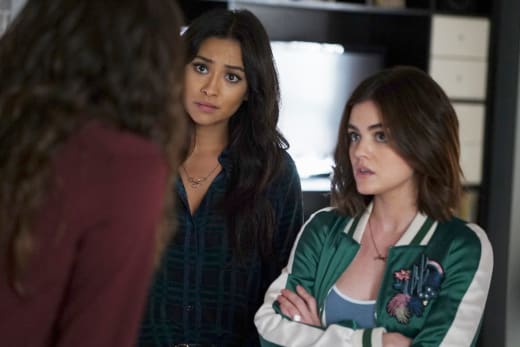 The one piece of evidence Spencer and Emily found is all Hanna needed to see exactly what they're up against. How sad was it watching Spencer re-live that traumatic experience? How far down the rabbit hole does Noel go in the dollhouse experiment?
Speaking of rabbit holes, Emily is going down one of her own. I really don't understand why Paige is still here. Oh yes, the job interview. Sorry, almost forgot. Emily's girlfriend, Sabrina, is desperately trying to get closer to Emily. But it seems with Paige around Emily is looking for comfort from someone who already knows her secrets.
Emily doesn't seem to realize we'll be forced to keep seeing Paige if she doesn't start dropping those walls with Sabrina.
Exes seemed to play a common thread in this episode; Tarzan Jason was also back. We're finally able to see what happened between him and Aria.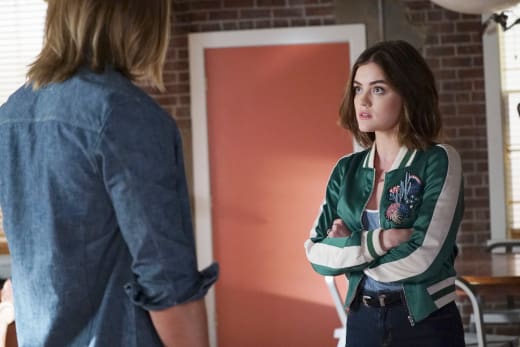 What had to be one of the hottest scenes in the whole series flash-backed to their relationship. It seemed like the two actually dated for a little while. I was very surprised by that, as I expected a quick hookup.
Jason appeared to be very into the relationship. I think he really liked Aria and maybe still does. But even Jason knows that Ezra and Aria were meant to be. I concur Jason! 
It's really hard to grasp how Mary had not one, but two babies while in Radley. Which, I may have to remind you, was a mental institution and not the hip hotel it is today.
Aria and Jason finally received the paperwork they needed, which of course was redacted. Nothing is that easy in Rosewood. Seeing Noel's dad as the judge who signed off on the adoption did raise some eyebrows.
I know Noel is up to something, but could he be the missing Drake child? We clearly know now he was helped Charlotte with the dollhouse. Where they both getting revenge on their family? Why didn't they think to call Mary and ask if she wanted to press a button?
Spencer is finally finding new love, and I honestly don't believe the "too soon" line. Maybe if she knew Haleb were on different pages she would feel differently.
I loved how Marco couldn't wait to tell Spencer about Archer's case going international. The whole "I'm not on your friend's case anymore can I take you out to dinner," line should have worked on Spencer. Now that he has saved her from A.D (for now), I presume we'll see another make-out session in the future.
At the end we saw Hanna manage to out smart Noel and knock him out with a hammer. Now how she gets that tall glass of water to her lair remains to be seen. 
I really don't know how Hanna thinks this will end with a win. Noel is just going to tell the camera everything he has done? 
Don't think so.
My favorite part of the episode was knowing Nicole had not been found. Is that too mean? I really want to see Ezra and Aria get married, but I have a feeling the Nicole storyline is not finished yet.
All in all, I really enjoyed "The Wrath of Kahn." I thought the baby adoption story was a reach at first, but if Noel is a part of this in some way, it makes it more believable. 
What we know about Noel so far:
Possibly helped Charlotte with the dollhouse experiment.
Had Sara's phone and tried to get rid of it.
Snuck into Sara's room after her death.
Worked with Jenna and Sara.
Used to work with Ali when she was on the run.
His dad signed off on baby 2's adoption papers.
Made Grunwald's nose bleed.
He is creepy.
Remember you can watch Pretty Little Liars online right here on TV Fanatic! Keep up liars!
What did you think of the episode? Is Noel A.D or baby Drake? Hit the comments below to let us know!