Suits Round Table: Will Kevin Go After Sutter?!?
Paul Dailly at .
Mike Ross is a man of many talents. 
He used that to his advantage on Suits Season 6 Episode 7 in order to get Kevin to go after Sutter. 
Below, TV Fanatics Christine Hinton, Stacy Glanzman, Jasmine Blu and Allison Nichols discuss Mike's big move, Leonard's dilemma and Tara's shock for Louis...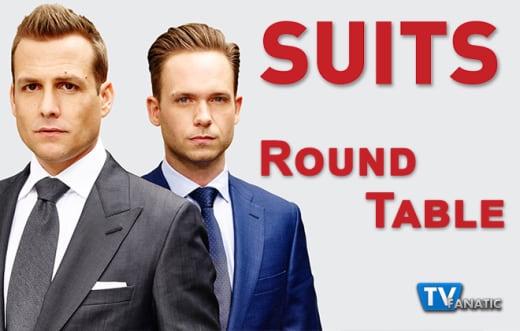 Did Mike go too far by speaking to Kevin's wife?
Christine : No, I think he didn't go far enough. I know he didn't want to give away that he's an informant but he could have been more forceful with Kevin's wife. She understandably doesn't want to turn on her father but does she realize that both she could end up in prison along with Kevin if she continues to do nothing? Who will be there for her kids then? Who cares about a payday when your kids are in foster care?
Stacy: It was a gutsy move, especially now that Kevin is so angry with him, but it was a good move. He's trying to help them. I don't know how yet, but I think somehow he will convince them to listen to him. It's not worth risking both of them in prison.
Jasmine: No. I agree with the others. Mike is trying to help them. He probably should have gone further. Kevin's wife needs a reality check. She can't sacrifice her own kids and family for the safety of her shady father.
Allison: I don't think so. He's trying to do what's best for Kevin and his family. Sutter's going down, so Kevin and his wife needed a reality check.
What did you think of Leonard's witness being dead?
Christine: I liked that twist because it was realistic. She was a drug addict, so her death wasn't surprising. Am I a horrible person for hoping that none of this goes well? I wouldn't mind seeing how Rachel handles things if she can't get Leonard out. It could be a hell of an emotional story arc for her that could have ripple effects for seasons to come.
Stacy: I was actually not expecting that. I have to admit I was hoping they would find her and her testimony would clear him. I'm still rooting for a win for Rachel, especially after the victim's dad blindsided her, but I agree with Christine that a loss could be interesting too.
Jasmine: I agree that it was realistic and not surprising, unfortunately. A loss probably would be more interesting to see play out, but I want her to win this. With everything going on, Rachel needs a victory. 
Allison: I wasn't expecting it, but it's not all that surprising. It was a realistic turn to take, and now I'm curious as to how Jessica and Rachel can save Leonard. It seems like the witness was their only way to free him. I also wouldn't mind seeing Rachel lose this one. It could be really interesting to watch how she copes.
React to that big Tara revelation.
Christine: I didn't see that coming. I hope Louis sets himself a deadline for this relationship. I'd say, give it three to six months and if she's still not choosing Louis exclusively then it's time to cut ties. Of course, I'm not sure Louis will be that objective when his heart is on the line.
Stacy: Louis is not the type to be afraid of a little competition, and he's got Donna in his corner, so I say let the best man win! I just hope he doesn't get his heart broken again.
Jasmine: Yikes! That was unexpected! I get that he really likes Tara. I'm not sure if that's an ideal situation for someone like Louis. He doesn't share and he doesn't play well with others, but he's a sensitive soul beneath that tough exterior. This can either bring out the worst in him or crush him. I don't want to see either.
Allison: Wow, I did not see that at all. I still don't care about this storyline though, so I kinda wish Louis just walked away. I want to be done with it.
Are you glad Louis and Stu are friends?
Christine: I'm not sure I'd call them friends just yet but it's good to see them moving forward. I'm not sure where they're heading with Stu. I still don't like him but I'm at least a little bit intrigued now that Donna and Jessica have both put him in his place.
Stacy: I like that they at least reached a truce. The mugs as a peace offering was a nice touch.
Jasmine: More like frenemies. Yeah, I like it. I'm not a big fan of Stu either, but he has dialed it down a notch since his first appearance. The mugs were a great touch. Never underestimate the power of a really great mug.
Allison: I just love Stu. He's been an interesting way to shake things up at Pearson Specter Litt, and he's also been useful. 
Will Frank really get out of prison soon?
Christine: He'd better for Mike's sake! If Frank labels Mike a rat in prison, things could become even more dangerous. I hope Harvey hasn't forgotten about getting Frank out…of course then I hope Harvey will have him sent back as soon as possible!
Stacy: Honestly I hope not. He doesn't deserve to get out, but him being in there with Mike is no good either. Hopefully Harvey will find another way to get Mike out and reach a deal for Kevin, so Frank can stay in there and rot.
Jasmine: I'm with Stacy. He doesn't deserve the satisfaction of stepping outside the prison gates. There has to be another way.
Allison: I'm also kind of hoping he can't get out early. Whether he gets out early or he stays inside, Frank is going to be a thorn in Mike and Harvey's side. 
Remember you can watch Suits online right here on TV Fanatic. Get caught up on all the drama. 
Note: Suits Season 6 Episode 8 airs Wednesday August 31 at 9/8c on USA Network.
Paul Dailly is the Associate Editor for TV Fanatic. Follow him on Twitter.