The transition continues, in fits and starts.
It's hard to blame the creative team for the un-evenness of Criminal Minds Season 12 Episode 3. After all, it's hard to predict when one of your stars is going to melt down on set, but not impossible, as Thomas Gibson was a repeat offender.
But the good news is Prentiss is back, to universal acclaim in the BAU bullpen. Must be because she brought doughnuts ("oooooooo ... donuts!"}.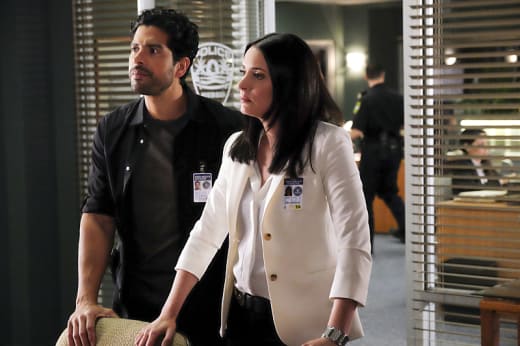 When she hears about how her former teammates are short-handed, Interpol agent Prentiss drops everything and flies home to D.C.
JJ: It's so great to see you, even if it's only temporary.
Prentiss: Well, when Hotch told me the director tapped him for special assignment, I wanted to help out. Moreso when he said that you still have escaped serial killers you have to catch, on top of your normal caseload.
Prentiss meets cute with Alvez after about 90 seconds of analyzing what his Spartan desk says about him.
He's behind me right now, isn't he?

Prentiss
After the joyous reunion, it's time for the team to get down into the mud. Or the cement in this case.
This hour's whack job is burying live single mothers in barrels, covered in cement. To keep them docile while he's doing that, he's giving them crude chemical lobotomies beforehand. 
Yeah, he's got mommy issues. This adopted 20-something recently found out that his promiscuous adoptive sister that he lusts for is actually his biological mother, which sets off his killing spree.
He blames the woman that he thought was his adoptive mother, but who actually is his grandmother, for his murderous state of mind.
You should have protected me. A mother protects her child.

Stuart [to Gloria]
After much theorizing, the team is able to give Garcia some sketchy parameters, and she miraculously narrows down to the unsub, and the whole team races to his home just in time to prevent him from turning his grandmother into a permanent foundation.
Although this episode marked the return of Prentiss, it really continued the development of Luke Alvez's back story. When you're replacing the Chocolate God of Thunder, you need some layers.
He runs through the Northern Virginia woods with his German shepherd Roxie, feeds him healthy meals and consults with him about fashion choices (which explains a lot). He's busy absorbing his BAU training manual, and picking up other tidbits from his teammates.
One of the most enjoyable scenes is his interaction with Prentiss while on stakeout, an activity of which Prentiss isn't a fan.
Prentiss [to Alvez]: Let me count the ways: the ass-numbing boredom, the greasy fast food, the cold coffee. And may I tell you how much I hate peeing in the woods?
He takes a stab at profiling her while she learns more about his military background through a series of questions.
Still, Luke remains a mystery. He stays behind while the girls go out drinking, which leads to gossip.
Garcia: You know why he doesn't go out with us? it involves someone named Roxie.
JJ: Roxie? Do tell.
It appears that Rossi will be taking over for Hotch, as he was issuing the orders while on this mission. Yet Prentiss took over Hotch's slot in the center of the team photo in the opening credits. So it's still up in the air.
I fear that Hotch will meet a final, off-screen end, giving the rest of the squad the chance to emote. After all, producers eventually killed off Jason Gideon for Mandy Patinkin's abrupt departure after Criminal Minds Season 2. But Gibson's behavior really didn't allow for a nuanced farewell.
For Hotch's greatest hits, you can watch Criminal Minds online.
Oh, as Prentiss points out in a neat bit of exposition, there are still fugitive serial killers on the loose. Hopefully, we can get back to that storyline sooner rather than later. But it won't be next Wednesday, as a different kind of sociopath take over the evening. Yup, it's the third Presidential debate.
Are you glad Prentiss was back? Did anyone miss Tara, who must have been off doing research? How long will Hotch's absence be dragged out? Comment below.
Dale McGarrigle is a staff writer for TV Fanatic. Follow him on Twitter.