DC's Legends of Tomorrow Season 2 Episode 3 Review: Shogun

Carissa Pavlica at .
What a great improvement over DC's Legends of Tomorrow Season 1.
Everything clicked on DC's Legends of Tomorrow Season 2 Episode 3. It was fun, refreshing and the new characters proved they are the perfect addition to the cast.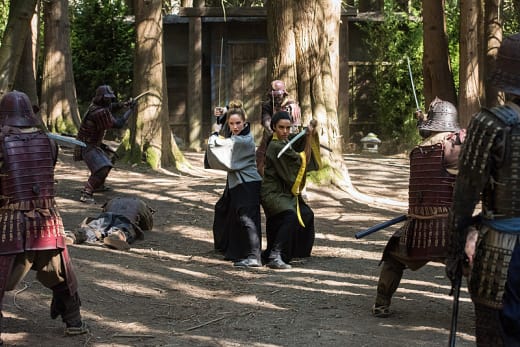 Amaya was going around the Waverider knocking out the Legends (although not killing them, which was odd) because she thought they, specifically Mick, had killed Hourman.
It's funny she whittled down the culprit to the felon on the team and decided none of the others could have done it, even if Rex's only description was "time traveler." That could have been anyone on board the Waverider, although it turned out to be none of them at all.
Amaya: I'm sorry for knocking you out.
Sara: I'm sorry for locking you up. Call it even?
But Sara and Amaya ironed out the misunderstanding very quickly. Amaya decided to trust Sara's thoughts on the issue of Mick, but that didn't mean she wasn't keeping her eye on him, either.
Their interactions were cute. She tried to think the worst of him, but he wasn't letting her down consistently, which made her think there was more to the guy than he let on.
Sara: Where the hell is Mick?
Amaya: Probably ransacking the village himself.
[a Ninja comes in and takes out a few guys]
Mick [removes Ninja hood]: Told ya Ninjas were real.
Seriously, who could have watched his childlike excitement over Ninjas and not been just as excited for him as he was for himself? And I'm not even wigging out over the fact that there might be the potential for a love interest here.
I mean, Amaya's spirit animal is a gorilla. What better match than to be one with Mick Rory? Then she gave him the Ninja star, his eyes lit up like Christmas and he did the closest thing to a smile when he altered his smart ass answer to her about hunting down Rex's killer as they were preparing to fly off. 
And as if that thought isn't foreign enough to me, I also wasn't appalled at the kissy kissy stuff between Nate and the Japanese girl. In such a short time, they've written both Nate and Amaya well enough that I want them to be happy. 
Nate spent his life protected and worried about his disease, and I really buy into that. It doesn't feel fictional. Whether that's due to the casting this time around or the writing, I'm forever grateful for the good starts we're getting with both Nate and Amaya.
Sara: How does the showgun even know how to use the ATOM suit?
Ray: I designed it so an idiot could use it.
Mick: An idiot does.
Before addressing the real problem at hand, THANK YOU, Sara, for asking the appropriate question!! That was super important and I was wondering it myself.
It also addresses the question as to why Felicity was able to fly it in a jumping the shark moment to save Oliver on Arrow two seasons ago. Can we also assume Ray is rethinking his methodology in making that particular choice right about now?
The ATOM suit is gone. GONE! Do you think there's any chance Rip had that stored in his clone maker like he did an arm when one was chopped off or how they can make clothes out of thin air? That would be most helpful at the moment.
All Ray really had was his suit. He didn't have the confidence in himself necessary to be a hero without it. Maybe chatting with the fellow and wearing his son's armor (was I supposed to recognize and understand the history behind the name of the man?) and using his sword helped bolster his confidence a bit.
Or maybe the secret dingbats Jax and Stein are keeping pertains to Ray without his suit or Sara as the new leader? Whatever it is, they need to speak up.
The secret wasn't for them. It was for Rip. Sara is now acting in Rip's stead. As soon as they heard the message was for the captain of the ship, they should have stopped listening and got Sara. Now they're hiding something from her, which instead, since they've heard it, should be shared with them all.
THAT was the worst part of the episode and the only few minutes that didn't entertain. Which was a shame, since the message came from a 60-some year old Barry Allen! 
Do you think this ties into the upcoming "Invasion!" crossover? If so, that will be even more upsetting, because bad, bad secret to hold onto. Although I don't know why the message would be coming from 2056. I need your thoughts, people!!
The fight scenes were great this hour, too. Vixen and White Canary already have a rhythm that was never achieved between Canary and Hawkgirl.  They're on the same level. Mick also gives it his all, and even though Ray doesn't have powers, he and Nate seem destined to be fighting partners. 
Things seem to be falling into place nicely with this new team.
The other thing that really helped this hour to shine was the lack of a big bad. When the Legends are just flying around and making use of their skills, answering the call of time aberrations, it's an improvement over stuffing in the big bads. 
Where do you stand on all of this? Share your thoughts with me and let me know if you agree about Nate and Amaya, if you're enjoying Mick and Amaya and what's going to happen to Ray without his suit? What's the big secret? 
Make sure you watch DC's Legends of Tomorrow online for the best of this new season!
Carissa Pavlica is the managing editor and a staff writer and critic for TV Fanatic. She's a member of the Critic's Choice Association, enjoys mentoring writers, conversing with cats, and passionately discussing the nuances of television and film with anyone who will listen. Follow her on Twitter and email her here at TV Fanatic.