New Girl Season 6 Episode 3 Review: Is it starting to feel like Old Girl?
JennTVQueen at . Updated at .
While the roommates go glamping, Nick discovers he is a talented writer.
On New Girl Season 6 Episode 3, the gang's all together and able to bring back the laughs.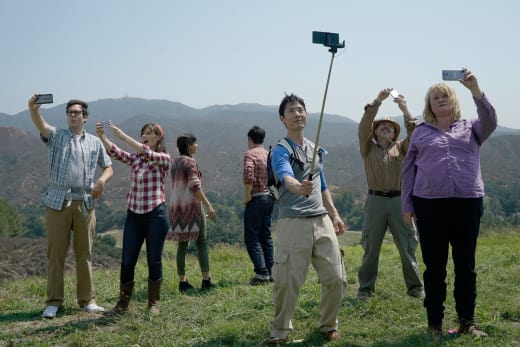 Aly is also back and Winston could not be happier. Watching them together makes me so happy for Winston.
Winston has been through some crazy relationships. Remember how he met Ferguson? I hope we see this relationship develop into something deeper.
Out of all the roommates, Winston deserves his happy ending. After playing a third, sometimes fourth string character during the series, it's nice to see him winning. 
I'm about to take Aly to Mount Smushmore.

Winston
Can we talk about Jess' "singles" club? Everything about this club was hilarious. Robbie and Principal Foster coming back was a major plus.
Schmidt's love for Nick is sometimes weird, but tonight was all about their friendship. I like how Schmidt pushed Nick into seeing he is a talented writer. Nick hearing that compliment from Schmidt finally made him believe in himself. 
Nick is finally being the man everyone always saw, including me!
I cannot accept this Robbie and Jess relationship. I know Jess can't be alone, because let's be honest, she is the most comical in relationships. Yes they're cute in a 'we can sing by the campfire way,' but Robbie is too weird to be with Jess. 
Emotionally they may not be available, but socially they are.

Jess
I hope this relationship is just a time filler for when Nick and Jess get back together.
Every character to me is starting to get lined up for an inevitable ending to New Girl. They each are either in a relationship or down the right path. Jess' character, of course, is not yet fully formed.
I think Jess will be the last to get her happy ending. Of course, we don't know if that ending is Nick, but my money is on it.
Though this episode was funny with the singles club scenario, Nick's meltdown and Schmidt's antics, it still feels like this series is missing something.
I feel that the jokes were there tonight, but the story development was not. The show is giving us much of the same but without any depth.
I'm single and sufficient.

Jess
What I would like to see is...Cece and Schmidt starting their next chapter in life and finally fixing up the house, and Jess back at work and building her life after Nick.
Why is it always Africa? They have a deep catalogue.

Principal Foster
How are you feeling about the season so far? Does this feel like the beginning of the end? Will Schmidt and Cece ever move out? Are you over Reagan? How cute are Aly and Winston?
Let me know your thoughts in the comments.
If you're missing any of the past shows, you can watch  New Girl online at TV Fanatic!