New Girl Season 6 Episode 4 Review: Homecoming
JennTVQueen at .
New York, New York!
On New Girl Season 6 Episode 4, Schmidt is being honored by his high school, and the whole gang flies out to New York to celebrate.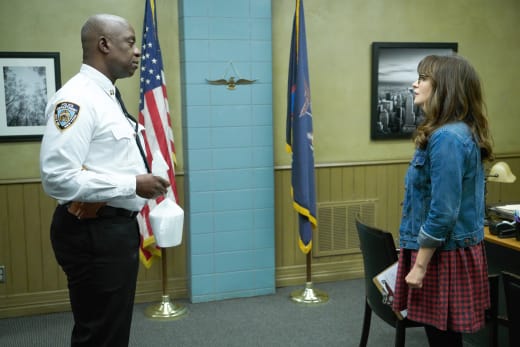 This installment was enjoyable and hilarious. Placing the roommates in a different city brought out new laughs and situations. 
Schmidt being back home meant some extra smothering behavior in his mom. And the confrontation between Cece and Louise is every new wife's nightmare. 
Fairfax and La Brea.

Cece
Cece finally receives respect from Louise, but of course she had to threaten to fight anyone who harms Schmidt to get it. Eh, who cares?
The chemistry between Winston and Nick is incredible. My favorite scene was when they spent all their money on a lavish lunch, just to end up broke.
Being from New York, I thought hearing them yell out, "Show time," was hysterical, because that's exactly what the street performers say.
Men of means.

Winston and Nick
The highlight of the show was supposed to be the crossover, but it fell flat to me. The Brooklyn Nine-Nine cast didn't add anything to the episode in any way. The crossover felt forced and unnecessary.
I enjoyed watching the roommates explore New York by themselves, without Brooklyn Nine-Nine. The cast members – Braugher, Samburg and Trugilo – seemed simply placed in the episode, but had no real trajectory.
The only way a crossover works is when a real story brings them together. The only similarity with the New Girl/Brooklyn Nine-Nine attempt is that both shows took place in New York.
If Fox joined the two shows to boost ratings, I don't think they'll have much success.
We finally discover why Jess found her boyfriend cheating on New Girl Season 1 Episode 1. A disastrous New York visit was cut short. This full circle moment felt exceedingly rewarding as a fan.
The deli encounter was another favorite because it's such a "New York moment." Jess treading lightly around the deli trying not to get confrontational, but then quickly turning full-on New Yorker, was outstandingly funny.
That's for sucker MCs, and west coast punks.

Jess
"Homecoming" brought the roommates back together in a way we haven't seen on New Girl Season 6. The greatest episodes are when they're all together in crisis mode. 
What did you think of "Homecoming"? Did it feel like classic New Girl? Where you disappointed Coach wasn't in the entire episode?
Did you enjoy the crossover, or did it fall flat? What was your favorite scene?
Need to catch up on past episodes?
You ain't ready for the California kid.

Schmidt
You can always watch New Girl online right here on TV Fanatic! 
Hit the comments and let me know your thoughts!