The Last Man on Earth Season 3 Episode 4 Review: Five Hoda Kotbs

Tiffany Staton at . Updated at .
Road trip!
Last week, we saw the group say good bye to the Malibu mansion.
This week's installment, The Last Man on Earth Season 3 Episode 4, has them heading north to San Francisco.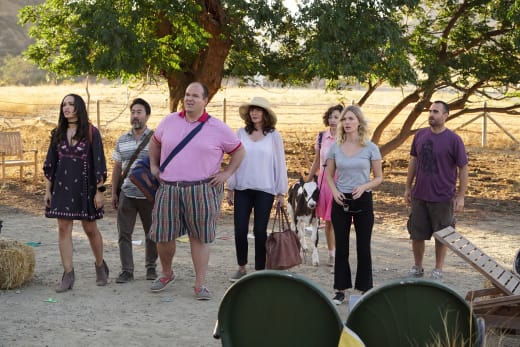 Gail is the only one that knows how to travel appropriately. Sleeping with a bottle of wine next to her in her self-driving car. Sign me up for that!
You really can't blame her for hitting the bottle so early in the day. Todd's been so caught up with Melissa, Gail relapsed and packed Gordon.
Todd tries to explain but on cue Melissa runs by, allegedly training for whatever is out there. The point blank way January Jones delivers her lines gets better each week. I enjoyed watching her run back and forth as Todd and Gail fought.
That night Carol builds a Golden Gate bridge out of Twizlers, complete with bridge jumpers. Morbid but awesome as she explains she likes to be fun and realistic.
At dinner we also find out Lewis is gay. I'm not sure if it'll have any kind of impact on the group but I for one didn't see it coming. The time it took Tandy to understand -- Your business partner? Are you a cowboy? -- was a bit much.
In the end he was just excited about his first gay friend.
We have a gay population!

Tandy
Unfortunately, upon arriving in San Fran, they find the city has been burnt to a crisp. California and their wildfires.
Flashback to two years ago when we see Tandy setting off fireworks in a factory. I love that the show did this little throw back to the Phil Miller we first met in the Pilot. That is absolutely something he would have done.
Erica and Carol are driving together and fighting over the air conditioner. I mentioned in last week's review, I think Carol is jealous that Erica gets more attention for her pregnancy. Things were definitely tense between them this week.
Todd and Gail are also stuck in a car together and still fighting over Gordon. They stop immediately when Melissa sits up in the backseat and stares at them without saying a word.
I don't think we're far from the group being legitimately scared of Melissa. Meanwhile, I like her more and more.
Tandy is in full Tandy mode -- singing songs and making horrible jokes most of which revolve around the Partridge Family and Noah's Ark. It's so bad that nobody wants to drive with him despite the fact that he's got a brand spanking new 1948 prison bus full of room.
Even Carol is annoyed.
Tandy, I usually have your back but today you've been a real pain in the front.

Carol Pilbasian
The episode is basically a lot of fighting and grumbling, cars breaking down and plans not working out.
When they finally sit down to pick a new destination, no one can agree. Tampa! Vancouver! Dollywood! Portland! Las Vegas! The last one was my own suggestion. How fun would sin city be?
Gail is fed up with everyone and I don't blame her. She wants to head out on her own which sounds dangerous and lonely but hey, it's a plan! Before she can go, Melissa spots something in the distance and insists that everyone come see it.
I know what I was thinking -- is it a beautiful, lit up skyline from a new unknown community? Nope, it's an office building. A very bright one considering every light is on in every office on every floor.
Obviously this is their new home. It doesn't look like much but I'm interested to see what the show does with it. The frozen pizza song in the previews is one I can definitely see myself singing in the future.
What did you guys think about the episode? Was Tandy too annoying? Who's been maintaining the office building? Do you think the group should stay or keep moving?
Remember, if you want to re-watch the episode or check out other seasons, you can always watch The Last Man on Earth online via TV Fanatic.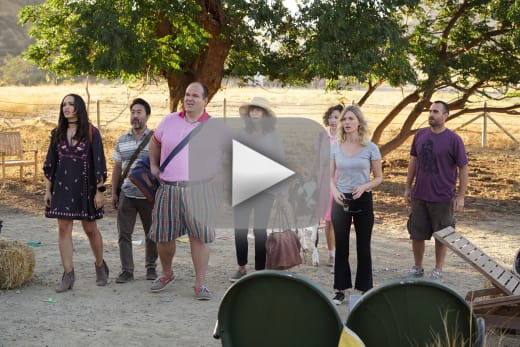 Tiffany Staton is a staff writer for TV Fanatic. Follow her on Twitter.