Chicago PD: LaRoyce Hawkins and Marina Squerciati Dish On Season 4

Brittany Frederick at .
Kevin Atwater and Kim Burgess might no longer be partners on Chicago PD, but actors LaRoyce Hawkins and Marina Squerciati teamed up for an interview when TV Fanatic visited the set of their series as part of NBC's One Chicago Day festivities.
Read the interview below to get their thoughts on what's ahead for their characters on Chicago PD Season 4, if things change when they cross over with one of the other two Chicago shows, and how much Chicago PD will tackle the real-life concerns with police. Then watch Atwater and Burgess back in action when Chicago PD Season 4 Episode 6 airs tonight at 10/9c on NBC.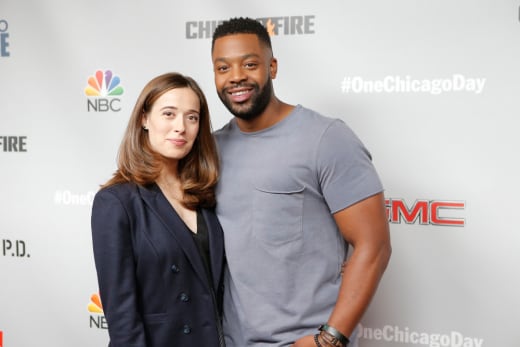 Both Atwater and Burgess have faced their challenges on Season 4, with his brother and her new partner. Does it get any easier for either of them in these last few episodes before the mid-season break?
Marina Squerciati: I don't think we do easier. We just do harder, faster.
LaRoyce Hawkins: Yeah, harder, faster, longer, stronger. One of the things that have always lasted with me was when [executive producer] Dick Wolf once upon a time told us that excellence is not an option, it's a requirement. That's probably why he's been so big and so powerful in television for so long, because he keeps that in the back of his head. So I think that's what the show goes by; we don't do shortcuts, we work and I think you can notice that.
What was it like for you playing that arc where Atwater's brother got into trouble?
LH: That was great. I'm a big brother in real life, so to be able to allow [that] to get shown on screen as an artist is fun, to be able to pull those references out.
On Burgess's side, she has that fun relationship with Platt. How many more Burgess/Platt scenes can we look forward to?
MS: Fans really seem to like that, and Amy [Morton] and I really like working with each other, so there's definitely one per episode no matter what.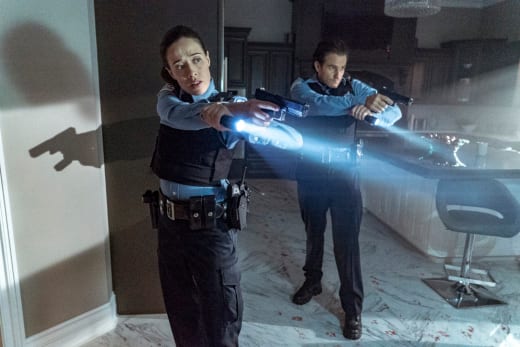 Both of you have crossed over to Chicago Fire and Chicago Med. Chicago PD can be a gritty show, so does the tone change when you're appearing on Fire or Med?
MS: I think it can be a little more broad or comedic if I'm on Fire. I would say that's a bit more allowed; there's a bit of a lighter side on Fire.
LH: On Fire I get a lot more makeup. (laughs)
Given how characters do cross over from the other shows seemingly every week now, are you guys watching the other programs and finding out what else is going on in the One Chicago universe? Do you try to keep up?
MS: My next door neighbors are Colin [Donnell] – Dr. Rhodes on Med – and Patti [Murin]. We live tweet at each other's houses so we definitely watch each other's shows.
LH: I just caught up on Chicago Fire and it's crazy. It's dope what's going on over there, and it does definitely inform what you're doing as you pick up the vibes that they're creating on TV and then you compare it to what you have to do. It definitely helps you bring everything in.
MS: But also, each show is a bit different. It is one world but it's not one show. It's definitely different tones.
LH: As you understand the other shows, it does help you understand your identity a lot more.
The police and their interaction with the community is a very hot topic in the real world right now. Is Chicago PD going to touch on any of the current challenges facing or involving law enforcement?
LH: Yeah, we definitely are.
MS: It'd be foolish not to. Or almost insensitive and irresponsible not to. We're in Chicago on a cop show. It's in the news a lot now and it's important to touch on it. But I really think it's important to say we're still a TV show. We're not hitting every issue head on, but we're touching on a lot of issues and dealing with what we can.
LH: I think in the backdoor pilot for [Chicago] Justice we did a great job of touching on that, when Burgess found herself in a situation where she shot an unarmed black man. Naturally that's one of those things that the news and the media and real life definitely put that out there.
MS: There's a point in that, that you don't know who's right or wrong. I think it's the messy nature  of crime and that was important too. It wasn't clear-cut like I'm innocent and the kid is guilty. You just didn't know for a while.
LH: I think the show does a great job of tying both worlds together and helping the world understand that it is grey. It's not white and black all the time. Sometimes you really have to struggle with what's right and wrong.
Chicago PD returns tonight with Chicago PD Season 4 Episode 6, as Olinsky finds himself in a tough spot when a friend is a murder suspect. Will Atwater or Burgess be able to help him?
Watch at 10/9c on NBC to find out, then come back to TV Fanatic for our take on the episode.
Stay tuned for more of our interviews from the set of Chicago PD!
Brittany Frederick is a staff writer for TV Fanatic. Follow her on Twitter.