Every now and again there's that episode of a crime drama where you hate the bad guy so much you get caught up in it. Chicago PD Season 4 Episode 7 is one of those episodes. We all know who did it, we just want the CPD Intelligence Unit to prove it so we can enjoy their downfall.
The State's Attorney's Office is sure that its present defendant, who has skated on numerous charges before, just had a witness killed so that he can skate again. It's up to Intelligence - namely a very brassed-off Erin Lindsay - to prove that and make sure Oliver Tuxhorn gets what he so richly deserves.
If you don't, a serial rapist and murderer walks.

Stone
Sophia Bush must have had a field day filming this episode. She gets to be the character who's constantly in the face of the bad guy making sure they know that they're going down. Lindsay has all the best lines in "300,000 Likes" and even gets to throw a drink.
And of course when Tuxhorn finally is caught Lindsay is waiting for him as he heads back to prison, giving him the accounting of just how badly he and those close to him are about to hurt. The only way this would've gotten better is if she'd have gotten to slap him too.
Enjoy your freedom, douchebag. You're not going to have it for long.

Lindsay
As there's no whodunit in this episode the appeal comes from hating Tuxhorn so much (apologies to guest star Gus Halper, who probably cuddles puppies in real life) and watching to see just how the Intelligence Unit is going to nail him down.
Eventually the shooter is identified as Jim, an ex-cop who happens to be an old acquaintance of Olinsky. Which, could we not have let Voight have this one? Last week Olinsky's friend Jake kills someone accidentally...now his former colleague claims he killed someone accidentally. Deja vu.
Jim also happens to be played by Jeremy Ratchford. If he looked familiar, that's becaue Ratchford spent years playing Det. Nick Vera on CBS's Cold Case. Before that, he was Banshee in FOX's Generation X TV-movie 20 years ago. Dude, Lilly Rush is so disappointed right now.
The state can't make its case because the defendant may have arranged to have a witness killed.

Stone
The other half of the episode is devoted to Antonio Dawson's decision to leave Intelligence for the State's Attorney's Office. Fans likely heard about this a few months ago when Jon Seda's move from Chicago PD to Chicago Justice was publicized, so it's not a surprise but it's a heck of a sendoff.
This is a natural progression for Antonio to get a chance to be the man in charge, as well as spend more time with his family. It doesn't feel like a forced exit just to make the off-screen idea work.
And Seda's final scene as a PD regular in part two of the finale, with his goodbye speech in front of the gang at Molly's, is perfect. Besides, his exit is made easier by the fact that we all know he'll be back as soon as the Justice crossovers start.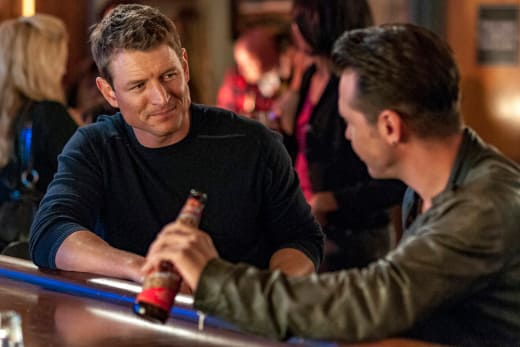 Speaking of Justice, a highlight in this episode is the appearance of Philip Winchester reprising his role as Assistant State's Attorney Peter Stone. Stone is already a really cool character and even just a few minutes of him builds up the anticipation for Chicago Justice.
It's nice that Stone is part of the story as well as being there to help facilitate Antonio's exit, because then Winchester gets some real screen time, after being cut out of the PD season premiere.
Just as he did when he showed up in the backdoor pilot last year Winchester adds some pop to the episode and we're already excited for the dynamic he and Seda will have on Justice.
Of course, you may have missed his co-star Monica Barbaro - who makes her first appearance as AUSA Anna Valdez in one courtroom scene with no dialogue. Could we have given her one line?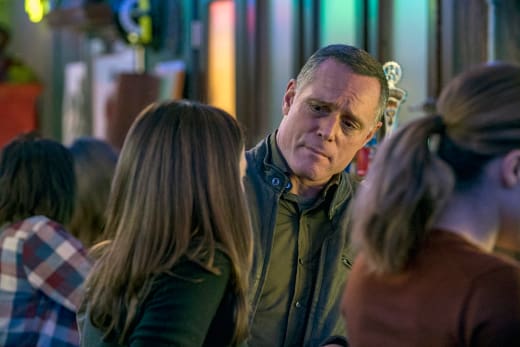 "300,000 Likes" is an entertaining episode that succeeds because of the actors just being so fun to watch all the way around. It has no big mystery but you know you were smiling when Lindsay was gloating in Tuxhorn's face.
The only thing that falls completely flat is the Burgess and Sorensen storyline but since that gets handled in the next episode, we can give that part a pass. Otherwise, this is an hour that's a worthwhile watch just to watch the good guys win.
You can rewatch "300,000 Likes" or all of Season 4 to date when you watch Chicago PD online. But let us know your thoughts on the first half of the two-hour fall finale below. How much fun were you having?
Brittany Frederick is a staff writer for TV Fanatic. Follow her on Twitter.