Empire Season 3 Episode 5 Review: One Before Another
Michael Cavic at . Updated at .
Well that was a pretty disappointing hour. By the end, the title "One Before Another" became more and more clear, as Lucious pitted Hakeem against Andre and Jamal.
Don't get me wrong, there were a lot of good moments on Empire Season 3 Episode 5, but for the most part, this was a lackluster installment. Lucious continues to be a thorn in everyone's side, and the bickering between the brothers is getting old.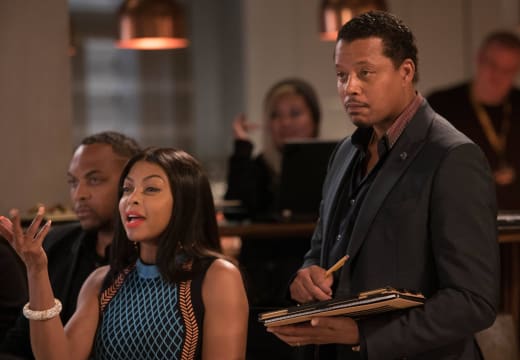 I loved the return of D Major, Jamal's secret love interest from Empire Season 2. He and Jamal have amazing chemistry and their relationship should be more explored. 
After all this buildup of this war between Shyne and the Lyon family, I was pretty disappointed that nothing happened between the two parties. This feud isn't over though, so I'm looking forward to seeing the progression in this storyline.
Tariq only appeared in the last five minutes, and I wish that this story would progress more. This storyline is two steps forward one step back, because I feel like we see so much progression and then he doesn't appear for an episode or two. 
Why are you throwing bricks, when you live in a glass house son?

Lucious
Taye Diggs needs to be a regular...
Angelo made a very clear statement. He isn't going anywhere, and he expects to be going head-to-head with Lucious for Cookie's affection. I loved when he told Cookie he wasn't going to fight with her, but for her. Angelo is Cookie's light in this world of darkness that is Lucious. 
Cookie jumping to conclusions and accusing Angelo of contacting her parole officer to keep her in check was bothersome.
I understand they need to put some sort of turmoil into the relationship, but it was unnecessary. It did create for an amazing scene between Taye Diggs and Tarahji P. Henson. 
Lucious is a spineless jellyfish. To turn your own son against their brothers for your own benefit is wrong. I actually felt sorry for Hakeem because he is blinded by the empty promises that Lucious is putting in his head.
When Hakeem was rapping those awful things directed towards Jamal, I felt sorry for Jamal. This is not the brotherly relationship we have come to love. All Jamal wanted was to jam out with his brother, but Hakeem was all about becoming the best MC.
Hakeem and Jamal, the Lyon brothers. Live and Alive.

Jamal
Anika saves the Lyon family from an all-out war between them and Shyne when she suggests that Lucious give Shyne a piece of Empire. Somehow I don't see them keeping the peace for too long. 
Shyne is not a snitch, he'd rather be dead than be a rat.

Lucious
Lucious has been pushing Cookie to get a track recorded from Tiana, and she was adamant on doing just that.
She enlisted Becky in making sure that Tiana recorded the track that she wanted, but Becky and Tiana thought they should go with another one. I hate the way that Becky is being treated this season. 
She has been nothing but loyal to Empire, and for Tiana to call her a liar when she was only doing what she thought was best for her was a low blow.
The guy that was working with them should have stuck up for her. He stood there and said nothing. I get business is risky, but when it comes to people and feelings those come first. 
I don't get my hands dirty in front of her, but I'll be back. In fact I'll save you for last.

Shyne
The scene where everyone was fighting was actually hilarious. Cookie was running around trying to shut down the camera crew and Hakeem was acting like Nessa was a prized possession.
Someone needs to keep Hakeem in check, because Nessa isn't a toy. She is a human being, and for her to be his girl then she would actually need to consent on it. Lucious knows that Hakeem can be loose cannon, and he used it to his advantage. Hakeem should have been more of an adult and talked things out with Andre and Ness instead of making a scene. 
Jamal seems to be molding into a familiar, but different version of himself. I still see a frightened young man, but at the same time he is evolving. He isn't scared to stand up for himself and to fight for what he thinks is right. 
One thing is for sure, these brothers need to find a way to overcome their problems and unite as a family. Family is everything, and this show does a nice job of uniting the Lyon family when times get tough. 
Shyne is working with Tariq...I hope that they're smart about this, because they are going up against Lucious Lyon. They are going to need the brains, and the strength to take this music mogul down. 
Other Thoughts and Questions.
It was nice seeing Hakeem getting more involved in Bella's life. 
Cookie's interaction with her PO was so sincere. I want to see more of that relationship. 
Are you guys shipping Angelo and Cookie, or is she destined for Lucious?
This family spends too much time arguing when they should unite to fight off the FBI. Do you guys agree?
Which musical performance stole the show?
Did you guys walk away a little disappointed from Empire? What do you guys think will be Tariq's next move? Remember you can watch Empire online in case you missed it, or just want to watch it again.