How to Get Away with Murder Season 3 Episode 7 Review: Call It Mother's Intuition
Paul Dailly at . Updated at .
God, this show really knows how to pull the rug from under you. 
On How to Get Away with Murder Season 3 Episode 7, there were a lot of reveals, but the most twisted one of all was that Wes was giving anonymous information to take Annalise down. 
It was bound to happen at some point, but I just didn't see it playing out quite like this and so soon. The wheels were obviously turning in Annalise's mind as she was trying to figure out who could have been trying to get her sent away.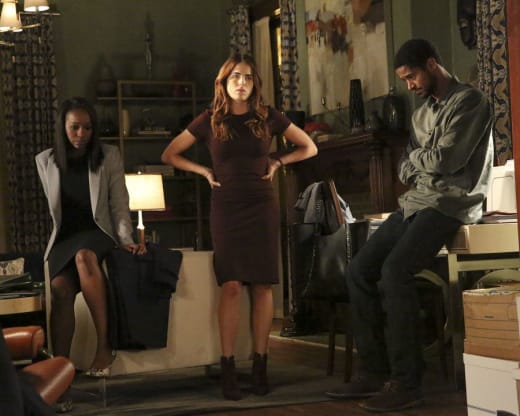 Now, this show is well-known for twists that send your jaw to the floor, so let me present my theory to you: Annalise and Wes have made some sort of deal to get Wes away with the part he has played in Annalises schemes over the past two years. 
After the Keating 5 told Annalise what she was really like, she knew she was never going to gain their respect back, so she decided she could get Wes' back by him framing her for being an arsonist. 
Yes, it's farfetched, but that's what we've come to expect from this show. Nothing is ever as it seems. Who would have thought Annalise the Keating 5 would trash Annalise like that?
There was a time when they were all so scared of her, they would stop talking when she walked in the room as though the Queen had commanded them to shut the heck up. 
There were some good parallels between the case of the week and how the Keating 5 felt about Annalise, but the case was not all that. It seemed like it was just trying to be so overly shocking that it became predictable. 
We can now add Wes to the list of male survivors, but I'm more certain by the week that Frank is the one under the sheet. With Bonnie cutting him off, he has no one but Laurel. 
Heck, even Laurel has moved on. It was so damn awkward when he witnessed her telling Wes she loved him. The dude has missed a lot of changes in dynamics between the team while he's been off killing people.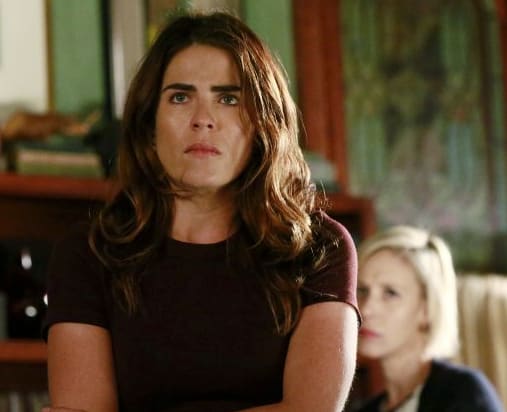 Laurel was his last hope to find a place in the world, and that ship sailed weeks ago, so it should be intriguing to see what his next move is. There's every possibility that the next time we see him, he'll be under that sheet. 
At least we can take solace in the fact that Laurel finally woke up after the fire. Meggie was waiting around the clock for her to open her eyes and based on the way Meggie was speaking, she knows about Laurel and Wes being a thing. 
She seems surprisingly okay with it, but I'll reserve further judgement on that plot strand until we catch up to the fire. It's just two weeks away, you guys!
We really need to speak about Oliver. He seemed happy enough with Thomas until Oliver revealed that he was HIV positive. It must have been a difficult subject to bring up, but Thomas just was not on board with it. 
The thing that bugged me about this storyline was that it sent Oliver straight back to Connor. I can't help but wonder if he's only getting back with Connor to save himself the heartbreak of another guy ditching him. 
The way the couple broke up in the first place was pretty damn sketchy. It seems like Oliver wanted to check what else was out there for him, before deciding whether getting back with Connor would be a good move.
Poor Connor was so blinded by how much he loved Oliver that he was all too happy to get jiggy with his ex-boyfriend. We don't have confirmation yet about whether they are back in a relationship, but the way Oliver went about it was pretty selfish. 
"Call It Mother's Intuition" was another solid episode of this ABC drama series. We're getting closer and closer to finding out the truth and I just can't wait to find out how it all plays out. 
Stray thoughts:
Michaela noticing Connor and Oliver did the deed in her bed was hilarious. 
Asher's comments were definitely his most hilarious ones yet. 
Did anyone else find Wes saying he wanted Laurel ever since the first day of class a bit too cheesy? It seemed like it was in there just to get viewers to like them as a couple. 
Why the heck is Simon not thrown out of class? That dude is so annoying. 
Nate going to Wes about Annalise was pretty great. He really cares for Wes. 
Mahoney's son having an alibi was quite the twist, but there's always a way out for the Keating 5. 
Annalise was actually nice to her boss. That roast she received from her students was probably the tipping point for her. 
Laurel has an A, but is it even allowed to just throw A's around? Wouldn't that ruffle some feathers with Annalise's boss?
What did you think of the episode? Hit the comments below!
Remember you can watch How to Get Away with Murder online right here on TV Fanatic. Get caught up with the latest developments for the characters now!
Note: How to Get Away with Murder Season 3 Episode 8 airs November 10 on ABC.
Paul Dailly is the Associate Editor for TV Fanatic. Follow him on Twitter.