Lethal Weapon Season 1 Episode 6 Review: Ties That Bind

Lisa Babick at .
Has it really been two weeks since we last saw Riggs and Murtaugh?! It was an exciting World Series Game 7 (and Congrats to the Cubs), but, boy, am I glad to have these two back! How about you guys?
On Lethal Weapon Season 1 Episode 6, Riggs and Murtaugh investigate a murder case that brings Riggs face-to-face with someone from his past.
It seems that Murtaugh may be taking things a bit more personally than he should. He's been awfully sensitive lately. A lot of it has to do with being protective of his daughter. 
After he discovers that Riana has been sending pictures of herself in underwear to her boyfriend, he kind of loses it. It's not unexpected. Both he and Trish are involved parents. They care about their kids. It's hard watching your kids grow up, and it's even harder trying to protect them as they do.
But, discovering what Riana did just put Murtaugh in a mood. And, the fact that the murder victim was a 19-year old girl just hit closer to home.
I thought it was great that they were able to use Riana's boyfriend to help them with the case. It was rather clever of Riggs to come up with the idea. Nothing like taking advantage of a pickpocket to get a piece of evidence.
I have to laugh, though. Chauncey telling Murtaugh "nice job, pops" on his smoking hot daughter had me rolling.
If you don't respect your body, boys won't either.

Trish
Even better was when Trish confronted Murtaugh about his run in with Chauncey. She was indignant at first...until she found out what Sea Dog said about Riana and that he posted the picture on Facebook. I would have loved to have been a fly on the wall when she confronted Chauncey about that little tidbit.
Still, Chauncey got the job done. Without the book, they wouldn't have been able to solve the case. I don't get why Riggs just didn't keep the book when he had it earlier. It's not like getting it via Chauncey was any more legal.
What I really enjoyed was Bailey, Captain Avery, and Scorsese working together to figure out it was Henry Ashworth. We don't get enough screen time with these guys, so it's always great to see them doing something other than provide the comedic relief (especially in the case of Avery and Scorsese). 
It was a little weird, but sort of cool, how they incorporated that Microsoft Surface commercial into the story. It flowed pretty nicely and wasn't too jarring. It was just a little confusing at first.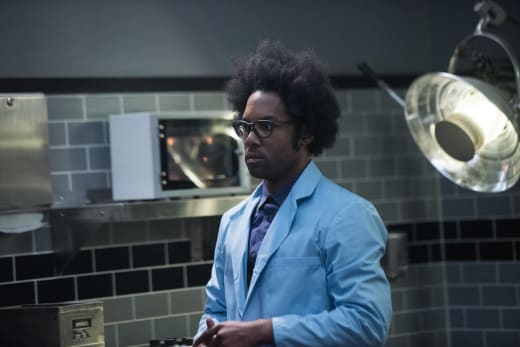 Riggs had a connection to the case at hand once again. This time around, one of the girls involved in the sex parties was Miranda's former roommate. 
It was sort of strange that she didn't want to have anything to do with Henry when he accosted her. I mean, she knew what was going on and what the Ashworth's were all about. Or maybe she wasn't. She did seem a little freaked out when she saw what was going on at the mansion. Maybe it was a level she wasn't familiar with yet.
Either way, it was nice to see Riggs come to her rescue. Not that we expected anything less from him. 
I loved how he jumped into the orange car at the dealership and demanded a test drive. There's nothing like a crazy guy driving like a crazy guy to get what's needed for the case. What was funny was when he returned to the dealership and Murtaugh deadpanned that he was able to get the same answer in a more sane way. 
I just love how these two work off each other.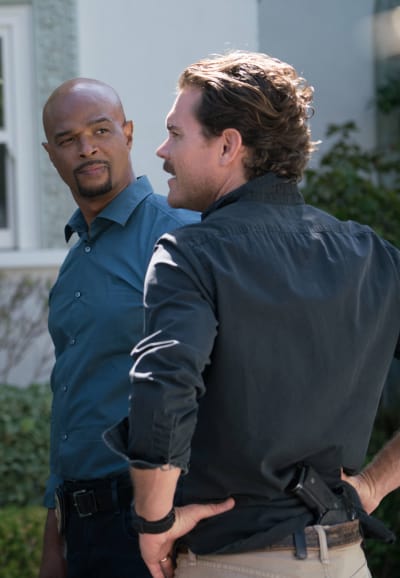 The best part of the whole hour was the two of them sitting on the beach. It was heartwarming how Riggs just opened up to Murtaugh about that place on the beach being Miranda's spot. Each hour Murtaugh learns more and more about his partner. There's a purpose to everything Riggs does.
And, wasn't it great how Murtaugh got rid of the Duran Duran-loving/playing Amsterdam boys?! How did he even know about it?
Once again, Lethal Weapon amazes with its greatness. After weeks of suffocating negativity and the end of a crazy election, getting lost in the lives of two crazy cops was like a breath of fresh air. Thank you, Lethal Weapon.
What did you think of "Ties that Bind"? Hit the comments and share your thoughts! If you need to catch up, you can watch Lethal Weapon online right here via TV Fanatic!
Lisa Babick is a staff writer for TV Fanatic. Follow her on Twitter.