Vanderpump Rules Season 5 Episode 4 Review: Thirsty Girls

Sarah Hearon at .
The battle of Lala and James vs everyone else continued on Vanderpump Rules Season 5 Episode 4.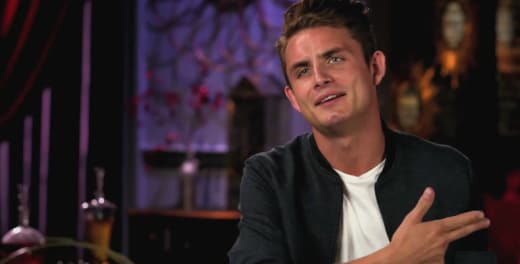 DJ James Kennedy has a girlfriend who is coming to visit and crash on the couch he's sleeping on. Lucky girl.
I played a little Beyonce and I wound up with a girlfriend.

James
Ariana's brother is also in town and crashing with her and Tom. Maybe they should be roommates and star on Pump Rules: The Next Generation.
Raquel must have missed the episode where James spit on Kristen. That or she just wants to be on TV, so she's sucking it up and dating Mr. DJ.
Scheana not being allowed to talk to Lala at work because of Katie is absurd considering they're all on a reality show together. It's so hard to take Katie, Stassi and Kristen seriously when they talk about loyalty. Let's spend more time on Stassi's lack of strength and less time pretending we're still in 5th grade.
I got a marble trash can, and now it's too heavy for me to empty the trash.

Stassi
Do you think Lala feels like Rachel Green in the episode of Friends where she finds out about the "I Hate Rachel Green Club"?
I'm not sure what to make of the fact that Schwartz's impending marriage to Katie has sent him to therapy. And we're talking real therapy, not Marriage Boot Camp (and you know they're probably already signed up for the next season of that show too). 
I don't feel like I've ever really been able to articulate clearly or express to her how much I die inside when she goes to the dark side. It kills the Schwartz.

Tom Schwartz
Schwartzy isn't even worried about marrying Katie, he's worried about marrying Tequila Katie. Maybe it's time she trades in the Jose Cuervo for knitting needles.
Ah, the irony that she is coloring in an adult coloring book in the next scene. Too bad she's a bottle of wine into it.
A big episode highlight is Brittany's boobs popping out of her dress and knocking her mic off during the confessionals. She is truly underrated. 
Speaking of underrated, Kristen got dental veneers and is on a liquid diet. She chooses champagne as her liquid. 
TBT to Scheana's gray tooth and dental surgery. 
Only these girls could be mad at someone for asking, "How was your weekend?" They handle real conflict better than the drama of someone saying hello.
I always forget that other people work at the restaurant besides the cast and find themselves caught up in the drama. One of the waitresses told Jax that she slept with James when he had a girlfriend, and now he has an excuse to beat him up. The restaurant biz is a gift.
Maybe one of the reasons that Jax doesn't like James is because he feels like he's looking at himself 10 years ago and he doesn't like what he sees.

Tom Sandoval
One of the best parts of Vanderpump Rules is that real people actually go to the restaurant for dinner. I would pay any amount of money for my crispy chicken just to watch Jax and James fight in person. 
It's true that Jax and James have similarities, but I would pick sunglass stealing Jax over fake DJ James any day. 
Anybody can push play on a laptop, you idiot! It's not even connected to anything.

Jax
All I want for Christmas is for Lisa to fire James. Or let him release another ten remixes of Pump Sessions.
You're not Calvin Harris.

Lisa
Every time DJ James Kennedy cries, an angel in West Hollywood gets its wings.  
Schwartz decides to make Ariana (someone who is borderline friends with Lala) a groomsmen. I think it's a cute idea. However, he should probably make another therapy appointment to work up the courage to tell Katie. 
I have a hard time believing this is actually the last time we will see James' skinny jeans in Pump/SUR, but Lisa seems serious this time. Time and his inability to resist pump-tinis will tell. 
Missed this episode or just want to see James get fired again? Watch Vanderpump Rules online via TV Fanatic. 
Sarah Hearon is a staff writer for TV Fanatic. Follow her on Twitter.