Arrow Season 5 Episode 9 Review: What We Leave Behind

Carissa Pavlica at . Updated at .
Prometheus can use multiple weapons.
That's about the only thing I know for sure after watching Arrow Season 5 Episode 9, despite other rumors on the interweb to the contrary.
No, we definitely didn't discover who is behind the mask, but we did hear the baddie speak specifically about being angry about the death of Jason Claybourne, one of the old men Oliver killed four years ago when he was following dad's guide book.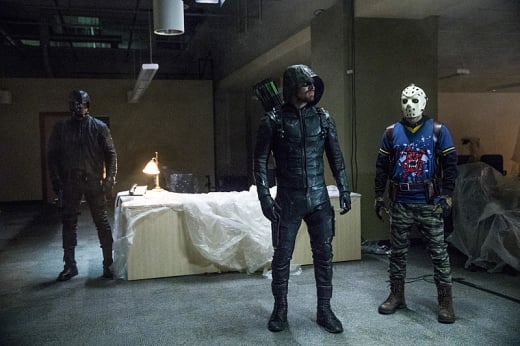 Well, as luck would have it, you guys get me two weeks in a row. I know, I know. Hold your applause. And arrows.
I'm very happy this was yet another installment featuring very little of the new characters. I'm still inclined to call Rene Jason and Hot Reporter Sam McPherson, and that would just be messy. As it turns out, I don't have to talk about them at all.
This was an hour devoted to making Oliver feeling like a tool for mistakes he made in the past. Again.
Not the mention the ridiculous attempt to make him feel poorly about wanting to kill Prometheus, who is a killer of others, but not of Oliver, apparently, who he only wants to make feel bad.
You haven't been listening. I'm not going to kill him. I'm going to make him wish he was dead.

Prometheus
Little Evelyn, though, who has been on my last nerve since she was first introduced and helped drive me away from Arrow in the first place, has jumped onto her high horse named Hypocrite.
While riding high on Hypocrite, she desperately wants to kill Oliver for being a serial killer, because killing is bad. But she knows (no...she doesn't, but she thought she did) Prometheus wants Oliver as his own kill.
All that talk of killing while she's on her high horse, because if she jumps off of Hypocrite, nothing will make sense to her. It's impossible. Because it makes no sense at all. Just like people who kill abortion doctors and bomb the clinics. 
Green Arrow: Why?
Artemis: Because you're a fraud. This city needs to be saved FROM you.
Little Evelyn is severely, mentally deranged. I predict she will be dead by the end of the season, or squeezing into a small, egg shaped time capsule with a bunch of men after joining the Legion of Doom. Not that she is in their league.
The festive holiday season continued when Paul realized the startup his hubby was working on with Felicity was a fraud.
The biggest problem I had with that particular storyline was Paul's reasoning for leaving. He loves Curting so much he can't be with him if he thinks every day may be the last day he sees him. So, I'll just make sure this is the last day I ever see you now, oh love of my life!
That's ridiculous reasoning, especially coming right after admitting he's never seen Curtis as happy as he's been the last few months. So much for great love. Great love isn't selfish, it's giving. You, Paul, don't have it. At least not for Curtis.
Don't let the door hit you in the ass on the way out, Paul!
Poor Billy. Just like all of Felicity's friends, I had never met him before tonight, but he was a really great guy. Smart, too. 
Felicity: I can't believe this is happening.
Billy: Can't you? You think I haven't noticed that the tall guy in the black mask rollin' with the Green Arrow was Curtis?
Were he and Felicity good together? I was proud of her for not blaming Oliver as badly as he blamed himself for Billy's death, and putting the spotlight on this Prometheus person.
Also proud of Oliver for admitting the truth as soon as he had the opportunity.
Because let's face it, this masked bandit is really the root of all of their problems. And we have no idea who it is.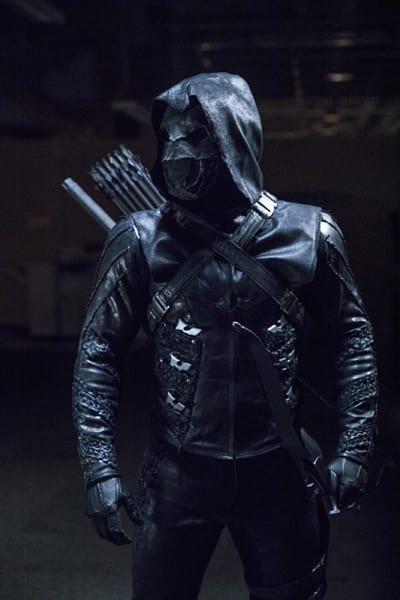 I was surprised everyone leapt to the conclusion that it was definitely the son of Claybourne. It's pointless. There's no way whoever is under that mask isn't known to us. Otherwise, we'd have already seen their face.
My theory (Hey, I may not watch, but I read reviews, so I know the big stuff goin' down) has been that it's Laurel. It looks like a man, you say? Weirder things have happened.
I'm thinking it's a Flashpoint thing, another earth thing, whatever, but I've figured it was a Laurel under there for a while. Then she popped up in the lair. That's weird.
She could have been brought back via another Lazarus Pit, from another timeline, from another earth or she could be Black Siren masquerading as our Laurel. The same could be for the girl, whether under any mask anywhere.
Since there was no Prometheus reveal, it could still be Tommy Merlyn. It could me Malcolm. It could be any character we've run into from any other season who knew a bit about Oliver. With Flashpoint, multiple earths, timelines and time travel...is there any story that isn't an option?
Other points:
Hot reporter had some Russian alcohol. She's tying into Oliver's past in some way, right? How many of you tie in now, too?
Were we about to get a personal reveal from Rene about having kids before Evelyn decided to give her former friends Christmas Stockings?
What does Rory do? I've not watched one yet where he does anything. Is he like a vigilante or another Felicity? Does he have a code name?
The Mayor's holiday part during Arrow Season 4 had this one beat. At least there was one good memory about last season!
OK, you guys. It's your turn to do the heavy lifting. Who is Prometheus? Are you bummed Billy was killed? Surprised Oliver told the truth so soon? Wondering whether Laurel is real, a hallucination or a doppelganger of sorts?
Until January 25, you can watch Arrow online for your Star City fix. Happy holidays!!
Carissa Pavlica is the managing editor and a staff writer and critic for TV Fanatic. She's a member of the Critic's Choice Association, enjoys mentoring writers, conversing with cats, and passionately discussing the nuances of television and film with anyone who will listen. Follow her on Twitter and email her here at TV Fanatic.