Criminal Minds Season 12 Episode 7 Review: Mirror Image
Dale McGarrigle at .
Finally, the spotlight shines on Dr. Tara Lewis, the criminally underused member of the BAU.
Not only do we get to learn more about Lewis on Criminal Minds Season 12 Episode 7, but the season's on-and-off storyline about the escaped serial killers is on again, with Mr. Scratch front and center.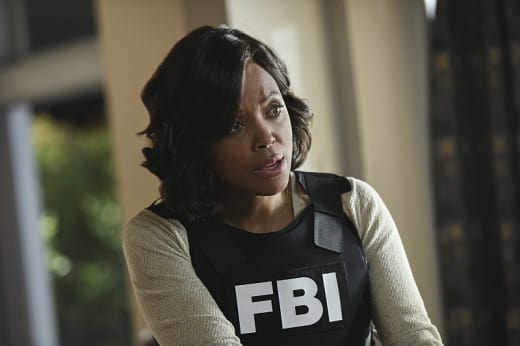 And his whole plan hinges on some long-simmering family drama.
The episode starts innocently enough, with Lewis, who's been missing for a few episodes already this season, asking for the day off.
But then Garcia whips out her inner profiler for Prentiss, explaining that Lewis's deep, dark secret is that she's estranged from her younger, equally brilliant brother Gabriel, who has thrown his life away on get-rich-quick schemes. 
And Lewis admits that Gabriel, who seemingly wasted the chance for a full ride to Yale, has disappointed her.
When it comes to my brother, hostility and dismissal are my specialty.

Lewis
Soon the rest of the team drifts in, commenting on Gabriel and his history, which baffles Garcia. It's great to see her reaction when Reid explains what's going on.
Reid [to Garcia]: It was an experiment. She wanted to time how long you could keep a private conservation private, and you made it 12 hours.
Alvez: Damn. I had you down for six.
Garcia: You know what? I thought you were my friends, but you suck. You all suck, especially new guy, but then you always suck.
Reid: I had 14 hours. I think I win, right?
J.J.: Who had 11?
Prentiss: I did.
It seemed that Garcia was getting past dumping on Alvez, but apparently not. Penelope, you need to get over the loss of your Hot Stuff. It's not Alvez's fault that he's attractive and ethnic as well. Did the new guy have to be a chunky Pole to gain your approval?
Anyway, there's nothing like having a total stranger impersonating your brother to ruin a possible reconciliation.
Now Lewis, who seemed lukewarm on the idea to start with, has to figure out this imposter's deal, and soon has to locate her missing brother as well, along with consoling her father, whose expressions seem to suggest, "You deal with these nutjobs every week?"
It makes perfect sense that Mr. Scratch is behind all this. After all, this is the second time this season that he's used a brainwashed pawn to screw with the BAU (See Criminal Minds Season 12, Episode 1). Let's not forget that he's always responsible for the disappearance of Hotch (right!!!)
We find out that Lewis is actually the go-getter that she appears to be, although I'm still fuzzy why anybody would academically immerse herself in the world of serial killers. Locking them up is a whole 'nother ballgame.
But we also discover that Gabriel had a fairly sound reason for squandering his potential, one that Lewis and Albert seem to come to terms with.
Albert: But the two of you were just so different. You, I never had to worry about you. But your brother, he needed something different, something that I just couldn't give him.
Lewis: Daddy, you did your best. Now it's my turn.
Mr. Scratch is already having his desired effect of wearing down the BAU. But at least Prentiss passed her first real test of leadership.
I don't know about the rest of you, but I'm getting tired of losing to this rat-faced son of a bitch. He's not going to take anyone else away from us, not on my watch. Am I clear?

Prentiss
Like any good bureaucrat, Prentiss has shown a knack for finding funding for a new position. Special Agent Stephen Walker will be transferring in from the Behaviorial Analysis Program, the counterintelligence division of the FBI, starting on Criminal Minds Season 12 Episode 8. Hopefully Garcia won't target him as well.
Unfortunately Mr. Scratch escaped again. So periodically for the rest of the season, he'll have his mind-altered surrogates plaguing the BAU. Also, by my count, there's still four other serial killers they have yet to recover, so that should be good for four episodes as well.
To catch up on the evolution of the BAU this season, both organic and forced, watch Criminal Minds online.
Are you done with Mr. Scratch? Are you excited about another new agent? Do you feel you know Lewis better after this episode? Comment below.
Dale McGarrigle is a staff writer for TV Fanatic. Follow him on Twitter.