The Big Bang Theory Season 10 Episode 10 Review: The Property Division Collision

Ashley Bissette Sumerel at . Updated at .
It's all fun and games until it's time to divide the Star Trek collectibles and personalized flags.
On The Big Bang Theory Season 10 Episode 10 Leonard and Sheldon clash when they start dividing up their belongings, but their anger is rooted in love (which is pointed out by the stranger to whom Sheldon rents his room).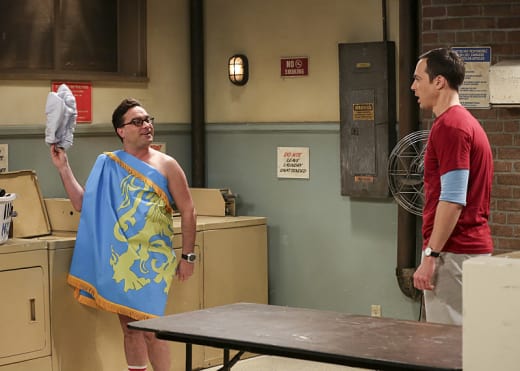 Even though the move doesn't feel like that much of a transition, the dynamics are definitely changing. Amy and Sheldon are clearly going to be staying in Penny's apartment, and it's time that apartment doesn't feel like Penny's any more, but instead feels like its theirs.
The problem is that Sheldon doesn't understand how to be selfless when it comes to things like this. He insists he should have pretty much everything that he and Leonard owned together — from a one of a kind Mr. Spock Cuckoo Clock to the official apartment flag.
It's not my fault I'm bad at sharing. I skipped kindergarten.

Sheldon
It's been getting more and more difficult to remember why these guys were ever friends in the first place. It seems like their bickering and their insults have overtaken their relationship too much lately.
Hopefully, that's coming to an end.
The stranger points out that their anger at one another feels a lot like something else entirely. It's coming not from a place of resentment, but from the fact that these are two friends who have lived together for years — and been each others' family. And now, they're making a drastic change.
When Leonard and Penny first decided to get married, Sheldon was upset at the thought of not living with Leonard anymore, and Leonard felt that too. It's the reason this all took so long to get started in the first place. 
At least they won't be living far from each other. 
Meanwhile, Stuart asks if he can stay with Howard and Bernadette after being kicked out of his apartment. He offers to help around the house and be of assistance with the baby. 
Naturally, that steps on Raj's toes a bit, since he's been the one who's been a little too involved ever since Bernadette found out she was pregnant.
Hey, this pregnancy had an emotionally needy third wheel way before you came along.

Raj
We're supposed to find it funny that Raj and Stuart are now rivals as they basically trip over themselves to help Bernadette and Howard, but when you move past the fact that these characters are more of a hindrance to the story than anything else lately, it's endearing.
Bernadette and Howard are lucky to have that kind of help from dedicated friends, and they'll realize that even more when the baby comes. 
Which, by the way, is sooner rather than later. The episode ends with Bernadette announcing she thinks she's in labor, and all of the guys helping get prepared to take her to the hospital! 
Other Thoughts:
Johnny Galecki is clearly very comfortable with himself. I'm losing count of how often we've seen his character dance around in underwear, Cupid costumes, tiny graduation gowns, and so on. I love it.
Where can I get a Mr. Spock Cuckoo Clock?
That painting is more ridiculous than I could have imagined. At least Penny is a good sport about it.
What did you think of this episode of The Big Bang Theory? Share your thoughts with us in the comments below!
Need to catch up on past episodes?
You can always watch The Big Bang Theory online right here via TV Fanatic! Watch online now!
Ashley Bissette Sumerel was a staff writer for TV Fanatic. She retired in September 2017. Follow her on Twitter and on Google+.