Criminal Minds Season 12 Episode 10 Review: Seek & Destroy
Dale McGarrigle at . Updated at .
What makes a family?
That's the theme of Criminal Minds Season 12 Episode 10.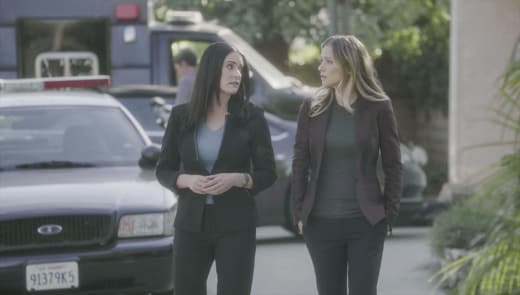 This isn't the first time this season that this topic has been tackled.
In fact, Rossi offered a whole toast about it on Criminal Minds Season 10 Episode 6. Then there was Lewis' messed-up family on Criminal Minds Season 10 Episode 7.
It's almost like the producers are trying to hammer home a message: "Yeah, Hotch and Morgan are gone. But these guys will grow on you if you give them a chance."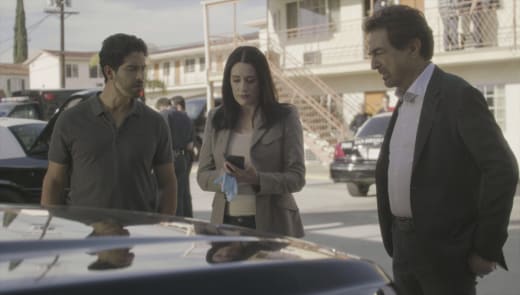 Let's come back to that, and focus instead on a family that didn't work: The drug-driven misfits in the case of the week.
The quintet that came together from bad circumstances and became a family unit would be admirable, if not, you know, for the fact that they're trashing homes and robbing and killing people. That's just frowned upon and is bound to attract the wrong kind of attention.
That's the problem with group dynamics. Different personalities, different agendas.

Prentiss
It was a sound setup, with the fresh-faced females casing the home and setting up the break-ins. It was interesting how the others filled in the roles outlined by the BAU as parts of a typical gang.
Too bad they were being led by a whack-job. But then it wouldn't be Criminal Minds if this were just an organized heist crew.
Reversing direction partway through was an interesting twist, making the drugged-up girlfriend actually the brains of the operation. No wonder things fell apart as quickly as they did, with Bea dealing with her abandonment issues.
It seems our gang is becoming unglued faster than we predicted.

Rossi
Sometimes you feel somewhat sorry for the unsubs and can kinda understand their twisted logic. But it's hard to relate to a spoiled little rich girl whose parents have cleaned up her messes all of her life.
The good thing about having a group of unsubs is it takes a little longer for the BAU to unravel who's who.
Gotta love Garcia, tying a dead guy to a green van from somewhere in the southern United States. I must have her Google tips.
Germ's dead body led to Zeke, who didn't have the right stuff to be the alpha. So that leads to a female with ties to the area and class, and before long, they're racing off to Bea's house.
Granted, it was long after two of the four remaining unsubs had been shot. Cue cackling Bea being led off to an asylum.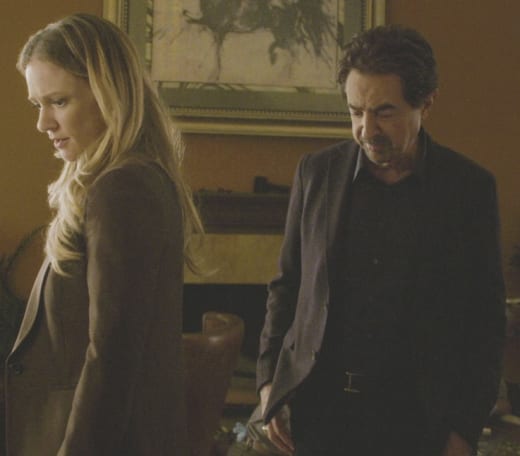 Now let's go back to the new additions over the past couple of seasons.
Let's define their roles. Alvez is supposed to be the new Morgan: the hunky action guy with a sly sense of humor. And, I'm sorry to tell the Shemar Moore fans, Adam Rodriguez has done perfectly fine in that role. There's even a little sparring with Garcia. Remember, Moore choose to leave, whatever his reasons.
Prentiss is to be the new Hotch. She's trying, although she's not the totem pole that Hotch was. She has a different leadership style: more touchy-feely, more approachable. Not necessarily a bad thing.
Prentiss: You did great in San Diego. I'm glad you trusted your gut.
Walker: Thank you for listening. I've been on teams where opinions, especially new ones, aren't always valued.
Prentiss: That's the nice thing about this group. Everybody has a voice.
A bad thing was the show's acrimonious parting with Thomas Gibson, but for whatever behind-the-scenes reason, it happened. Move on.
It's far too early to tell about Stephen Walker, who's something of a wild card. He's the new guy and knows it, and is working his way in slowly. But he seemed to have a ton of agency cred, so let's see what he can do before saying "I don't like him. He's not Morgan. He's not Hotch."
I'm more concerned that he's supposed to be the brainy guy, with Reid still MIA with his mother in Houston. Hopefully, that storyline gets picked up again soon, because the BAU needs Reid's quirkiness. Garcia can't be the only offbeat character.
Last, there's Lewis, missing again this week. I've tried. I like Aisha Tyler. But very little of her personality shines through Lewis. Time to try again. Maybe an Asian female to round out the diversity.
To sample all these characters, watch Criminal Minds online.
Mr. Scratch was mentioned in passing near the end of the hour, so here's hoping he pops up again soon.
What's your assessment of the revamped BAU? Who should stay and who should go (bringing back past favorites isn't an option)? Did the case of the week register much with you? Comment below.
Dale McGarrigle is a staff writer for TV Fanatic. Follow him on Twitter.