The Real Housewives of Beverly Hills Season 7 Episode 5 Review: Amnesia Appetizers

Sarah Hearon at .
It wouldn't be a dinner party in Beverly Hills without someone offending someone else. 
In The Real Housewives of Beverly Hills Season 7 Episode 5, Dorit and her husband had some interesting things to say about Eileen to Rinna, but before we get to that, it's back to pantygate.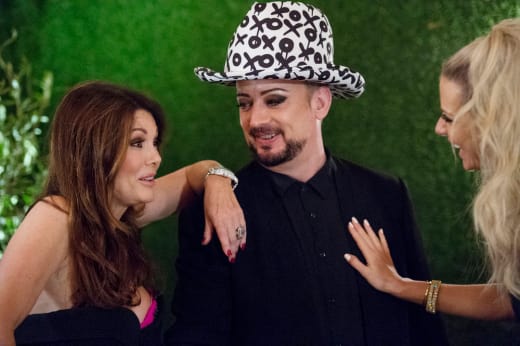 Seeing Erika Jayne get ready for a music video is the best version of MTV's Making The Video that never happened. All of those diamonds would make any pop star jealous. 
And only Erika could whip out the pair of underwear that was "gifted" by Dorit while also showing off her new Chanel bracelet. She is pissed about Dorit's present, and I have a feeling the newbie is no match for a woman who wears "cunty" on a necklace.
This says more about Dorit than about Erika.

Erika
Dorit, who is hosting a dinner party, is not helping her case against Erika by bringing attention to her little red dress over and over again. She can't make a big deal about Erika's clothes (or lack there of) if she isn't making a big deal about her own. 
Elliot Mintz is also at this dinner party and Lisa Rinna is doing a good job pretending she has any idea what he is talking about. Honestly, I have no idea what he is talking about either. He is either drunk or just trying to confuse Rinna for fun.
Dorit's husband PK is worse than Ken about getting involved in the drama. At least Ken only interrupts when he is defending his wife. PK is not only telling Rinna what to do, but also talking about Eileen's (who isn't even there) decision not to tell the women that her mother died before last year's reunion.
Hey PK, no one asked you.And Dorit wasn't even on the show then. There's nothing worse than a house-husband who acts cattier than the housewife.
Then there's Kyle's husband Mauricio who just casually walks in and reveals he got a speeding ticket in the mail from a trip to Italy that was over a year ago. 
181 kilometers is actually 112 mph, which means I will chop off his penis.

Kyle
When Eileen finds out about what PK says, she is (naturally) confused and thinks that they are trying to rewrite history to make Vanderpump look better. Sounds like PK is trying to play producer and stir the pot for no reason. 
This drama doesn't even make sense because as Eileen pointed out, all of the death happened after the conflict with Vanderpump started. 
If you had to bonk somebody else's husband who would it be?

Vanderpump
Vanderpump, meanwhile, is running around with Kyle talking about what Beverly Hill's house-husband they would sleep with if they had to choose. The conversation is actually very funny, and it's kind of surprising that Vanderpump settles on Erika's husband Tom.
Why would I sleep with anyone's husband other than my own? Why would I downgrade?

Kyle
It's less surprising that Kyle wouldn't pick.
Both Rinna and Erika and Kyle and Vanderpump manage to casually bring up vaginal rejuvenation in conversation. All of them claim to be against it, but I didn't know there was parts of their body that hadn't been touched. Gwyneth and Goop would be disappointed.
Random, but it's so typical that Rinna would introduce Erika as Erika Jayne instead of Erika Girardi. She a bigger fangirl than Jill Zarin when LuAnn filmed her music video.
Dorit is denying that Eileen's name was brought up at her dinner party. Was she drunk or does she not understand that she was being filmed and the clip will be played over and over again on Bravo until she does remember?
The daughter of the man who invented the bob, Eden Sassoon, has officially been introduced as our new "friend of a housewife." She seems nice enough, but I have a hard time believing she actually likes Rinna's hair. It's safe to say she just wanted a spot on this show.
My hair is iconic, and don't you fucking forget it.

Rinna
Kyle seems really concerned about finding time with Mauricio. Interesting timing seeing that her season of Celebrity Apprentice just starting airing.
Ah, it's been too long since we saw Camille Grammer. And she's having a party... that brings back wonderful memories. If only it was a dinner.
Camille seems to be in really good spirits, and honestly, it's nice to see. I would be lying if I wouldn't give anything to have her on his show fulltime though.
Dorit, Erika and Eileen is an interesting group for Camille to host since they all came on the show after she left. The tension between Dorit and Erika is high, but Dorit lost me (and the audience) when she started doubting Erika's music career.
I don't know much about Erika Jayne's music career, but I do deal with Boy George on a daily basis, so for me it's kind of maybe a hobby of hers?

Dorit
Erika can hold her own, but if I were her, I would just play her single "How Many Fucks Do I Give" over and over again: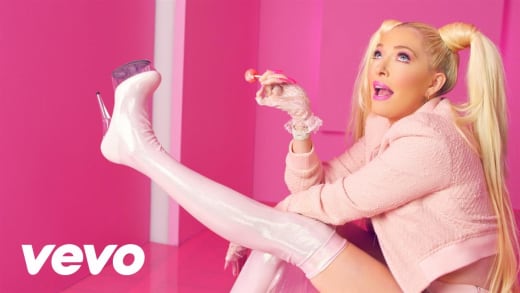 Dorit is digging herself a hole by constantly interrupting the other women and defending herself before they even attack. It could be a long season for our new leading lady.
Don't forget you can watch The Real Housewives of Beverly Hills online via TV Fanatic.
Sarah Hearon is a staff writer for TV Fanatic. Follow her on Twitter.