Since Chicago Fire Season 5 Episode 13 aired on Valentine's Day it was appropriate that the featured story was about Kelly Severide and his ongoing interest in Anna.
Severide went to Springfield this week, but didn't get the happy ending he was looking for. Neither did anyone else, unless you count the guy that Herrmann helped land a job.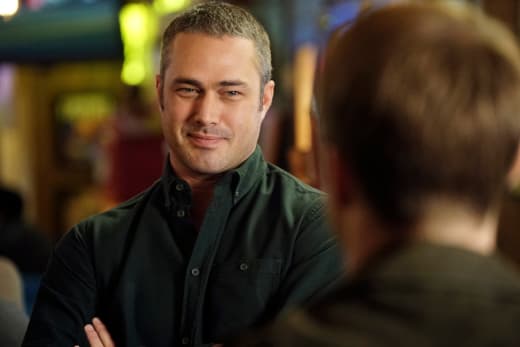 Severide traveled to the Springfield Fire Department to consider Dennis Mack's offer to become the new Battalion Chief. Naturally he stopped by Springfield Med to find Anna and tell her about the news. But she surprised him by telling him not to give up Chicago for her.
Still, Severide hung onto the idea, telling Stella that it wasn't just about Anna but also about his not wanting to turn into his father. He has a point but he can also start by getting a hold of his romantic life. And not trying to kiss a woman to interrupt when she's trying to have a serious talk with him.
The episode ended without him making a decision, so one wonders how long this storyline will play out. It's already gone on longer than it should.
Stella: So why are you asking my opinion?
Severide: Because you're my friend. I care what you think.
Stella: I think ten minutes in Springfield, you'll be high-tailing it back to Chicago as fast as you can. Or I just don't know you at all.
Severide's idea of a new life with Anna was cute if overly optimistic. But almost as if Chicago Fire felt it needed to even the scales, there was plenty of bitterness to go around in this episode, too.
Sylvie Brett was taking her breakup with Antonio Dawson really badly (as she should, considering how random it was!). Brett did what many women do and blamed herself for the situation.
She set out on a quest to make herself better, whether it was working out in the firehouse, talking about makeup or trying to teach herself German. Luckily, her partner Gabby Dawson was on hand to bring her back down to earth.
She and Stella took Brett clubbing but that went really wrong when Brett drunkenly declared she was marrying a random guy in need of a green card.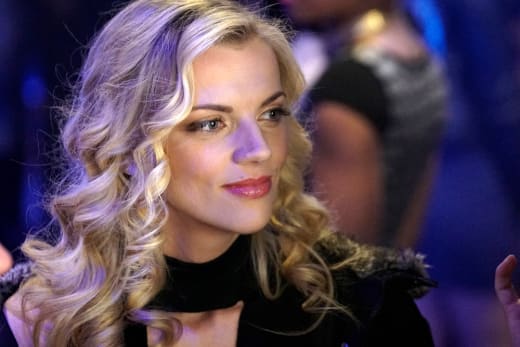 Don't worry, Brett. If our instincts are right, you'll be back together with Antonio pretty soon. Though we wouldn't say no to some hilariously bad speed dates in the meanwhile.
And speaking of hilarious, the scene in which Dawson asked Casey about people she can set Brett up with was perfect. Dawson just staring silently at Casey like she expected him to know what she wants is something many couples can identify with. As was Casey's completely not wanting to talk about this and just watch the hockey game.
Now that they're married, watch them turn into that married couple giving all of their not-married friends relationship advice.
Brett: How is Antonio?
Dawson: Not so great, from what I can tell.
Brett: Stay close. Make sure he's all right.
The real meat of the episode, though, was the sudden feud between Boden and Deputy District Chief Jim Anderson. Anderson failed to notice a detail that could have killed people at an accident scene, but it didn't escape Boden's razor-sharp awareness.
Anderson didn't take kindly to having egg on his face or the fact that the incident soon circulated through the Chicago rumor mill. Heck, Maggie Lockwood from Chicago Med was written in just to comment on it!
CFD gossips more than nurses. Which I didn't think was possible.

Maggie
You can understand Anderson's ire to a point since it's not fun to have everyone talking about your mistakes. Herrmann can attest to that from what happens to him in this episode. But the rest of this was just him being another stereotypical pain in the butt boss.
He chewed Boden out in private, did it again at a cocktail party, and then started digging around for something to hang Firehouse 51 on. Someone should have hit him upside the head with a concrete pipe, Wile E. Coyote-style.
Chief Anderson just got that promotion and he's a little...sensitive...about his image.

Boden
Anderson's master plan went to new heights, though, with the reveal that he was using his authority to reassign everyone except Boden, Severide and Casey to other locations. That's right, he broke up the band. He's our Yoko Ono.
The question is how long this is going to last. Chicago Fire can't very well have a show with all of its main characters in different places. That would make no sense, not to mention be really hard to keep track of.
But that doesn't mean the show can't get some tension out of it. Remember when Suits fired Donna? We knew she would be back because Sarah Rafferty wasn't leaving. But the character didn't return to the firm for a few episodes and it was great fun to watch.
Chicago Fire can do the same thing, provided that it doesn't cut around to every other firehouse. It would dilute the story to show all of the team's new predicaments. But maybe, y'know, that angsty shot of Severide and Stella being separated...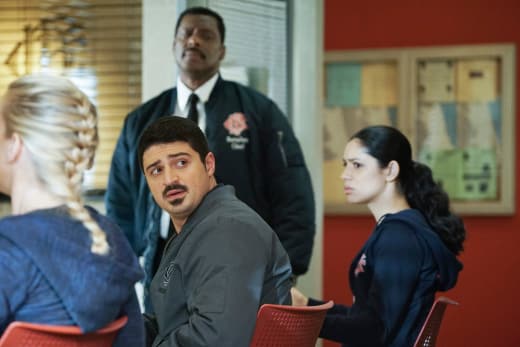 No matter what you ship or who you're rooting for, the best part of the episode by far and away was Herrmann's act of kindness.
Our favorite cynical firefighter gave money to a man who wandered into Molly's Bar desperate for cash. He needed it, he said, for a job interview so he could get hired and then hopefully see his daughter more often.
Herrmann didn't hesitate in giving him the funds even though he took constant crap for it throughout the episode. Normally we love Otis and his bad jokes, but this week we wanted to slap him. It's not funny to make fun of someone's compassion, even if you do work in a reference to one of the best films of all time (David Mamet's The Spanish Prisoner).
Whatever he's using that money for, he needed a helping hand. I helped him.

Herrmann
Even though Herrmann claimed not to believe the guy's story, you know he wanted it to be true. And he was proven right when the guy showed up at Molly's near the conclusion of the episode and gave him all the money right back - plus revealed that he'd gotten the job!
That's another one of those Chicago Fire feel-good moments right there. It also more than balanced out the bad taste in our mouths left by Anderson's scheming, which was probably the point.
It's only getting scammed if I believed his story, which, I didn't.

Herrmann
As divisive as things are in the world right now that makes each of these sweet moments in all of the Chicago series that much more poignant. It's nice to see scenes where people help one another because they can, where they save people without any thought of their own personal gain or safety. Sure, it's just TV but it helps.
And to have that scene happen with Herrmann, who can often be the most cynical, was perfect. David Eigenberg has gotten some great moments this season, between this and Herrmann's speech to the kid who had been tagging the firehouse.
"Trading In Scuttlebutt" wasn't the most compelling episode but the performances of Eigenberg and Eamonn Walker made it a must watch alone. Those two gentlemen are wonderful week after week.
Add in the drama of what will happen to Firehouse 51, and some properly applied comic relief thanks to Dawson and Brett, and this is a starting point for some good second-half shenanigans.
Right, right. You just got tired of the hustle and bustle of Chicago and figured you'd move to the countryside, raise some chickens.

Stella
Chicago Fire continues next Tuesday, February 21 at 10/9c with Season 5, Episode 14, which is appropriately called "Purgatory." Tune in to see how the members of Firehouse 51 deal with their new assignments - and maybe how they're going to find their way back.
Meanwhile, if you want to re-watch "Trading In Scuttlebutt" again or catch up on any of Season 5 so far, you can watch Chicago Fire online. And don't forget to use the comments to give us your thoughts on this week's episode.
Happy Valentine's Day, Chicago Fire fans! May you find your own Dawson or Casey out there.
Brittany Frederick is a staff writer for TV Fanatic. Follow her on Twitter.