Hawaii Five-0 Season 7 Episode 16 Review: Crazy in Love
Dale McGarrigle at . Updated at .
Love – and lust – was in the air on Oahu.
McGarrett and Lynn and Danny and Melissa attempted a romantic getaway, while the rest of the team tried to solve the murder of a man very unlucky in love on Hawaii Five-0 Season 7 Episode 16.
First, let's visit those lovebirds – McGarrett and Danny.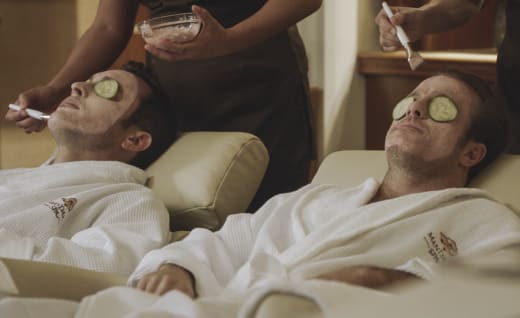 Poor Lynn and Melissa. They planned a joint Valentine's Day weekend at a local resort, then Danny's obsession over a missing pair of sunglasses nearly ruined it.
Only Danny would pop a cucumber – that he had been wearing – into his mouth, then bolt out of a facial because of some perceived injustice. 
And Steve had to keep an eye on Danny so he wouldn't do something stupid.
Well, stupider.
Let's see. There was police harassment, even though they never identified themselves, and entering a room under false pretenses. They got the maid to open the door, so it wasn't technically breaking and entering.
Good thing an expensive meal for the teen's family made that potential messy situation go away.
That's after Danny unintentionally set the whole weekend in motion.
McGarrett: I know what you did. I know what you did. Yeah, you. You told Melissa we needed to hang out as a group, didn't you?
Danny: Yeah, but I didn't mean it. That's what you tell your girlfriend when you don't want her to think you're an anti-social weirdo.
McGarrett: You are an anti-social weirdo.
Danny: That's the whole point. I don't want her thinking that.
McGarrett: Yeah, smart move. Hide your true self from your girlfriend. That's going to be great for your relationship.
Among volleyball, yoga, the beach, facials, the girls tried to get the men into the spirit of the weekend, even if it kills them.
And it almost did.
Lynn [to McGarrett}: You're ruining my Zen.
Melissa [to Danny]: The narration, it has to stop.
At least McGarrett tried to be a good boyfriend. Why else would he contort himself through yoga?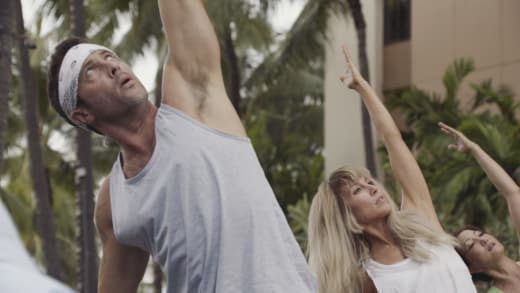 It was funny to watch the muscular McGarrett falling all over himself.
At least it switched from bromance to romance by the end, so there was some hope of salvaging the weekend.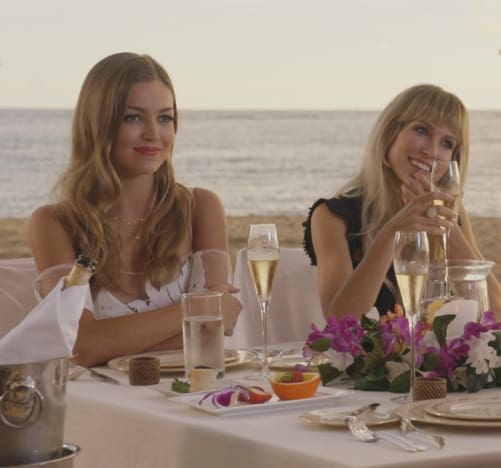 In general, I'd love to see more of Lynn, Melissa and Abby(if she's ever available again). At least Adam shows up with a little more regularity.
But I suspect it's always going to be action first, character development second.
Still, they were bound to have had a better time than Chin, Kono and Grover, stuck with that douche-bag who ran that program on picking up women.
You just knew he and Kono weren't going to hit it off.
Stone: What I do is help people feel better about themselves.
Kono: You mean help men feel better about themselves, by objectifying women. What was that you called them, targets?
Stone: No one respects women more than me [looking her up and down}.
Kono: Right.
Conning those desperate men by setting them up with prostitutes. What a sleaze!
It makes you wonder how much of that actually goes on in Hawaii.
A presenter blows into town with some kind of scheme looking for suckers:meeting women, flipping houses, the perfect diet.
Vanessa's stalker really came out of nowhere. A simple solution, but it didn't feel terribly organic.
You've got to give Stone credit, still hitting on Kono only moments after she saves him. He must believe in the power of his own BS.
Kono: I don't know if you noticed, but I'm married. Even if I wasn't, still no.
Stone: That ring isn't a deal-breaker.
The whole thing felt pretty secondary to Steve and Danny's Excellent Adventure, for better or worse.
Despite the lack of a preview, it appears that Dr. Madison Gray, psycho whisper, is returning next episode, along with profiler Allison Brown.
Bet you thought the producers had forgotten about them.
Since the psycho on MacGyver Season 1 Episode 15 supposedly called Gray, I'm guessing that's how the crossover between the two shows which I've heard rumored will come about.
There are some natural pairings between the two shows: Jack and MacGarrett, Bozer and Jerry, Riley and Kono. I'm just not sure how it can be structured so it's seamless rather than forced.
To catch up on this season, watch Hawaii Five-0 online.
Wouldn't you like to spend a little time at that resort? How does anyone fall for that how-to-pick-up-women con? Was Valentine's Day well handled? Comment below.
Dale McGarrigle is a staff writer for TV Fanatic. Follow him on Twitter.