Things aren't as boring in the office as one would think, especially when there's no internet to distract yourself with.
Trying to be both a boss and a friend never ends well because there's always something that prevents that from actually working out.
On Powerless Season 1 Episode 2, Emily learns the hard way that she can't both motivate her team to work and be their friend once the work day is done. Van also learns a lesson about memes and how quickly they can spread.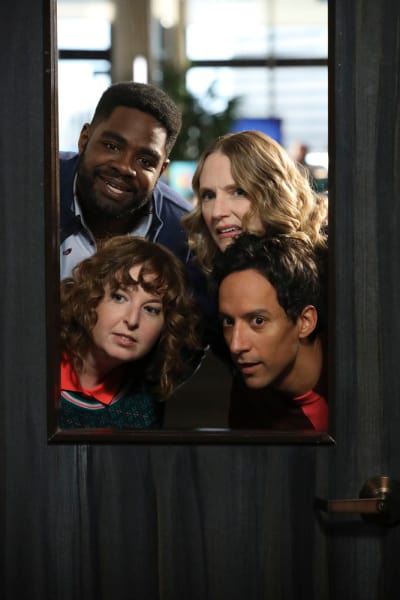 The office setting is establishing itself well, following different conflicts from within. The one thing that could get more attention is the invention part of their job.
Now, Emily could have been too positive of a presence, but I actually look forward to her scenes. She's upbeat and inspiring yet it's not in a very annoying way.
Usually peppy characters border on horrible because they are forced so hard on us, but Emily really turns that around. 
She moved to a new place and just wants to be friends with her coworkers while still succeeding as a new boss. Plus seeing her try to meet people is hilarious all on it's own.
Who would ever think that riding the elevator up and down would help introduce you to people? 
MuTow is short for Murder Town

Jackie
Emily still has a long way to go with people like Teddy and Ron, it's when she makes up for her mistakes that she scores points at the office.
I have to ask, what could have been in that anti bullying video? Not only to make it last six hours but also to unnerve a person like that.
Last time I checked, HR wasn't this level of cruel.
Still, Emily powered through it and successfully showed her team that she was sorry for her mistake. Taking away people's internet is a very serious thing, not only because of fantasy superhero league which sounds so cool on it's own.
It discourages everyone from procrastinating. something that sounds like a good idea but really isn't.
Hearing that Teddy and Ron work better when they do nothing until the last minute made a lot of sense.
It's relatable and was proven to be true when they still finished their project in time with an even better idea embedded. 
Anyone else stay out of a hotel carved out of ice this weekend?

Van
Van and his finger guns are on another level.
If anyone needed an education in memes, it was definitely him.
I have never seen a character so vain, yet it really works for him. He's weirdly wonderful especially when he's too caught up in himself to notice what's happening around him.
His scenes with other characters is where it might take a hit.
Van and Emily had dynamic interactions going for them, with him being clueless most of the time and Emily not knowing what to do in those situations. 
Is that something we can bring back around already?
Teddy: Did you just call yourself a bitch?
Emily: I am better over email.

A standout character that's currently winning at everything has to be Jackie. She's Van's assistant but she is more than that for the people in the office.
She's a great sounding board and friend to Emily, even going to get donuts with her before work.
Her advice isn't always received well, but she had a point about being a dick to the team if she wanted to see progress. 
Jackie is also a great help to Van, whether it's scheming or preparing him for the day.
Jackie is on top of everything and that makes me wonder what else we could find out about her.
While Emily tries to make her team spend time with her, acknowledging that Jackie already is would be great.
And I know that asking for Van to show some appreciation is just asking for too much. Instead I'll take Van wrecking havoc while Jackie cleans up each mess with sass and sarcasm. 
Van: What is wrong with this picture?
Jackie: There are no women or minorities?
What did you think of the episode?
Who are excited to see more of? Where do you want to see things go from here? What kind of gadget do you want to see invented? And what kind of superhero didn't we hear of yet but probably should?
Let us know what you think below.
NOTE: Use the video below to watch Powerless online
Yana Grebenyuk is a staff writer for TV Fanatic. Follow her on Twitter.