The Blacklist Season 4 Episode 14 Review: The Architect

Sean McKenna at . Updated at .
Might Mr. Kaplan be the person behind the attack on Red and his organization?
Who else would know the inner workings of Red's operation and hit at him in such a personal way?
Unfortunately, The Blacklist Season 4 Episode 14 didn't reveal who the person is that's behind it all, rather, waiting until the last moments to explain that it was "Red" who hired Isabella Stone.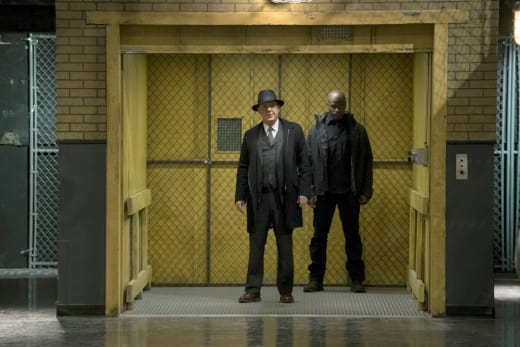 I'm guessing that the true reveal that's it's been Mr. Kaplan all along will probably be in the winter finale.
After all, there's been no sign of her since she got out of the woods on The Blacklist Season 4 Episode 8, and it just feels like the direction the series is headed.
What could be more personal of a showdown than one between Red and Mr. Kaplan?
But Red's dealings (and portrait experiences) were a small part of the hour.
Instead, the episode was focused on a brand new blacklister and putting Aram at the forefront of the case.
Aram is a fantastic and charismatic character, so to see him get back into the action again was truly welcome.
Putting him undercover again, but well within his skill set involving computers and hacking, was the obvious play for the FBI team.
But it was funny when he realized he was perfect for the job and tried to protest.
He even called back to his "failed" undercover work with his ex-girlfriend, who also happened to be in this episode as well.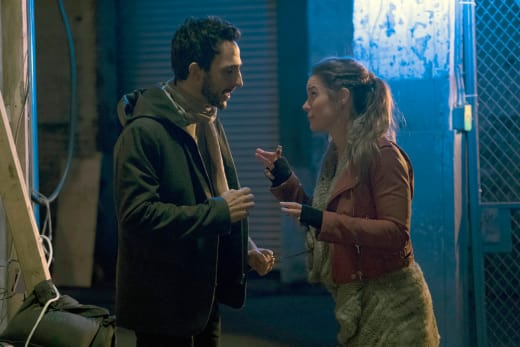 Not only was that great seeing him begrudgingly work with her, but it further continued to explore his character beyond just his tech skills.
And I like to think that there was some real moving forward between both of them after the case was all over.
On top of that was Aram choosing to kill the Architect to stop more deaths.
Again, it was a callback to his actions in the past, specifically, The Blacklist Season 4 Episode 4, when Aram faltered at killing the eco-terrorist and stopping an attack.
But here, Aram was willing to do it. For the greater good.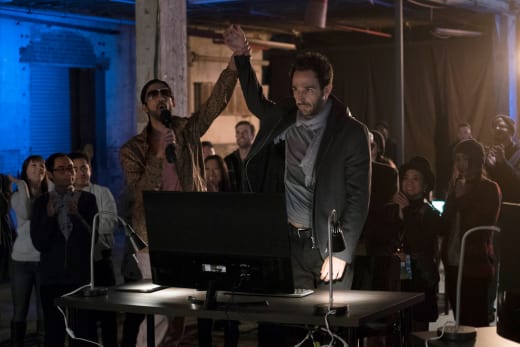 It was a big step for his character, but it wasn't one he took lightly. Again, great for character development.
Though, I can't imagine Aram will want to get out into the field again anytime soon.
I was hoping for the Architect to have more of an impact, especially with actor Brent Spiner of Star Trek fame in the role.
He was fine as the bad guy who could craft the perfect crime, but there really wasn't too much to the character.
I was hoping for more from the Architect.
That said, his antics did bring Aram's ex-girlfriend back into his life, so there were positives on that front.
Plus, who knows, maybe that's not the last time we've seen her.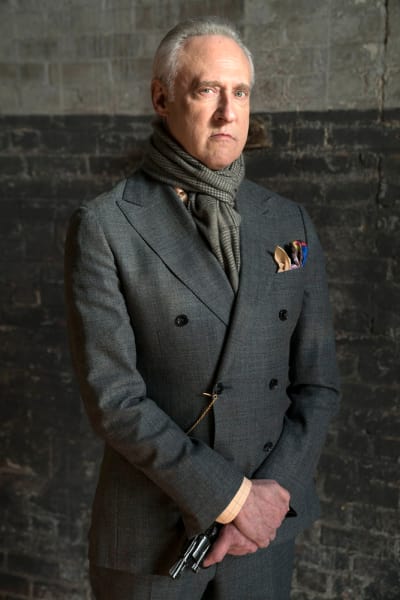 As for Tom, he's still digging into his past and that clearly will lead him to seek answers on The Blacklist: Redemption.
Though, it does make me wonder if watching the spin-off is required viewing for The Blacklist.
Would someone who doesn't choose to watch be missing out on key pieces of information, especially with Tom's past?
Either way, it looks like things are gearing up for a major winter finale. Bring on the reveal of who is truly after Red!
Do you think Mr. Kaplan is behind the attacks? What did you think of Aram going undercover?
Sound off below, and be sure to watch The Blacklist online at TV Fanatic.
Sean McKenna was a TV Fanatic Staff Writer. He retired in May of 2017. Follow him on Twitter.