The Flash Season 3 Episode 13 Review: Attack on Gorilla City

Mandy Treccia at . Updated at .
Never trust a telepathic gorilla.
Especially not a telepathic gorilla that you and your teammates stranded on a different Earth.
Barry and the rest of Team Flash learned this lesson the hard way on The Flash Season 3 Episode 13, "Attack on Gorilla City."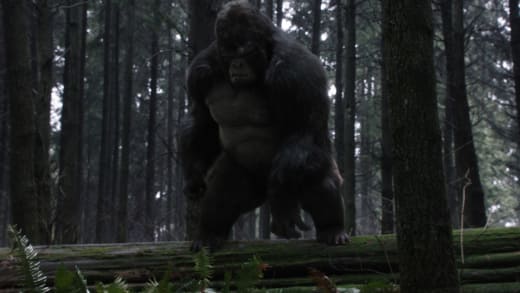 My excitement levels for this were pretty high. Having to wait an extra week for it only added to the anticipation of Grodd's return. 
I'm so happy it more than lived up to expectations.
There's no question the show's had a bit of a villain problem over the past two seasons. So anytime we get to revisit a villain from The Flash Season 1, Team Flash is guaranteed a worthy opponent.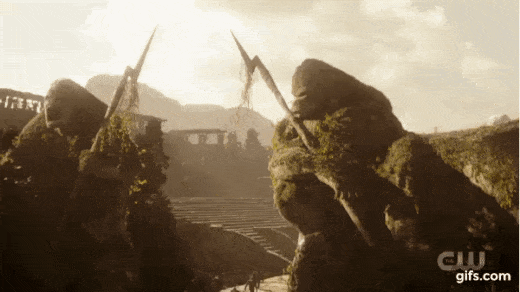 The visuals of Gorilla City were amazing. I can only imagine what an episode like this costs, but it's worth every penny.
How cool were the sweeping wide shots? The statues, the arena, the army of gorillas waiting to witness the likely death of the humans trespassing in their home.
We didn't need to hear the team fearing for their lives. The pictures alone were enough to let the audience feel the electric terror in the air.
How would they get out of this one?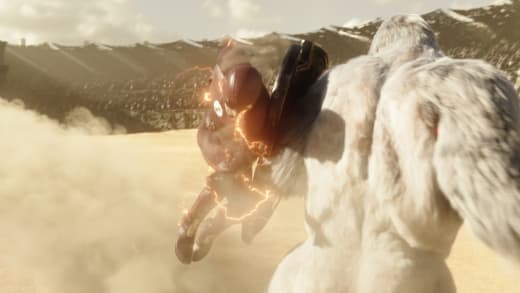 Barry managed to win the fight with support from the team, of course.
That's another thing this show excels at: reminding us of the importance of teamwork and trusting the people who are always by your side when the chips are down.
After the rough beginning to The Flash Season 3, it's nice to see the team back on track.
No one hesitated to help Harry. No one sat back and just waited to die when it looked like all hope was lost.
This is what we want from our superhero shows.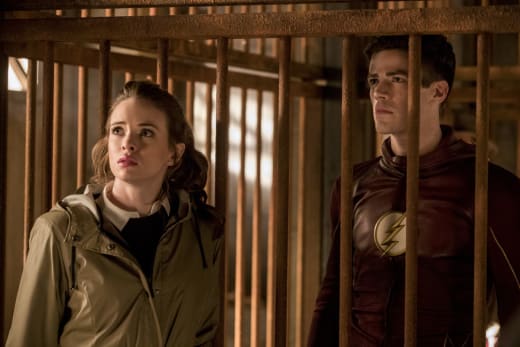 Not that our human heroes were 100% on the right side.
I loved the not-so-subtle message about the reasons gorillas feared/hated humans. Humans experimented on gorillas. They banished them from their land. Then, after placing them in their own city, they still trespassed in their desire to observe the animals.
Obviously, Team Flash didn't go there to cause trouble or hurt anyone. They just wanted their friend back.
But it's not hard to see why the animals might assume the worst about humans.
Grodd: You will be sent to the arena and executed.
Julian: What? How about a sign post at the front? All trespassers will be executed. That wouldn't be the worst idea, would it?
That being said, Grodd wanting to attack Earth-1 is a huge issue.
I have to admit, I was fooled by him, just like the team. I felt sorry for him when I thought he was trapped under Solovar's rule. It was a great twist for him to be the mastermind.
Again, can we get more villains of this caliber?
Not only does it make the show more interesting, it makes the team have to work harder to save the day.
I'm worried about Caitlin.
She might be using her powers a little at a time, and for good reason, but they're still dangerous. Plus, Killer Frost is on the list of future headlines. Since everything else is coming true, it's a safe bet that one will, too.
At least she's got Julian looking out for her. These two make me smile. 
Which instantly makes me fear that he's doomed.
Iris: Rescue Harry. But other than that, you don't have to do this for me.
Barry: Everything I do is for you.
Iris, along with Joe, didn't get a lot of screen time this week.
But I still enjoyed the little moments. First, Barry's swoon-worthy declaration, and then Iris and Joe teasing Wally about his relationship with Jesse.
I'm just so happy the lighter moments are back. We never forget Iris is in danger or that the team is headed to face off with a city of gorillas.
That doesn't mean they shouldn't take a moment or two to be human and enjoy their relationships.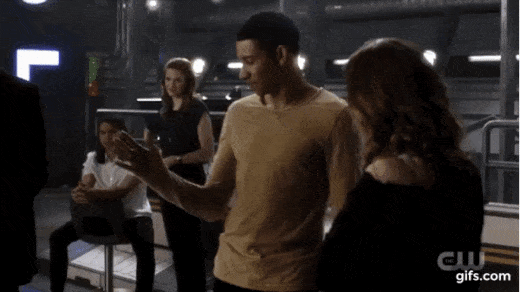 While we're on the subject of relationships, let's talk about Wally and Jesse.
I like these two a lot. They have an easy chemistry and a lot in common; not just the speed thing, but feeling out of place in general.
Was it just me, or did it feel like we were missing something when Jesse first seemed upset about being a hero?
The last time we saw her, she was loving her speed and everything that came with it.
Jesse: When I first got my power, you were so lost not having yours. I thought maybe part of the reason why you liked me was because you were attracted to the speed and not me.
Wally: [scoffs]
Jesse: I know, I know. But I saw you out there today. Being Kid Flash. You were complete, Wally. You were scary complete.
Wally: I could have all the speed in the world. I'm not complete without you.
Eventually, she admitted she just missed Wally. That's understandable, but isn't it still a little out of character?
Don't get me wrong. I'm not against relationships. I love relationships. Give me all the shipper moments. Just don't take away from who the character is to make them happen.
On the other hand, it did give Jesse a chance to bond with H.R. over her desire to stay.
Will she stay? And if she does, does that mean Harry will stay, too? Will we have two versions of Harrison Wells in one place?
I'm guessing that's not how this will play out. As much as I want Harry back, I have come to begrudgingly like H.R. We know he's been banished from his Earth. 
It seems unlikely Tom Cavanagh will be doing double duty all the time. Something will force Harry and Jesse back to Earth-2.
Sorry, Wally.
Then again, romance will be the least of the team's worries, because Gypsy seems to be gearing up to help Grodd and his army cross through the breaches.
I have so many questions!
Mainly, how excited is Cisco going to be to see her again?
Tell us what you thought of "Attack on Gorilla City"!
How great was it to see Grodd again? Do you feel he's justified, even a tiny bit? Are you worried Killer Frost will emerge? Can we have two versions of Harrison Wells at once?
Share your feelings in the comments below.
Remember, you can watch The Flash online anytime!
Mandy Treccia was a staff writer for TV Fanatic. She retired in September 2017. Follow her on Twitter.