The Good Fight Season 1 Episode 3 Review: The Schtup List

Tiffany Staton at . Updated at .
Things between Diane and Lucca are starting to thaw.
Although, I wonder if they'll ever talk about what happened between them. Does Lucca even know Diane and Kurt are separated now?
These are just some of the questions that went through my head during The Good Fight Season 1 Episode 3.
One of the more prominent storylines concerned some unintended consequences of the new administration.
Reddick, Boseman & Kolstad is an all black firm that primarily handles police brutality cases. The partners are concerned this will piss off the government and result in less favorable tax benefits for their clients.
Their concern increases when a longtime client hasn't paid his retainer this year.
The client's mention of a new administration and a subsequent meeting with a firm that openly supported Trump, suggest they need to find a Trump supporter of their own.
The stakes they go to to find one are pretty funny.
Adrian: Wow. We have 80 lawyers and 50 staff and not a single one of them voted for Trump.
Barbara: Or not a single one wanted to admit it.
Enter Julius Cane. He's ashamed but eventually admits he did in fact vote for Trump. Conservative politics and all.
His confession and subsequent concerns are hilarious. He's terrified he'll be ostracized.
At best, Trump supporter's are simply deemed unintelligent. At worst, they're sexist, homophobic, greedy, arrogant, and racist. Because of course, a vote for Trump means you agree with everything he says and does.
It follows then that if you voted for Hilary, you're a liar and maybe your husband even cheated on you.
Please know, I'm being sarcastic. I don't want to get too into politics but this show requires that I at least mention it when they do.
All I can say is these are incredibly contentious times and I'll do my best to not piss everyone off.
Julius: I'm not just gonna say I voted for Trump.
Adrian: Why not?
Julius: Because I'm not defined by that.
Anyway, the firm has their sole Trump supporter pitch the bid and apparently it's enough to satisfy the client. That Julius was later visited by the minority owner of the firm that supported Trump was interesting.
Will the attorneys at Reddick, Boseman & Kolstad turn on him? Will he eventually leave to join the other firm?
Back in the court room, Diane and Lucca are representing a doctor who was arrested for assisting in surgery performed on a terrorist.
Colin Morello, the very handsome Justin Bartha best know for his role in The Hangover, represents the state.
He and Lucca have gone up against each other before and have obvious chemistry. We see a lot of side glances and smirks.
They even stumble into an unexpected lunch wherein Colin likes his sandwich the same way Lucca does. It's a little too pointed for me. The actors clearly have chemistry, you don't have to spell it out for us.
Still, I enjoyed the banter between them.
Lucca: You think you're my type. You're not.
Colin: Hm. Why am I not?
Lucca: You're too slick. I mean, look at you. The hair, the gel.
Colin: That's not gel. My hair just settles that way.
The case really didn't interest me at first.
It was cool that the doctor was assisting via Skype but it seemed like the case was just a way to bring Diane and Lucca together and show case Colin and Lucca's sexual chemistry.
Still, I was instantly hooked when the terrorist brother showed up to insist that the surgery continue and especially when the air raid killed both brothers.
I understand that the government was able to kill a very dangerous man, but how many innocent lives were lost in the process?
It's scary to think that this kind of thing probably happens all the time.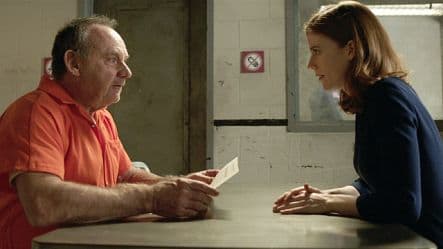 Meanwhile, Maia did some investigating of her own. After surprising her mom and uncle Jax, she visits her father.
Was she right to suggest that Lenore hasn't been loyal to him? There isn't any real evidence to support this, other than Maia's intuition. She may have caught them in various stages of undress, but they weren't naked or in bed.
There also isn't any real evidence showing who was behind the ponzi scheme. Everyone's just pointing fingers at each other.
The schtup list is obviously relevant. The title was clever but would someone really have it saved as that in their computer?
What is Henry going to do with it now that he has it? It's not like he can do much while he's in prison.
Should Maia keep helping her dad or stay out of it?
If you missed this episode or just want to re-watch it, you can watch The Good Fight online via TV Fanatic.
Tiffany Staton is a staff writer for TV Fanatic. Follow her on Twitter.