The Vampire Diaries Season 8 Episode 14 Review: It's Been a Hell of a Ride
Paul Dailly at . Updated at .
Katherine Pierce is back, you guys!
That was confirmed on The Vampire Diaries Season 8 Episode 14 in what turned out to be a crazy thrill ride that set the wheels in motion for what is sure to be a killer conclusion to this CW hit.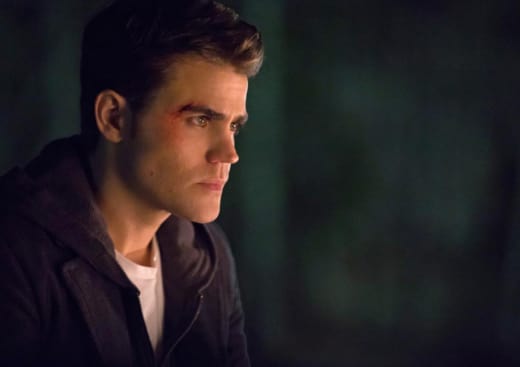 Let's talk about Kai first. He continued to be a delight. I laughed out loud at him singing karaoke. It was so ironic that he would be singing about knocking on heaven's door when that was exactly where he wanted to go. 
If The Vampire Diaries Season 6 taught us anything, we should never trust Kai. It was a typical Kai move to make a deal with the devil to get what he wanted. He's been nothing but an opportunist since he first appeared. 
His first death was not great, but Bonnie trapping him in a prison world was just gold.
The twins are going to prove integral to taking down Katherine. Their power is growing stronger by the second.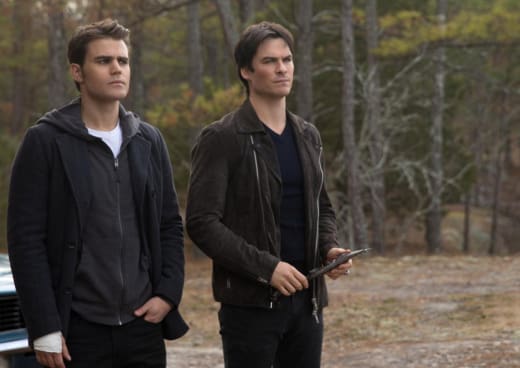 It was surprising Cade was taken out of the equation with so little time remaining. Stefan definitely wanted to be the hero who saved everyone when he came up with the idea of killing the devil. 
Damon knew straight away he would have a better chance because his brother was human. Damon's sacrifice was heartbreaking, but death is a very loose term on The Vampire Diaries.
Everyone seems to find a way back to the land of the living. That happened again when Damon committed suicide. Yes, it was to save both Stefan and Elena, but it proved how far Damon has come as a character. 
He could not make a decision about who should perish. Even though Stefan is the reason Damon became a vampire in the first place, the brothers are past bickering about it. 
Damon knows Stefan is not going to live forever now that he's human, so he wanted to give him the gift of living a normal life. That's what Stefan robbed of him all those years ago.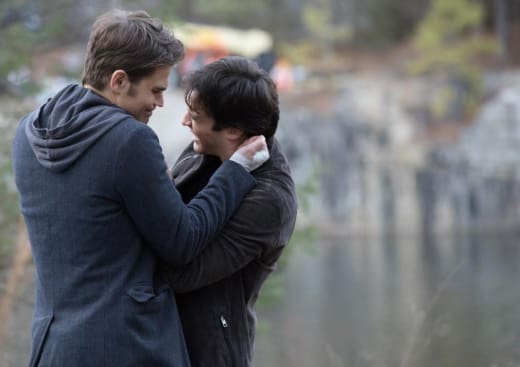 Cade being murdered did seem a little too easy. It appeared as if Damon was being dragged off to hell, but then my new favorite medium, Bonnie Bennett, showed up to save the day. 
Even without magic, she still manages to fix everything. Bonnie sparring with Cade over who was getting to keep Damon was brutal. There was a very real possibility Bonnie was going to die. 
Hey, something needs to happen to allow Elena Gilbert to awaken from her nap. 
I'm still not ruling out Bonnie's death. So much has happened to her over the years that I would not be surprised if Julie Plec decided to stick the knife into the character one last time. 
Enzo trying to help Bonnie forgive Stefan was sweet. If you recall, Enzo originally made it his mission to make Stefan's life hell when Damon was stuck in the prison world. After being under the spell of Sybil, Enzo clearly understood Stefan was not his normal self when he committed the murder. 
Obviously, it's tough for Bonnie to forgive him because she was robbed of the love of her life. Stefan killing Cade definitely earned him some points with her. Hopefully, they can find a way to move on. 
The reveal that Katherine was the one in command was shocking, to say the least. Ever since she was dragged off to hell during The Vampire Diaries Season 5, I've been holding out hope she would make a return. 
I just hope she does not bring Markos, Silas or Amara back with her. Those three should be locked in a prison world.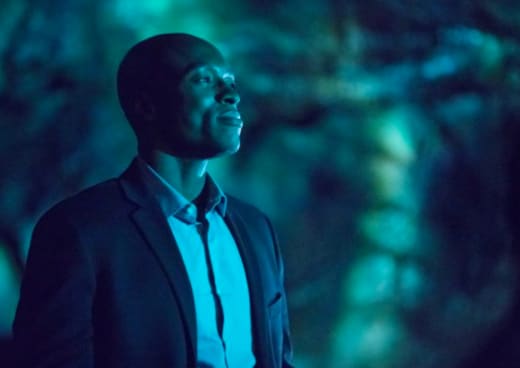 However, I'm not really buying her motives. You would think she would return to her former life and make peace with her past. She did ruin many heels while running for 500 years. 
Why does she want to start another war with our favorite characters? I'm intrigued to find out more, but I hope we get a better explanation from the villain herself. 
Being the Queen of hell, she's going to have a lot of power. Power is something Katherine has always wanted. Does this mean she's more powerful than her nemesis, Klaus Mikaelson?
Some of the events from the end of the series must carry over to The Originals. It would not make sense to keep the worlds separate. 
Aside from all of the twists, I was ecstatic Stefan and Caroline decided to proceed with their engagement. They most definitely are not the best couple on the show, but I want to see a wedding go well at least once before the series is over. 
Caroline was right to have reservations about Stefan when you consider the fact that he is aging. At one point, he's going to die, and she's going to continue her life and watch her daughters grow old. 
Damon: Sorry, Blondie, probably best if you don't know.
Caroline: Great, another Salvatore brother freezing me out.
That's going to be tough. Is that the life she really wants for herself? I'm not so sure she's fully thought it through, but maybe the addition of her daughters weighed on her decision. 
Did anyone else think she was going to, like, get together with Alaric and help him run his school of witchcraft and wizardry? 
The pair did seem closer together than ever, but Caroline being back with Stefan was the better move. 
"It's Been a Hell of Ride" was another solid episode. It's evident the series is saving the best for last and waiting for the end is nothing but excitement at this point.
Remember you can watch The Vampire Diaries online right here on TV Fanatic. Get caught up now!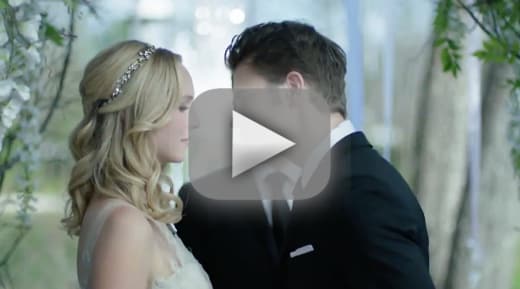 Paul Dailly is the Associate Editor for TV Fanatic. Follow him on Twitter.