Bones Season 12 Episode 10 Review: The Radioactive Panthers in the Party

Christine Orlando at . Updated at .
Not many shows can pull off murder, radioactive panthers, a nod to Married With Children, and a Betty White guest appearance all in one hour, but Bones Season 12 Episode 10 managed it nicely. 
First off, it was great to see Betty White as Dr. Beth Mayer one more time.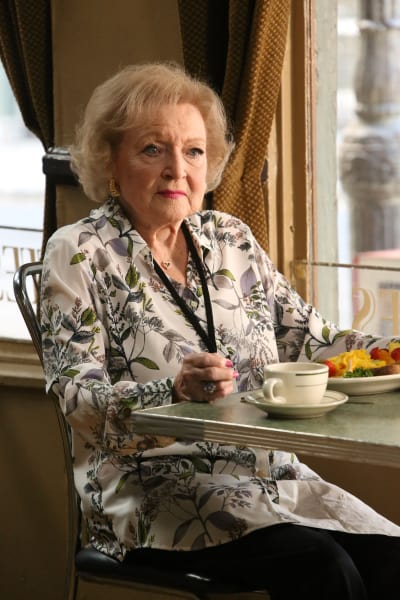 During her conversations with Brennan, I was beginning to wonder if Brennan was worried about losing her passion for her work. 
Brennan had just looked so sad of late, but that could be explained with her father's death. 
It turned out Brennan's focus wasn't on herself but Wendell. 
Personally, I was hoping Wendell would take Hodgins' advice and do the Incredible Hulk study on the effect of increased muscle mass on bones. 
It is fascinating to see how the show is wrapping up each character's storyline and giving us a glimpse at their possible future.
Wendell is brilliant, and he loves his work family, but is there another direction his passion will take him.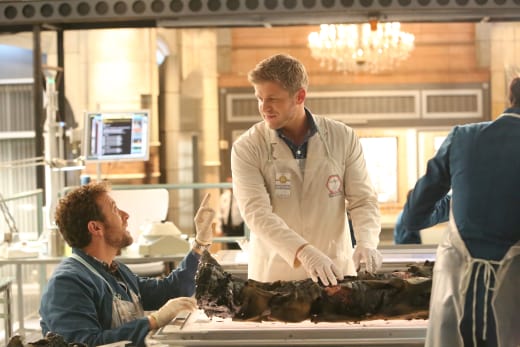 My only regret there is that we may not find out where that goes, but with two episodes left, I've got my fingers crossed that we'll get some sort of a clue. 
One of the best Bones quotes occurred between Brennan and Angela.
Brennan: Angela, do you believe in passion in the work place?
Angela: Well, given that Hodgins and I have been caught in the Egyptian room a few times…
I'm just going to throw this out there…I think Angela might be pregnant. 
There was something about Hodgins noticing how soft and fuzzy she was feeling over a guy making a mattress commercial. Pregnancy hormones perhaps?
Leaving Hodgins and Angela with the real prospect of expanding their family would leave them both on a happy note and increase the drama if everyone at the Jeffersonian finds themselves in danger during the finale. 
The murder of the week was unexpected and unique.
Cam: Burnt, broken, and cut to ribbons.
Hodgins: Well, if he wanted to kill himself he certainly accomplished his goal.
But he didn't want to kill himself, although that may have changed if he had lived to watch his own movie. 
Forget about a dead man being thrown from an overpass onto the hood of a moving vehicle and then bursting into flames, the corpse had nothing on the dread caused by watching "Radioactive Panthers in Fort Lauderdale."
Oh dear God, this is like spring break on bath salts.


Aubrey
He wasn't kidding. Who comes up with fuzzy neon monsters (I'm mean panthers) attacking a bikini-clad woman, causing fake intestines and blood to spill, even as a farce?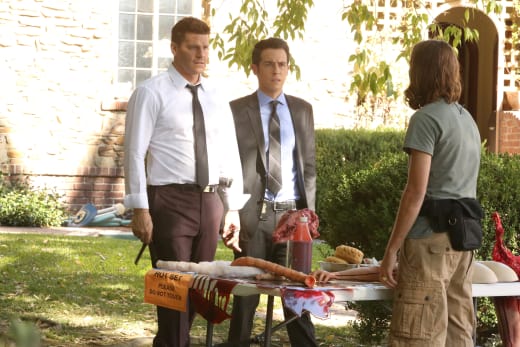 And of course, there was a hot tub scene because why wouldn't there be? 
I never felt more sympathy for Angela than I did in this installment. The poor woman has had to sit through multiple B-horror movies featuring giant, man-eating bugs. 
I guess enduring your spouse's quirks is what marriage is all about. 
Kudos to David Faustian for being able to make fun of himself in this absurd movie-gone-wrong storyline. I was never a big fan of Married with Children, but I did find this truly comical. 
Aubrey being offered a promotion to Los Angeles was a twist I didn't see coming. 
Aubrey has grown on me, but with the show ending, I think having him move on and up is a realistic path. 
Plus, he'll always be in Booth's shadow if he stays in D.C.
If the job pans out, it looks as though Aubrey and Jessica will have some serious decisions to make about the future of their relationship.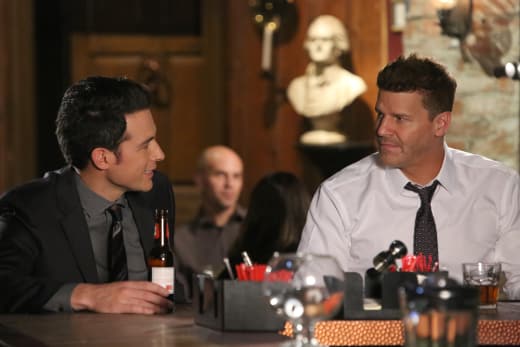 What do you think Bones fans? 
Should Aubrey head off to Los Angeles? 
Any guesses on what Wendell's professional passion will turn out to be?
And do you think I'm right about Angela being pregnant?
Don't forget to check back next week for my review of Bones Season 12 Episode 11.
And if you want more, you can watch Bones online here at TV Fanatic.
C. Orlando is a TV Fanatic Staff Writer. Follow her on Twitter.