There was a lot to love about Girls Season 6 Episode 6, but I was particularly thrilled with the long overdue confrontations between Hannah and (separately) Jessa and Adam.
In other good news, Elijah may have finally found an actual storyline!
"Full Disclosure" was a fitting title on two levels. On a surface level, it's the title of Adam's movie about his relationship with Hannah, a movie which is increasingly becoming important in the lives and character arcs of Adam, Jessa, and now Hannah.
But beyond that, "Full Disclosure" was relevant because it's literally what Hannah did – she fully disclosed the status of her pregnancy (and the fact that she's keeping the baby) to nearly all of the most important characters on the show, including her dad (and his partner Keith), Marnie, Adam, and Jessa.
At this point, the only two main characters who probably don't know are Ray and Shoshanna (unless they already heard it through the grapevine).
Much of what Hannah dealt with during this installment was the varying opinions of her friends, former friends, and family members regarding whether or not she should tell Paul-Louis about the baby. 
During the opening scene, Hannah revealed her big news to Marnie, who (naturally!) was so sure that she would top whatever Hannah's news was with her own news that Ray had dumped her. 
Marnie: Ray broke up with me. Can you believe it?
Hannah: Kind of, yeah. I mean, you're, like, a horrible cunt to him, so...
I don't think I've ever clapped as hard at a line on Girls as I did when Hannah laid out the truth about how Marnie treats Ray like actual garbage, flatly telling her that it wasn't surprising he finally dumped her.
Nothing about their breakup was surprising – it was easily the most satisfying moment of Girls Season 6 Episode 5, and possibly of the season. (If you can't tell, I'm super not into Marnie's character this season.)
The fact that Marnie believed Ray should've just been happy that she was talking to him really encapsulated that relationship and what it was all about for her. 
Marnie simply wanted someone that she knew was way below her league (physically) that she could expect to put up with her nonsense and just be grateful that she's deigning to be their girlfriend. Blegh, Marnie.
Marnie continued to be the worst later on, when she and Desi had their confrontation at her mother's friend Sharva's birthday party, where they were set to perform.
You used to be a dream come true. This whole job used to be a dream come true. Now it is a bad dream come true.

Marnie [to Desi]
Desi showed up high as a kite, making their performance a no-go. But more importantly, I legitimately felt for Desi. Dude may be a clown, but he's in obvious, serious pain. And Marnie could truly care less about it. These two are toxic for each other, and it's never been more apparent.
Ebon Moss-Bachrach really did a phenomenal job playing Desi at his absolute rock bottom, having relapsed and being confronted with the fact that he's only ever "pretended" to be things and masked his pain with drugs. Desi's monologue outside La Vue was stellar.
Desi: I'm not a musician, bella.
Marnie: You're not?
Desi: Never have been. I was just acting like one. Before that, I was just acting like being an actor. Before that, I was just acting like being a big game photographer. I'm always acting like I'm something, but now I'm, like, done.
Marnie also hit rock bottom, being forced into performing in front of Sharva and her "squad" of New Jersey partiers with her not-very-talented mother as "The Michaels Sisters." It was cringeworthy and hilarious. Rita Wilson is a gem during all of her sporadic appearances as Marnie's mother Evie, who is just as self-involved and terrible as Marnie is.
Evie scatting once she ran out of the lyrics she knew? Absolutely hilarious.
As funny as it was, I can only hope that this finally marks some kind of turning point for Marnie. If we end the series without even a hint that she's turning the corner into being a hopefully significantly less insufferable person... Well, that'd be pretty bleak.
She even had to make Hannah's pregnancy all about her, while simultaneously hoisting all of the blame for her sham marriage to Desi from her shoulders onto her mom's.
You realize that you basically pushed me to get married, right? Because that only thing that ever mattered in our fucking household was male approval. And now I find myself on the wrong side of my 20s, without a steady job or a relationship. And Hannah is having a baby and I will need to be there for her. And you two are preventing me from becoming the godmother that I need to be.

Marnie
God, Marnie is just the worst.
Meanwhile, Hannah made up with Elijah in record time in a wonderful scene that seriously warmed my heart.
Our kid's gonna have great skin and be the right kind of slutty.

Elijah
I truly love Elijah's character, and he and Hannah have the best friendship of the many friendships on this show, in my opinion.
It's clear that they honestly care about one another, and I love how Andrew Rannells played the immediate regret Elijah felt once he realized he'd really hurt Hannah. And I believed him about wanting to be involved in her baby's life. I'm very much here for Uncle Elijah.
Elijah: To be clear, I'm not offering to pay for anything.
Hannah: Nothing?
Elijah: No.
The most significant scene of this installment, for me, was Hannah's confrontation with Adam. Oh boy, was that a stellar scene. Hannah and Adam haven't shared a significant one-on-one like that in far too long.
It's definitely suspicious that Adam is so insistent on Hannah watching his movie, so fixated on confirming that their relationship meant as much to her as it did to him. It hints that there's something distinctly unresolved between the two, despite the appearance of Adam having moved on entirely with Jessa.
Adam: I need you to tell me if it's real. I made a movie about what we went through, okay? And I need you to tell me if I got it right. That my memories are your memories. You know, did I lie about anything? I want to know we felt the same things.
Hannah: I guarantee you we did not.
If nothing else, it was clear that hearing Hannah is pregnant was an absolute gut punch to him. The entire sidewalk exchange was perfectly performed by Lena Dunham and Adam Driver. It was a great reminder of how electric these two are together, and why we kept watching them do this relationship dance for four full seasons.
Important side note: Adam does love children, remember? He and Jessa baby sat his niece when Caroline vanished back on Girls Season 5 Episode 8. Jessa was lousy with the baby, while Adam has been a natural ever since little "Sample" was born during the Girls Season 4 Finale.
Will a baby (even one that's not his) be the thing that draws Adam and Hannah back together? I feel like the cast and crew have given interviews that made the chances of this reunion seem nonexistent, but you never know...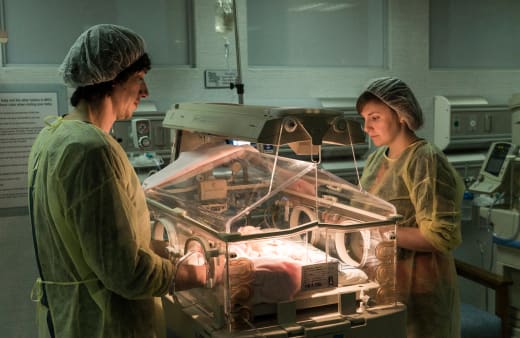 The other powerhouse scene was the confrontation between Jessa and Hannah, which had been a long time coming.
Jessa was hurt that she had to find out about Hannah's pregnancy from Adam, which was bizarre. Hannah has made it pretty clear that she's done with Jessa after Jessa's obvious betrayal of their friendship and Hannah's trust. She's even done it in a completely non-dramatic way – simply cutting Jessa out.
Jessa, for whatever reason, can't accept that. She's still hung up on Hannah, and this hearkens way back to what she said to Adam during their explosive argument on the Girls Season 5 Finale:
Y'know, people hate me. I'm a hateable kind of person. I don't know why, I can't help it, maybe it's because I have a big ass and good hair but I know, I know that I have principles and one thing I don't do is steal people's boyfriends. But you ruin that. Don't you see that?! I'll never forgive you. I will NEVER forgive you for that. We could die in the same bed and I will never forgive you.

Jessa
She can't deal with the fact that getting together with Adam meant she couldn't still also have Hannah. Because, let's be honest, Jessa is kind of a sociopath (hell, she said it herself!) and she truly can't conceive of why Hannah can so easily "erase" her and pretend she no longer exists.
Jessa: And, for the record, I am a sociopath. But you are a fucking psychopath. And it's so much worse. Everything that we did together happened, whether you want to believe it or not. Whether you want to remember it or not. And I am here and I know you. You can't just erase people. You can't just erase me. That's not how it works.
Hannah: I don't care anymore.
Jessa: Rest in peace.
It was a really excellent scene, with great work by both Dunham and Jemima Kirke. Even though I can't really sympathize with Jessa on any level at all. I'm completely Team Hannah on this one, as I assume most viewers are.
Finally, Hannah made the decision to reach out to Paul-Louis – meaning we'll be seeing Riz Ahmed once again next week! Yay!
Stray thoughts:
Did you catch the subtle reference to Girls Season 6 Episode 3? Hannah remarked to Elijah that she wouldn't call her kid fat or allow a teacher to massage them, echoing the traumatic childhood event that she told skeevy Chuck Palmer about.
Adam tried to convince Hannah that his movie would help her move on (aka, give them closure). And the movie is literally called "Full Dis:closure" (mind the colon). Oh so clever, Adam. And by clever, I do mean pretentious.
I continue to love the ongoing gag that Marnie is so up her own ass that she consistently can't recognize when people are on drugs around her. Hannah brought that up to her on Girls Season 6 Episode 2 and Marnie's mom again mentioned it on "Full Disclosure" re: Desi.
Where in the world is Shoshanna Shapiro? Honestly! There are only four episodes left, people!!
The way Desi left La Vue (and left things with Marnie) has me concerned that he might actually die. Why am I worried about Desi?! I have no idea.
I loved the brief but cute appearance of Hannah's father Tad and his partner Keith. I really like those two, they're adorable. I also liked that they bickered over Hannah's decision not to tell Paul-Louis about the baby.
Finally, Elijah has gotten a storyline – he's going to be an actor (or at least attempt it). Fingers crossed this lasts and gives him something good to end the series on.
What did you think of "Full Disclosure"? Share your thoughts by commenting below. Remember that you can watch Girls online here at TV Fanatic anytime to relive the final season of Girls!
Caralynn Lippo is a staff writer for TV Fanatic. Follow her on Twitter.