Empire Season 3 Episode 15 Review: Civil Hands Unclean

Lee Jutton at . Updated at .
Despite their nearly nonstop tangling with each other, it looks as though the Lyons have finally united as a family – and none too soon.
Under siege by another family with ties almost as intense as theirs, the Lyons will need to fight for each other if they are all to survive. 
On Empire Season 3 Episode 15, which was NOT the season finale (despite my previous insistence that Empire Season 3 Episode 14 was the penultimate episode of the season – I was misinformed, my bad), the Lyons attempted to make peace.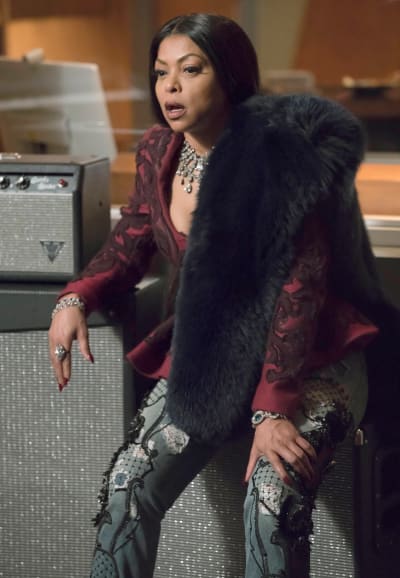 First, they tried to make peace with the Dubois family, despite Cookie's insistence that Diana wouldn't stop until she destroyed them all. 
Now, when my family decides to shoot, your whole entire family will burn to the ground.

Diana [to Cookie]
Instead of listening to Cookie, the family took Jamal's advice and took the high road, offering Angelo a check for his scholarship program as an olive branch. 
While I generally always agree with Jamal, who despite his addiction issues remains the sanest person on the show, I think in this situation Cookie's instincts were spot on.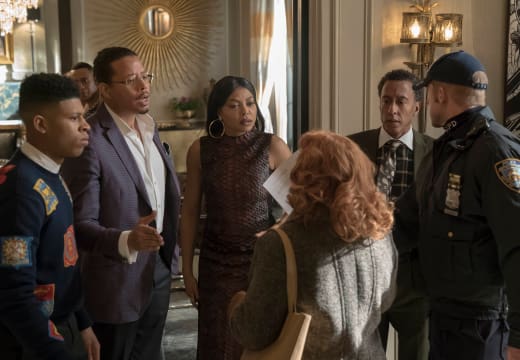 More than anyone else on Empire, Cookie knows how Diana's mind works. Both are fiercely protective mothers who will stop at nothing to protect their families and to seek revenge on those who threaten their beloved broods.
I don't trust that fake-ass Clair Huxtable!

Cookie [on Diana]
Cookie knew that Diana wouldn't accept peace after what they did to Angelo's career; after all, you know Cookie would go scorched earth on the Dubois family if they sabotaged any of her children's futures. (And really, her kids do enough of that on their own.)
You've got to stop firing at Lucious because he's going to light you up.

Cookie [to Angelo]
Turns out, it wasn't the Lyon children that Diana had in mind when she spoke of burning Cookie's entire family down. Instead, she went for the baby granddaughter.
While we don't know for sure that it was Diana who called child protective services on the Lyons, it's a pretty obvious guess – and Empire tends to go for the obvious.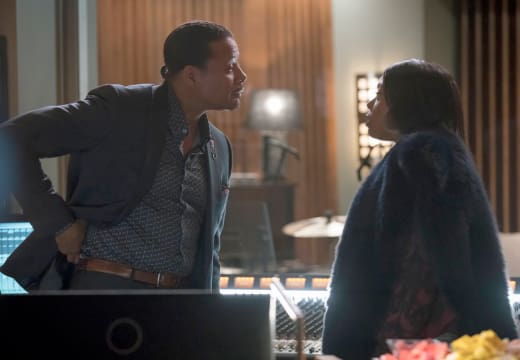 Angelo's government connections would make seizing Bella easy, and it would strike at the very heart of what Cookie values most – her family.
I couldn't help but be enraged on Anika's behalf when she collapsed in hysterical tears after her baby was wrenched from her arms, and this was only moments after I was questioning whether the writers had actually forgotten that they implied Anika killed Rhonda's baby.
I know your father can be a piece off work. Just give him a minute to come to his senses and then we can run Vegas like a family.

Cookie [to Andre]
Seriously, though, Anika had that arc where she went seriously crazy and all but certainly identified as the one who shoved pregnant Rhonda down the stairs. But, then Empire abandoned that storyline to play her up as a sympathetic mother and Lyon loyalist instead. 
Jamal: I want for the Lyon family to work together.
Cookie: Is this a kumbaya moment?
While the inconsistency in regards to Anika's character irritates me, I don't want to go too far down that road, Suffice to say, I've never been Anika's biggest fan, but I still hope Diana faces the full brunt of the Lyon family's vengeance for what she did.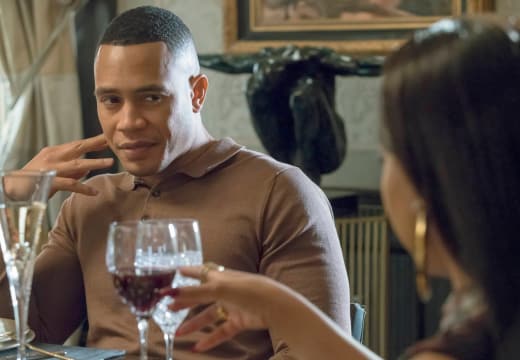 The tragedy of the situation was compounded due to the fact that Lucious had finally granted Hakeem's wish to be listed as Bella's true father on her birth certificate.
The whole storyline involving the birth certificate was pure Hakeem ridiculousness, including nonstop livestreaming, shirtlessness, faux-philosophical ramblings, and even a hot tub threesome. (The writers may have forgotten that Anika killed Rhonda's baby, but they have finally remembered that Tiana is bisexual.)
Guess what, old man? Last I checked you weren't the only CEO at this company.

Jamal [to Lucious]
I could honestly have cared less about any of this, what with all of the Cookie-Lucious-Angelo drama swirling through the atmosphere like a tornado, takenready to touch down and destroy everything in sight. 
Jamal: If they're gonna go low, we're gonna go high for once.
Cookie: Oh yeah? You learn a little something from Michelle Obama?
Jamal: Yeah. Yeah I did.
While Hakeem did have some truly hilarious lines, for the most part, I couldn't help but yawn every time he reappeared during this episode.
Also, do you think Hakeem's arm will eventually get stuck out in front of him with his hand gnarled into a claw from too much livestreaming? That's a bizarre storyline I'd love to see the show take on. 
After Jamal agreed to be a part of the Inferno project and passionately encouraged Cookie and Lucious to work together to make great music, Lucious experienced a change of heart.
Not only did Lucious change Bella's birth certificate for Hakeem, he also gave Anika divorce papers – and a very generous settlement that inspired no small amount of jealousy in Cookie! 
This situation right here is trigonometry. Your girl got a girl, that's two girlfriends.

Hakeem [to Tiana]
Lucious put both Hakeem and Anika's desires instead of his own for a change, so deeply did Jamal's words affect him.
Though, it may have also just been the money talking. After all, Jamal's involvement in Inferno was the only guarantee that Snoop Dogg would invest in the project, and goodness Lucious is grateful for securing that investment despite the machinations of the Dubois family. 
Cookie: I never belonged in your world.
Angelo: You destroyed my world. It no longer exists.
Either way, both of these were surprisingly unselfish moves for Lucious, but we were barely able to take in the shock of this realization before child protective services stormed in.
I guess if the episode had ended on a happy note, with the Lyon family having a peaceful dinner together, there would have been nothing left for the final three episodes of this season to deal with. (That's right, I was off by that many episodes.) 
Still, I hope the Lyons remain a united front despite the drama that threatens to tear them apart. Together, they should be strong enough to take down even a fake-ass Clair Huxtable. 
Anything you touch, it's official like a referee with a whistle.

Snoop Dogg
What did you think of "Civil Hands Unclean"? Will Cookie and Lucious be able to work together like Jamal asked? What lengths will the Lyons go to get Bella back? And will the launch of Inferno go smoothly? (Haha, just kidding – nothing on Empire ever goes smoothly.) 
Remember, you can watch Empire online via TV Fanatic.
Lee Jutton was a staff writer for TV Fanatic. She went into retirement in July of 2017. Follow her on Twitter.