Things are about to get even crazier in Gotham as if it wasn't already crazy enough.
The pieces are falling into place on Gotham Season 3 Episode 17 as every side works to take control of the city. 
But who will finally win the crown?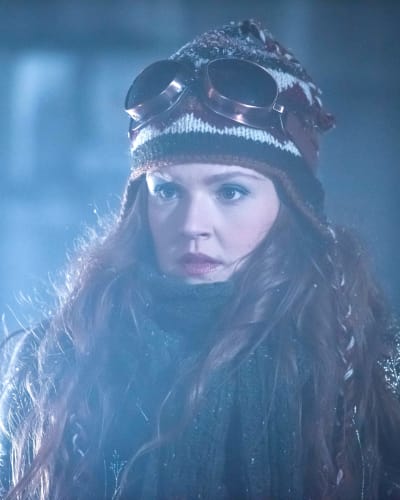 The short answer is the Court of Owls because they have always been in control of the city.
It's doubtful they'll be giving up control anytime soon even if Jim Gordon is now an official member.
There's no way he'll be taking down the Court. Not by himself, anyway.
There's the possibility he might get some help from the villains of the city, but they're going to be too busy fighting amongst themselves to even know what's going on.
If the Court wants to take down Gotham, the Court is going to take down Gotham, and there's nothing Jim is going to be able to do about it no matter how hard he tries. 
He may even come around to their side once he sees it how they see it. But until then, Jim is going to be fighting an uphill battle.
Now that Penguin is back in town, of course, The Riddler is going to go away. We wouldn't want there to be a reunion too soon now, would we?
What the Court is going to do with The Riddler is anyone's guess, but we hope they don't destroy his panache because he was a lot of fun this hour even if it was over-the-top goofy.
But as goofy as the whole theater and television scenes were, they were some of the best scenes of the hour. I loved how The Riddler used two, opposite circles of society (the theater crowd and the bikers) to get done what he needed to get the answers he wanted.
He took his role of The Riddler to heart, but unfortunately, his arrogance got in the way and caused him to make the stupid decision to get in Kathryn's car.
Did anyone else think that the talon was going to kill Nygma? I did and was relieved when they didn't.
Still, Nygma wasn't using that wonderful brain of his.
It was surprising that Bruce 2 went to see Selina and warn her about what's coming to Gotham. He obviously took a real liking to her. Must've been that kiss they shared.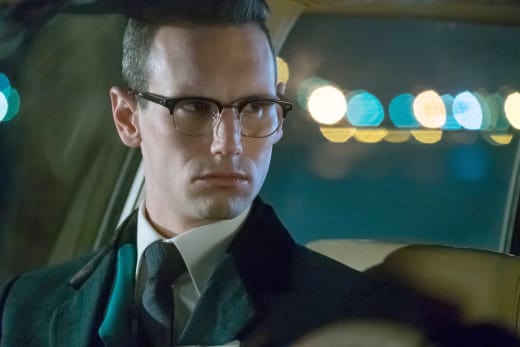 Unfortunately, she pissed him off, and now she's dead in the alley.
At least it appears she's dead. Are the cats going to give her one of their lives?
My guess is that Bruce 2 is going to let the Court know what he did, and they are going to come and save her.
She can't be dead. There's no way Catwoman (or Catgirl in this case) is dead.
No way. I don't believe it.
Penguin got his mini army together, and it was great seeing Firefly and Mr. Freeze again even if they don't like each other very much. 
I love the Penguin and Ivy relationship. They make a great team. It's going to be interesting to see what they're going to do and how they plan to take back control of Gotham.
Will they even have a chance?
Jim decided to infiltrate the Court of Owls by becoming a full-fledged member after he proved he could be loyal. He betrayed Nygma in the process but was Nygma a friend anyway. 
He had been a friend, and Jim reminisced about that as he fed him to Kathryn and the Court. 
Maybe Lee was right. Maybe Jim doesn't care about anyone because once again Jim did the wrong thing to try to do the right thing.
I bet his entire ruse with the Court is going to backfire on him.
What did you think of "The Primal Riddle"? Is Selina dead? What will the Court do with Nygma? Will Tabitha and Barbara part ways?
Hit the comments and share your thoughts!
If you missed any of the insanity, you can watch Gotham online right here via TV Fanatic!
Lisa Babick is a staff writer for TV Fanatic. Follow her on Twitter.