Welcome, fellow fans, to NCIS Season 14 Episode 22! While a fairly by-the-numbers case, "Beastmaster" featured a number of bright spots throughout. Plus, you know, Mark Harmon riding a horse.
No helicopter to take down this time, but still. The man looks so natural on horseback, and it's nice to have him be able to showcase his talents. Seriously, though, I was counting the minutes 'til he got to ride!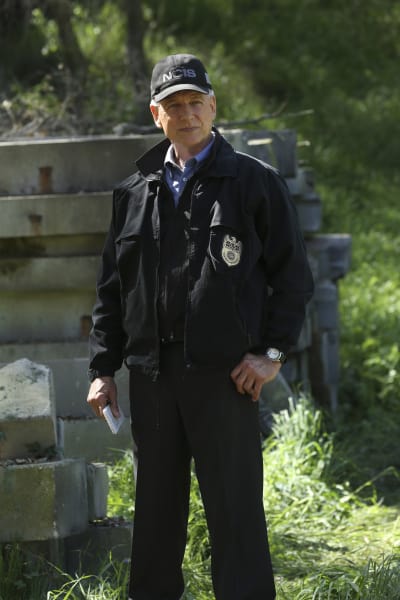 In case you were wondering, the helicopter gag refers to NCIS Season 6 Episode 17, "South by Southwest," when Gibbs (and DiNozzo) got to ride a-horseback to save Mira Furlan's character.
(They were chased by a helicopter, so Gibbs calmly shot the pilot flying said helicopter. Scratch one helicopter and two bad guys!)
We were also treated to a sweet anecdote about Gibbs's daughter Kelly encouraging a horse to overcome its depression. I have to say, it's nice to see Gibbs able to talk about her without being overcome by sadness.
He's come quite a long way from the first season, when the other characters didn't even know he had a daughter. It's a nice bit of character development, in fact.
Another positive about this episode? McGee actually doing his job as Senior Field Agent. Yes, he ended up getting menaced with a bunch of pepper spray for his troubles, but it was nice to have an acknowledgement of his role.
There's been precious little to show that he's actually now Gibbs's right hand man, after all, so even this was a step in the right direction. (Really, though, don't ever pepper spray someone for kicks. Stuff's surprisingly brutal.)
Even poor Reeves got to do something vaguely related to his "International Desk" job in acting as liaison with the Liberian Ambassador, resulting in this rather amusing exchange:
Reeves: He liked me? The man said two things to me -- 'Hello' and then 'Get out of the room.' I'm pretty sure he thought I was the butler!
Torres: So did I, at first! Reeves, Jeeves. So confusing.
Reeves: That's funny. I can also think of something that rhymes with 'Nick'!
Torres: 'Slick'?
Reeves: Try again!
On a side note, I have to wonder whether someone spiked the coffee at NCIS for this episode, because our often territorial heroes worked quite cooperatively with not one but two other parties!
Namely the aforementioned Liberian Ambassador and Elizabeth Röhm's mounted officer Sergeant Dawson.
Röhm, by the way, is also an accomplished equestrian, for those who were wondering. She's probably most well-known in the TV world for her portrayal of ADA Serena Southerlyn on Law & Order.
Her appearance here wasn't the most memorable of guest stars showings on NCIS, but I definitely enjoyed her entrance:
Tagger: [spraypaints 'FU' on a sign, then hears a horse. He turns around to see a mounted police officer.]
Sgt. Dawson: Let me guess -- 'FUN'? You like this place so much you just had to tell the world. I get it, I like it here, too!
Tagger: [runs away]
There were a bunch of great exchanges in this episode, actually. Stop by our NCIS quotes page for some of the memorable lines!
One might compare Dawson to CGIS Agent Abigail Borin, who made quite an impression on both the team and the fans -- and was incidentally played by Diane Neal, another former Law & Order (SVU) ADA!
Near season's end as we are, there's no way of knowing if Sergeant Dawson will make a return appearance in the future. Though it would be nice for Gibbs to have a non-romantic friend outside of work.
The case itself, as already mentioned, was fairly run of the mill in terms of NCIS, and I had to remind myself a couple of times what exactly it was all about.
Dead Marine, check. Monkey skulls, check. Liberian bushmeat, check. Ebola outbreak, check. Stoner smuggler and inept meat carver, check. Smoke grenade, check!
The Ebola outbreak ticking clock to add drama was a bit much, though it did add a not totally unrealistic (if rather convenient for the plot) sense of urgency to solve the case.
And really, how awesome was it to see Gibbs just ever so casually toss that smoke grenade into the truck?
I do have a serious question, though: if the two bushmeat-smuggling bozos had guns, why did they smack the unfortunate Marine on the head with a piece of historical masonry?
And could some please clarify for me what exactly Reeves's job actually is? "International Desk" is extremely vague, after all. Doesn't he still work for MI-6?
Also, I am told that it is highly likely that a startled horse (one that was, say, grazed by a bullet) would take off running, not stand around. Not being a horse expert myself, I will trust the judgment of others on that count.
If you missed this episode, fear not! You can always watch NCIS online to catch up. Meanwhile, be sure to tune in Tuesday, May 9, 2017 at 8/7c on CBS for NCIS Season 14 Episode 23, "Something Blue," this season's penultimate episode!
Did you enjoy "Beastmaster"? Was the anti-poaching message delivered heavy-handedly? Were you surprised that Nelson the stoner turned out to be one of the killers?
Let us know in the comments section below!