Prison Break Season 5 Episode 6 Review: Phaecia
Paul Dailly at .
Michael Scofield is a man of many talents, but nothing could have prepared him for that showdown with Cyclops. 
On Prison Break Season 5 Episode 6, the escapees and Lincoln were faced with one tough decision after another, and it made me question when this nightmare would end for them.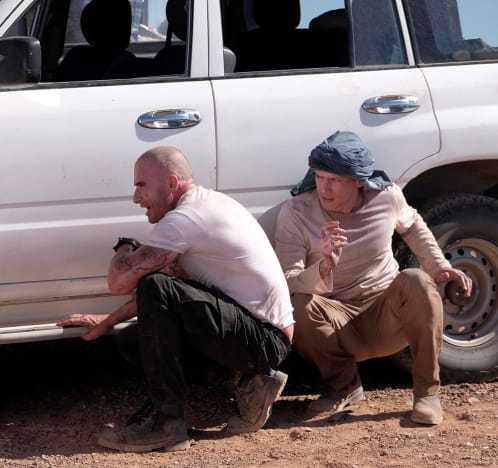 Escaping from prison was just the tip of the iceberg, but can they get a day of rest before moving on to the next part of their plan?
Cyclops has been nothing but a pain in the ass since he first appeared on the show. All he cares about is double-crossing the group, and it got old real quick. 
However, I did not expect him to take a swing at Michael after Michael stabbed him in the eye with the screwdriver. It sure seemed like Cyclops was done for, but he had to take one last stab and poison Michael. 
With Michael poisoned and no doctor for hundreds of miles, he's in a precarious situation. There's absolutely no way he will be killed off, so it kind of makes the whole poisoning plot feel like a cheap way to raise the stakes.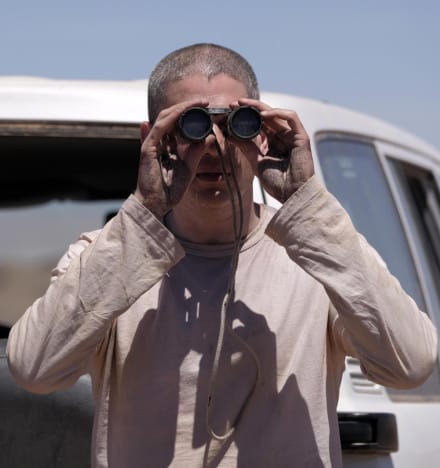 The original series ended with Michael's apparent death, so it would feel like a bit of a rehash if he did wind up dying. I dare say Michael will find a solution to his medical emergency quickly ... even if that means sending people off to find various items in the desert. 
I had a major issue with one of them staying to do battle with Cyclops. I would have liked the odds much better if it was a two-on-one battle. I'm sure Michael was thinking the worst and that Cyclops was going to be the one to kill the others. 
I was surprised Michael was the one who stayed out there. I thought for sure Lincoln was going to be going after the villain, so I liked that twist.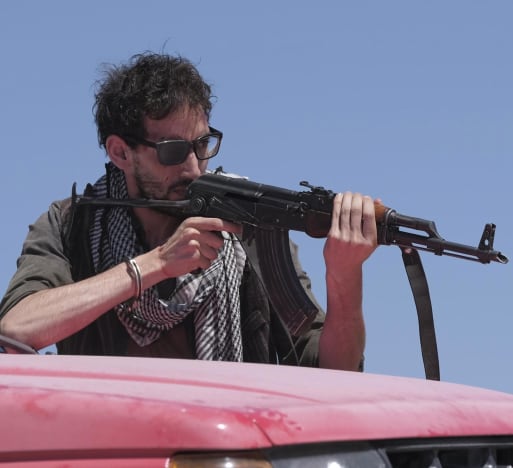 All of the stuff with Cyclops being ridiculed by people who were fighting on the same side as he made me think he was going to defect overt to Team Prison Break. 
That would have been a satisfying twist, right?
Using the fireworks to help Michael find his way back was a good one. That said, every single time the character is in danger, something happens to help him get to where he's supposed to be. 
While all of this was going down, A&W and Van Gogh were trying to throw obstacles in their way. I was surprised Trisha let them into the NSA offices in the first place. 
She should have reported on them as soon as she realized they were the ones sending ISIL men after the escapees. It seemed like she was more concerned with hitting up a Bed and Breakfast with A&W. 
I did like that we got to see more of the two villains who have been doing Poseidon's bidding, but I cannot fathom how they keep getting away with everything.
It's making for good TV, but I'm also scratching my head as to why they have not been arrested yet. I think A&W addressing Kishida as "Kishida" ruled him out as Poseidon. 
So, I still think Jacob is going to wind up being the master manipulator who has been causing all of the drama. That's the only way all of this would make sense. 
It's still dumb as hell, but there is nobody else it could be ... unless of course, Kellerman is alive and faked his death. That would suck. Hopefully, it does not play out like that. 
"Phaecia" was another solid episode that was full of twists and turns. With three episodes left, I'm intrigued to find out how the plot will be wrapped up. 
Remember you can watch Prison Break online right here on TV Fanatic. Get caught up now!
Over to you Prison Break Fanatics. What did you think of all the twists?
Note: Prison Break Season 5 Episode 7 airs May 16 on Fox. 
Paul Dailly is the Associate Editor for TV Fanatic. Follow him on Twitter.