Killjoys Season 3 Episode 1 Review: Boondoggie
Dale McGarrigle at . Updated at .
Well, this promises to be an enjoyable new direction.
The Killjoys were at least temporarily apart, with Johnny heading one way and Dutch and D'avin another. And along the way, they teamed up with old and new friends on Killjoys Season 3 Episode 1.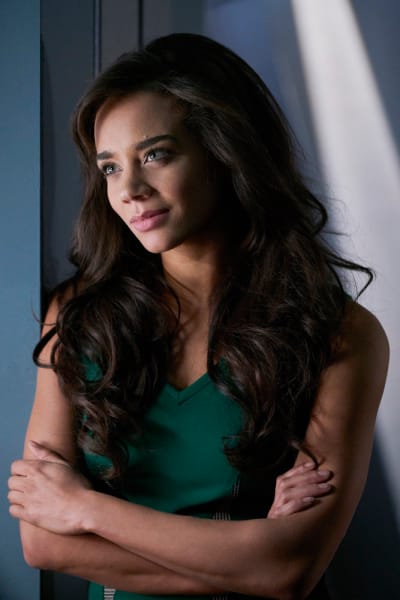 Although you can't tell from the above photo, Dutch is pissed, which is a good thing for Killjoys viewers.
She's waging war on the parasitical Hullen. She and Khlyen poisoned the green goo pool (to use a technical term) on Arkyn on Killjoys Season 2 Episode 10. But that's just one such pool in the cosmos, and there are other Hullen drawing strength from those pools.
Her actions have also brought in the next officious prig for Dutch to joust with in Banyon Grey, who was looking for all former RAC agents/Hullen hybrids that are now on the lam.
I enjoy the Mission Impossible-style team which Dutch gathered for her war, which also included Fancy, Alvis and even Pree. Each bought their own strength to the cause, but they all bantered equally well, even amid the slaughter.
It was a much better use of Dutch's hard-won assassination skills than just chasing down fugitives. She kicked ass but was also a talented tactician. Who knew the whole recover-the-beacon mission was just a way to draw out the Hullen for easy termination?
And when they're eliminating invasive alien parasites, it didn't feel nearly as gruesome.
And Dutch even found a temporary replacement for Johnny in Pippin. Sure, he's a self-interested weasel, but he almost revealed a hidden depth toward the end. Dutch needed someone unofficial who can find out things, and Pippin fit that bill perfectly.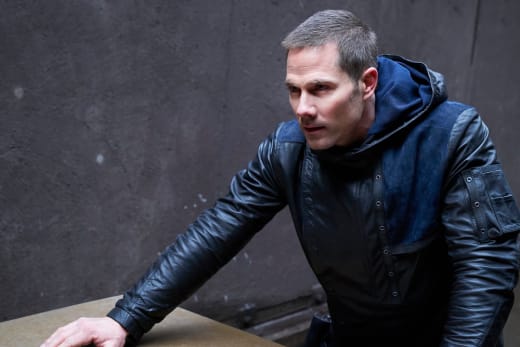 But now that's she organized this team, she loses D'avin, who couldn't resist poking around on the Hullen ship. What are the ships for? They could be for escape, but I'm betting it's an invasive force. Invading where I'm not so sure.
Johnny had his own problems on his journey of discovery. And, no, he's not the only one who isn't over Pawter's death. Good drama, but a definite loss to the cast.
First off, Johnny managed to lose Clara during the indefinite period since Killjoys Season 2.
It was not his fault, really. Stephanie Leonidas is tied up on the British-American series Snatch, now on Crackle. I guess Ron Weasley trumps lesser-known Canadian actors.
Clara hasn't been written out, just off. Her gun arm, Alice, has mysteriously been attached to Ollie, the replacement hackmod. She's a cipher so far, but I expect that to change as the season progresses.
It was good of Ollie to explain the hackmod caste system to Johnny, as a proxy for us viewers. Since we're going to be living in this world half of each episode, for now, that's important.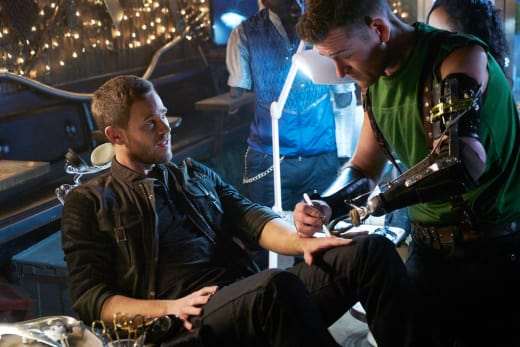 Johnny has even become a hackmod himself, getting a digital laser. I figure a "finger banger" is the hackmod equivalent to a butterfly tattoo on an ankle.
Clara's absence has given Johnny a mission: to find her, then to go destroy the hackmod factory. I'm not exactly sure why that became Johnny's thing between seasons, but so be it.
There promises to be some tie-in between the two storylines. RAC agents disappearing, hackmods disappearing: Where are they going and why?
Aneela, who promises to be this season's big bad, didn't even make an appearance. I guess there were too many other characters to introduce.
It's never been clear what the relationship is between Dutch and Aneela. Twins, separated at birth for some nefarious reason? Or clones (Send in the clones, there's got to be clones). Ying and yang?
Aneela seems deeply involved with the Hullen, so I expect she'll be appearing very soon, probably Killjoys Season 3 Episode 2.
I'm enjoying the lighter tone so far on Killjoys Season 3. All the characters seem more comfortable in their skins, having chased most of their demons away.
There seems to be little of the nine Families/Company politics so far, and more fun in space, always a good thing.
But as soon as these teams were put together, they were ripped apart. Johnny's partner Ollie was unconscious, and he knows next to nothing about her. And D'avin disappeared in a ship; something Dutch had yet to discover.
So it's more mysteries for the Killjoys to solve. It should make them pine for the good old days when they were just bounty hunters.
To catch up on their colorful history, watch Killjoys online.
What's the deal with Ollie? Do you like warlord Dutch? Where did D'avin go? Comment below.
Dale McGarrigle is a staff writer for TV Fanatic. Follow him on Twitter.