Wynonna Earp Season 2 Episode 3 Review: Gonna Getcha Good

Lisa Babick at .
That opening scene.
A lot happened on Wynonna Earp Season 2 Episode 3, but the best thing was that sexy little cheerleading routine Waverly did for Nicole.
Did everyone else have the same look on their faces as Nicole after it was over? More, please!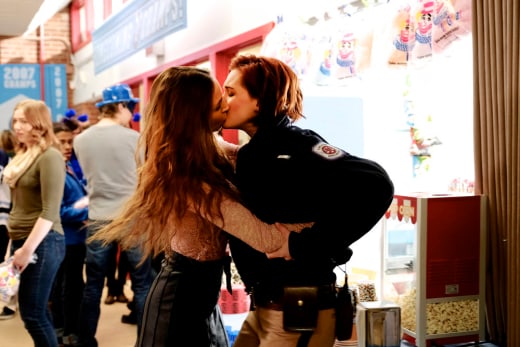 Waverly is definitely talented in more ways than one.
If it wasn't for that darn demon blood floating around in her, she might be perfect.
But that demon side of her is starting to be a real problem, and I hope Nicole and Wynonna find out about it sooner rather than later.
The sad thing is that she doesn't even know what's happening to her. She didn't even remember eating her own lipstick.
But now we know why Waverly has been stealing things, and it's not good. Not good at all.
She's got Dolls locked up and is basically torturing him. I never noticed before, but everything she was stealing was silver, and now it makes perfect sense. 
I can't remember if it was previously established that Dolls was part werewolf, but that seems to be the case. 
At least Dolls has someone on his side trying to save him. As some readers pointed out on Wynonna Earp Season 2 Episode 2, Doc is working on something to save Dolls. 
Good for him, because he's going to need it, and the sooner, the better.
There's nothing good about Waverly keeping Dolls prisoner, and the longer he's there the worse it's going to be.
Nicole is starting to notice something is off about Waverly. That's a relief, but Wynonna doesn't seem too interested in hearing about it.
She seems to think Nicole is just angry about being kept off of Black Badge, but there's a tingling in the back of Wynonna's mind. She knows there's something up with her sister. 
I'm not sure how I feel about Nicole's reaction to Waverly's passionate kiss at the rally. It was a little too much, but why can't Waverly kiss her when she's in uniform? And why not in public?
It seems strange and uncomfortable that Nicole now has some rules to their relationship. And it doesn't seem fair. 
If there were rules, why didn't she mention them before? 
But, if you think about it, Nicole isn't too keen on showing affection to Waverly when other people are around at all. 
What's that all about?
Wynonna was busy this hour chasing after a "demon scarecrow thing," which was a great description because that's the first thing that came to my mind when I saw it. It looked like Scarecrow from Batman Begins.
Doc finally got more involved in this case, but he had an ulterior motive. He needs pure demon blood to make his serum for Dolls. 
Wynonna was shocked at what Doc was doing...and probably a little impressed. She'd do anything for Dolls, too, so they agreed to not kill the scarecrow demon and just put it back into the trophy.
It's too bad they didn't know how close Dolls really was.
When they find out, it's not going to be pretty.
I loved that Wynonna kicked some ass this hour, even though we didn't get to see it. Maybe next time, but it was cool watching her walk out of the school, trophy in hand. There is some great music on Wynonna Earp. 
Perry and Wynonna made a cute couple, but Wynonna pushed him away. She has a job to do and that's her first priority. There's no room for romance in her life right now, unless it's with Doc, right? Right?!
The sister ghosts showed up again. Poor Mercedes. What are they after exactly? Could it really be Willa and her mother? Or are they something else?
One other thing, what is Nedley's long game? And what's in that confidential file?
What did you think of "Gonna Getcha Good"? What is Waverly doing with Dolls? How soon before Waverly's secret is out?
Will Doc save Dolls before Waverly ends up killing him? Will Wynonna ever find love? What did you think of Nicole's reaction to Waverly's passionate kiss at the rally?
Hit the comments and share your thoughts!
If you missed anything, you can watch Wynonna Earp online right here via TV Fanatic!