Nashville Season 5 Episode 18 Review: The Night Before (Life Goes On)

Tiffany Staton at . Updated at .
Sometimes no matter how much you want something, you just can't make it happen.
You can't leave hoping to find it somewhere else or stay hoping it will magically happen on its own.
On Nashville Season 5 Episode 18, Avery searches for the person he used to be, Deacon tries to speed up his grief, and Scarlett and Gunnar face a harsh truth in their relationship.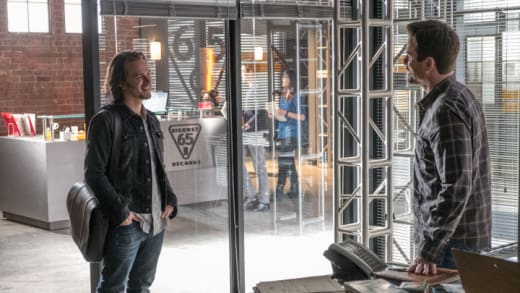 On Nashville Season 5 Episode 17 Avery finally made a decision for himself — he decided to go out on tour.
This is great news because for the last few years his only jobs have been dad and husband.
While Juliette was gone, he was a full-time, single dad. When she came back he was her number one supporter while she recovered from the plane crash. When we first met him, he was a badass musician and I, for one, am happy to see him return to his roots.
Before leaving, he stopped by Highway 65 to see about a friend. Avery is just the best.
Apparently, he's noticed Deacon struggling. At least someone's paying attention to him. Deacon's been giving so many pep talks lately that people tend to forget he needs them too.
Listen Deacon, I can't imagine what you're going through, I really can't, but at the end of the day what's on these walls, what's in her closet, it's just stuff, right? I mean the life that you shared, the music you wrote together, that's a different story. Nobody can take that away. That stuff's eternal.

Avery
Deacon is beating himself up because he thinks he should be further along in adjusting to the loss of Rayna. These feelings seem strange to me considering always he's telling Maddie and Daphne it's okay to not be okay. Why would he all of a sudden think he should be over it?
The people at the auction were definitely over Rayna's death.
They talked about her as if she'd been gone for years; as if she wasn't a real person. To them, she was the queen of country. They didn't think of her as a wife, mother, or friend. They didn't lose anyone of significance, just the chance to hear another new song from a legendary artist.
This was obvious during the auction.
The casual remarks they made about loving and missing Rayna; the fun they had bidding on her jacket. Deacon's discomfort and anguish grew with each bid and Charles Esten killed this scene. Even Jessie watching him from across the table was great.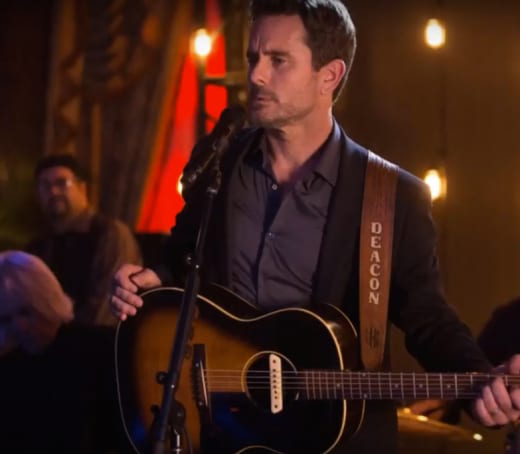 I'm not sure she knows him well enough to pick up on his emotions but putting that aside, she watched him just enough to know he was in pain but not enough to cause a scene. It was the first scene where I actually liked them.
I really hate that it's so obvious the show is leading them to each other.
Not because they're not a good fit, they are, but they don't have to push it. Let them get there gradually; organically. They're both bruised but resilient; loyal to the point of stubborn. They will be drawn together naturally.
But anyway, back to Avery.
Juliette did her best to be a supportive partner.
She wished him well as he was leaving despite the fact that she didn't want him to go. Then when he tried to come home, she told him not to. Not because she didn't want him to come home but because she didn't want him to resent her.
Good for Jules! She was totally right. If he continues to make sacrifices for her, he may resent her one day. He's already given up a lot. For once, Juliette wasn't just thinking about herself, she was thinking about him.
This bodes well for their future which always seems a little shaky.
Juliette: I'm going to kill you.
Avery: And I love you.
Speaking of shaky, Scarlett and Gunnar were literally shaking after being held at gunpoint.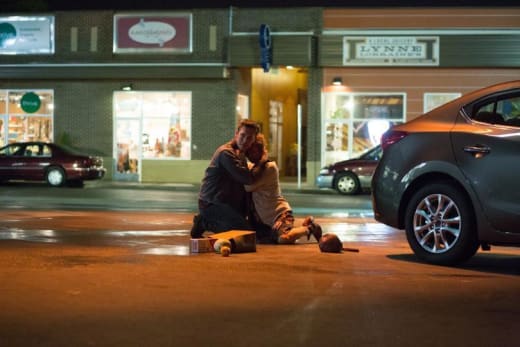 They spent the day filming a commercial as part of Alyssa's idea to branch out into different revenue streams. This is a great idea. We saw how well it went for Will.
Scarlett and Gunnar's commercial isn't quite as exciting but it fits their persona just as perfectly as the man in black fit Will's.
Scarlett and Gunnar are putting a table together as a way to appeal to millennials who think life is hard enough as it is, putting furniture together shouldn't be. It's a very simple message but I see it's appeal.
Only it's not a table. When they showed up they were surprised with a baby crib and Scarlett got that look on her face.
The irritating look that says I can't handle this, I need to run home and hide under the covers. We just saw the strong, capable Scarlett; how did she disappear again so fast?
When she broke down I thought it was because she wished Gunnar was the father. The two of them put the crib together so naturally; they exchanged sweet glances and smiles. They looked like a perfectly happy couple preparing for their baby.
The thought that they were using her pregnancy to sell records didn't even don on me.
My baby's not even born yet and we're already pimping her out for some more Instagram followers.

Scarlett
Gunnar finally said what we've all been saying for ages — Scarlett is just not into him. Not in that way. She won't admit it and honestly, I don't really understand it, but there is no love coming from her when they're together.
You don't want to have this baby with me. You don't want me period.

Gunnar
Before she could respond, the gun-toting teens appeared, and man, did things escalate quickly.
After Gunnar refused to buy them beer, one of the kid's just snapped. He robbed them, pushed Scarlett to the ground, then held the gun to Gunnar's head for what seemed like forever.
It was a tense scene and I couldn't help but think about what kind of repercussions would stem from it. The fear and insecurity that would follow them home and keep them up at night. The worry they would have about bringing a child into a world with such illogical random crime.
On the other hand, the incident could bring them closer together; going through something traumatizing and surviving.
I have a feeling it will affect them very differently. From the look of the previews, we'll find out sooner rather than later.
Side notes:
Do you think Scarlett lost the baby?
Maddie and Flynn were so cute talking about birds and zombies. Rayna would approve!
I love that Avery still calls Juliette his wife even though they're no longer married. His commitment to her is so sweet.
Where the hell did the bartender get off grabbing Avery's phone? If I were Juliette and my boyfriend was drunk in another city and some chick grabbed his phone and told me to leave him alone, I would have lost my mind.
What did you guys think of the episode? Let me know in the comments!
Remember you can always watch Nashville online via TV Fanatic.
Tiffany Staton is a staff writer for TV Fanatic. Follow her on Twitter.