Nashville Season 5 Episode 20 Review: Speed Trap Town

Tiffany Staton at . Updated at .
Who says you can't go home?
On Nashville Season 5 Episode 20, Gunnar did just that. He returned to his childhood home in Aurora, Texas.
While there, just like a country song, he ran into an old high school crush.
She wasn't into him back then, but she sure is now. Gee, I wonder if it has anything to do with him being a famous musician?
Poor Gunnar. He either can't see it or doesn't care. Maybe a little both.
He's looking for a rebound, anyone to get his mind off of Scarlett and the baby. Even more, the loss of the baby has him thinking about all the other people he's lost. Mostly, his family — mom, dad, and brother.
I'm not the answer to anybody's problems. I'm just a girl with my own.

Kelly Walker
His grandma is the only family he has left, but they don't talk.
When I first saw the previews I was nervous he would immediately get caught up in another girl, but he didn't. He's really trying to find himself. He visited various places from his childhood and reminisced about how he became the man he is today. 
He lost his parents young, his brother left him behind, and he really only had his grandmother. Although she stepped in to raise him, she wasn't loving or affectionate. Not in the flashbacks and definitely not in the nursing home.
Seeing the flashbacks and hearing about how Gunnar was in high school really shed some light on why he is the way he is. Especially why he loves so strongly and clings to Scarlett so closely.
You always had some girl who was sweet enough but kind of plain and you'd be inseparable from her.

Kelly Walker [to Gunnar]
The people he's loved have been taken from him. It's natural to wonder why it keeps happening and be terrified it may never stop.
At least Gunnar's looking for answers, rather than losing himself in a new relationship like he usually does.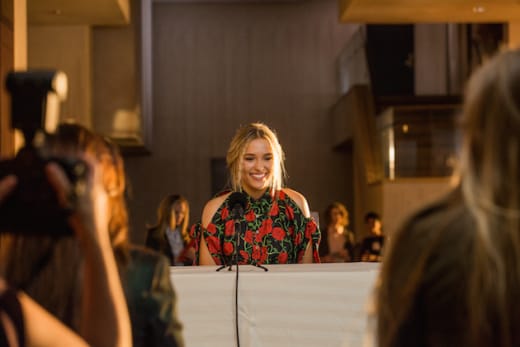 Maddie already had a hit song about a title wave, for all we know she would have passed on a song about water rising. How much water can one girl sing about?

Glenn
I was so happy when he pulled away from Kelly. I knew the kiss was inevitable — there's just something about a former crush — but I'm glad he stopped it. Especially considering the chick is married! 
More than that though, he's nowhere near being over Scarlett. He can distract himself all he wants, but he's grieving over the end of their relationship and the miscarriage. The only way he's going to get over emotions like those is to work through them.
He was right where he needed to be when it was just him and his guitar. If you need proof, just listen to the song he wrote. It was easily the best song of the episode.
I look forward to more episodes focused on Gunnar. He's always been a great character; a little more back story is exactly what he needs, in my opinion.
While Gunnar was digging through his past, Deacon and Jessie were getting closer in the present.
I hate to sound like a broken record, but I wish the writers wouldn't lean on Jessie's struggles so much.
Her past and its complications are endearing because she owned them, even her part in causing them, but she didn't dwell on them. She picked herself back up and started over.
Just because nobody hit you doesn't mean you don't have scars.

Kelly Walker
Her ex-husband is an ass. We know that even if we don't know him that well yet.
But if she continues to complain about him or their divorce or their custody issues every time we see her, it's going to get annoying. Eventually, she'll be THAT girl. The "woe is me" girl.
She has so much potential. She's incredibly talented, beautiful. Plus, you want to root for her. You want her to get her son and career back.
Eventually, I even think she'll be accepted as Deacon's next love interest. But there is no rush.
Let me say that again, writers: no rush at all.
All that said, there is great chemistry between Kaitlin Doubleday and Charles Esten. Their scenes are adorable. When the time is right, they will be great together.
Side notes:
Did Maddie really give Deacon permission to date Jessie? Is that what happened when he awkwardly brought up their coffee date, and she said she loved him no matter what? It can't be that easy, can it?
The only thing worse than apologizing over text is apologizing via Twitter. Do better, Jules!
LOVED Scarlett dancing in the kitchen! As well as her decision to learn self-defense. She's been through so much lately, and she deserves all the security and happiness she can find.
I was also surprised Deacon knew how to Facetime. Although, his explanation — "You learn a lot living with two teenage girls" — was perfect.
Avery has another girl throwing herself at him in the previews. I know he's a hot, talented musician and every time he opens his mouth, sweet, supportive, smart things come out, but he is TAKEN, damn it.
As always, leave your comments below!
If you missed the episode, make sure you find time to watch Nashville online via TV Fanatic.
Tiffany Staton is a staff writer for TV Fanatic. Follow her on Twitter.