Bull Season 2 Episode 1 Review: School for Scandal

Christine Orlando at . Updated at .
The TAC team returned on Bull Season 2 Episode 1, and if you've already read my interview with Geneva Carr, you know she's "flipping happy" about it.
Now I know why.
Bull has a whole new edge, and it's pretty damn exciting. 
Glenn Gordon Caron, the new showrunner, appears to be the reason why.  
Mr. Caron created two of my favorite shows, Moonlighting and Medium and if you've watched either of them, you know that he specializes in making the most of the chemistry between characters, and that already had me anxiously anticipating Bull Season 2. 
After watching this premiere, I wasn't disappointed. 
This show has a wonderful cast, especially the incredibly charismatic Michael Weatherly in the title role, but Bull Season 1 lacked character development and at times bordered on boring.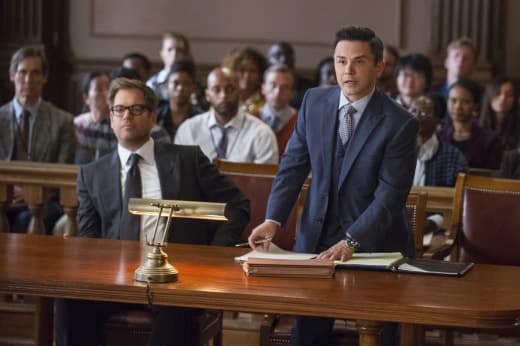 After 23 episodes, I should have cared more about the TAC team than I did. I enjoyed them, but Bull never reached the level of must-see TV. If it hadn't been my job to review Bull, I'm not sure I would have stuck with it.
If "School for Scandal" is any indication of what's to come, then that's no longer an issue.
As season 1 closed out, and Jason Bull flirted with J.P. Nunnelly, I wondered what had become of Diana Lindsay. Was his relationship with the Texas attorney over?
Far from it.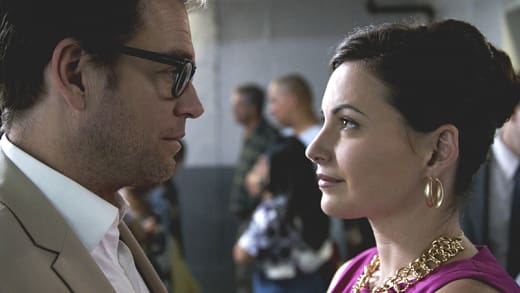 Diana and Bull's chemistry heated up in this hour both between the sheets and in the courtroom. It showcased how different this show can be in Caron's hands. 
Even the humor of this Bull quote was something we would never have heard in previous episodes...
Bull: I am a great friend. I am a fantastic friend. I am the Rachel of friends if Rachel were a boy.
Diana: You used to be so smart.
Jason Bull was so smart last season, but there were times that made him dull. Now he's got an edge to him.
Yes, that means that sometimes Bull's temper gets the better of him, or he jumps to the wrong conclusions, but that makes him more human and far more interesting to watch. 
And his quick-paced dialogue and banter reminded me of David Addison from Moonlighting in the best possible ways. 
Even the case was one of the best of the series, as the impeccably cast Minka Kelly shocked the heck out of me as she stabbed herself instead of her lecherous, cold-hearted, bastard of a husband.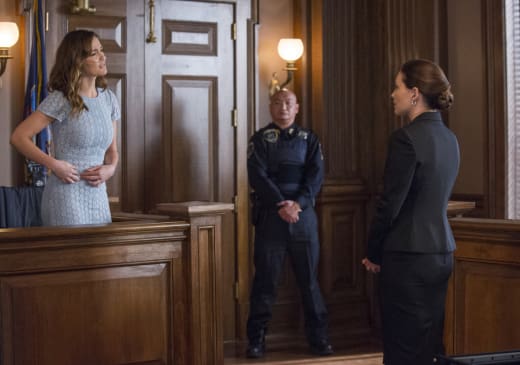 Should Cara have murdered Marcus? Of course not, and yet there was some part of me that was rooting for her to get away with it.
Unfortunately, greed was Cara's downfall and that pair of rubber gloves. I knew the moment she shredded them that they'd come back to haunt her. 
We saw changes in almost every character, and TAC itself.
Marissa: I had no idea that the famous Dr. Jason Bull can be bought.
Bull: For a quarter of a million dollars, not only can I be bought, you can gift wrap me.

Last season it appeared as though TAC was highly profitable, without a care about making the bills, so it was nice to see Marissa schooling Bull about not only how much everything costs but how all of his luxuries add up and affect their bottom line.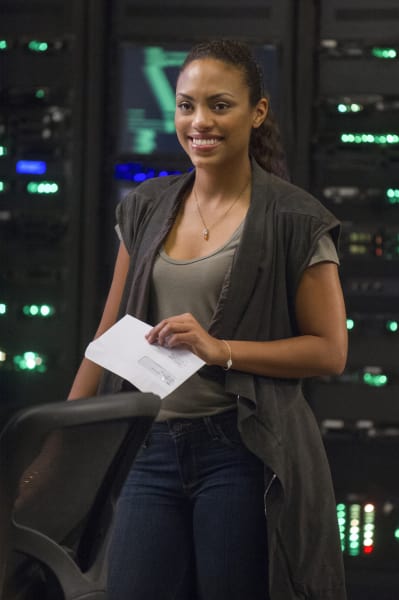 I liked how Danny didn't cower when Bull lost his temper but came back at him about being rushed to research too many jurors with too little time. It could be far too easy for the incredibly intelligent Dr. Jason Bull to become a bully if he didn't have smart people willing to stand up to him when he was wrong. 
Chunk's going to law school, and I'm not sure how I feel about that. I really enjoyed Chunk focusing on how a person's appearance affect the way the jury feels about them, and I hope we don't lose that entirely. 
One small nitpick, and it is tiny, but why would Marissa be just as shocked as everyone else about the checks at the end? Whether they were bonuses or raises wasn't clear, but as the person who does the books for the Trial Analysis Corporation, wouldn't she know they were all getting those checks ahead of time?
Give me a stupid genius over a smart idiot any day.

Diana
It's far more entertaining to see that Jason Bull can be both stupid and the most intelligent guy in the room, and perhaps it is most realistic that he is most prone to foolishness when it comes to the woman he's sleeping with. I won't call it love, because I'm not sure it's there yet...and not 100% certain it ever will be, but I think I'm going to enjoy finding out.
Bull Season 2 has stepped up its game. It's smarter, edgier, and far more exciting. 
I can't wait to review Bull Season 2 Episode 2 next week and might even re-watch Bull online here at TV Fanatic. 
Let me know what you think TV Fanatics. Was this a better Bull? 
Time to grade Bull Season 2 Episode 1! 
C. Orlando is a TV Fanatic Staff Writer. Follow her on Twitter.