Netflix Makeup Designer Dishes On Bringing The Defenders To Life
Paul Dailly at .
Netflix recently debuted The Defenders which brings Daredevil, Jessica Jones, Luke Cage and Iron Fist together to fight a common enemy. 
TV Fanatic had the pleasure of chatting with Netflix's go-to makeup designer whose team works across the Netflix Marvel TV universe. 
TV Fanatic: How did you and your team come to be involved with Marvel TV Netflix Shows?
Sarit Klein: I was on another show when the Daredevil producer called me. Stephanie Maslansky, our costume designer who I've worked with before, recommended me. In the interview, they mentioned they are going to be doing five shows over a period of three years and asked if I would be interested in doing all shows.
Can you expand on the process of bringing these iconic characters to life through makeup?
Creating a character is a big collaboration with many departments involved. We pay attention to the comic books, the classic stories. From there we try to modernize them, bring them to the 21st century and create realistic, down to earth characters that have flaws. 
Once the tone and the color palette of each show was decided upon, we had makeup meetings to discuss each character's look. I designed a "no makeup" look for the main superheroes. Although in reality, they have makeup on, it comes across as very realistic. 
For example, on Jessica Jones, Krysten's lips are very pigmented, there is no need for lipstick or additional color (that would distract from Jessica's "don't care about her look" attitude) so we kept it as natural as possible and used only cherry Chapstick on her lips on Jessica Jones and on The Defenders.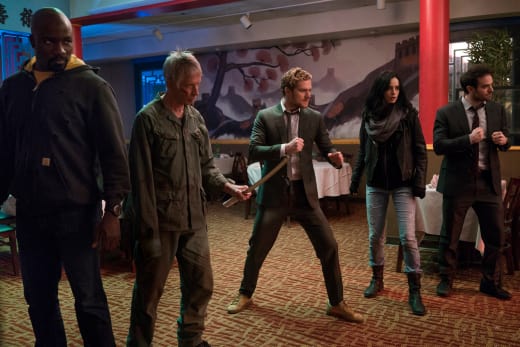 How important would you say makeup is in enhancing characters and their evolving storylines?
I believe that makeup is extremely important and it can be an integral part of the actors' process as well. For instance, on Iron Fist, we needed to groom Danny Rand's homeless beard on episode 3. Finn and I discussed what length makes him feel comfortable. On Daredevil, creating battle wounds and scars for Matt Murdock is a major role in his evolving storyline.  
I'm assuming you used a lot of injury makeup because of the fights that break out on-screen for the characters. 
Oh yes! A lot of the injury makeup is discussed in advance in prep once we know what the stunt sequence looks like, who gets punched and where on the body. Some wounds were created on set from out-of-kit materials and some we prepared in advance.
What techniques do you use to show the audience aging on a character?
Madame Gao is a character that is aged on the shows. We don't know her exact age, all we know is that she is a few hundred years old. 
The aging technique I use on this character is stretch-and-stipple. I like to use the W.M. Creations Old Age Stipple; I use the Crusty Stipple that creates the heavily weathered skin. We then hand paint age spots and dif marks. It's a two-person job.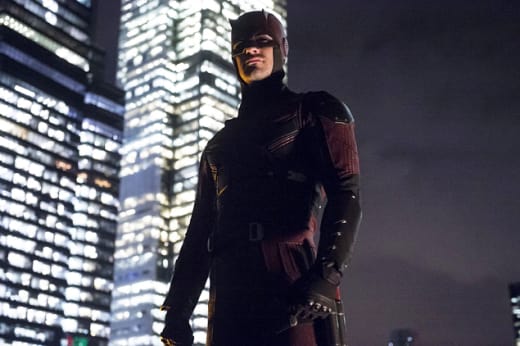 With Danny Rand having tattoos, did Finn spend the most time in the makeup chair?
Out of the four superheroes, he spent the most time in the chair on days you saw the tattoo and scars unless we had shirtless Daredevil. He wins that contest. Madame Gao spent the most time in the makeup chair. We aged her for about an hour. 
On a shooting day, how long do the actors generally spend in the makeup chair?
It all depends on the day and the scenes that we are shooting. No day is like the other. The guys usually take the least amount of time in the chair, depending on what we are shooting. For instance, some days we have scenes with Charlie Cox as Matt Murdock, so he only gets a bit of makeup, and we groom his beard.
Some days Charlie is Daredevil and needs to be shirtless, which means covering his tattoos and adding scars from previous wounds. He may also have fresh cuts and bruises. All of that could take up to an hour.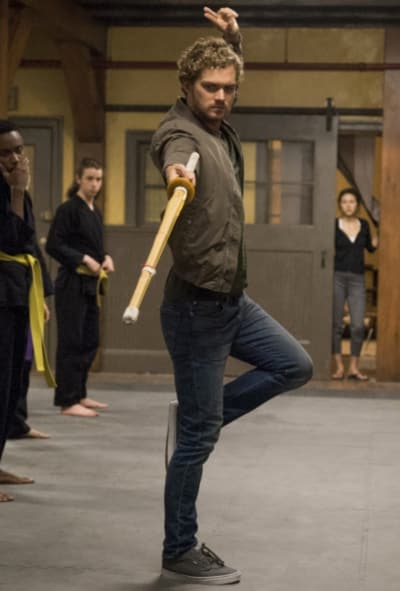 What are your favorite products to use when creating a look for one of the characters?
I have many favorite products! It all depends on the character I am working on. For starters, good healthy skin is essential hence skin care is very important to me. I lean towards organic, vegan, cruelty-free lines such as Tata Harper, Living Libations and Skyn Iceland. I love Dermalogica; they come out with new products every couple months that our actors and I are obsessed with.
I also prefer to wash my brushes and beauty blenders with Dr. Bronner Pure Castile Liquid soap in lavender rather than using brush cleaner. 
I recently discovered Vapour Organic Beauty, an organic makeup line with great primers, beautiful eyeshadow, and lip colors. I also love the Tata Harper Volumizing Lip and Cheek Tints and Clinique Chubby Sticks.
I love FACE Atelier Ultra foundations. Great pigment, long lasting, no powder needed! Their system is so user-friendly, they have adjusters that you can use to warm or cool a shade. I use the color Heat on Mike Colter (Luke Cage) to warm up his skin before I put makeup on. 
What advice would you give any budding makeup artist looking to break into the industry?
The entertainment industry is always changing, and there are a lot of makeup artists out there. Present yourself professionally. 
Always broaden your knowledge.
Know that everyone is replaceable so stay humble and grateful.
Appreciate every opportunity that comes your way, you don't know where it will lead you next or who you meet that can hire you for the next job. 
If you want to see any of Sarit's work, you can follow her on Instagram and Twitter. 
Watch The Defenders now on Netflix!
Paul Dailly is the Associate Editor for TV Fanatic. Follow him on Twitter.