Elite: The Lies Continue to Mount in Season 2 Trailer
Paul Dailly at . Updated at .
The teenagers at the helm of Netflix's sudsy Spanish teen soap Elite clearly didn't get the memo that lying leads to some messed up $hit happening. 
"Secrets don't stay secrets for very long, do they?" is said on the teaser for the sophomore season of the series.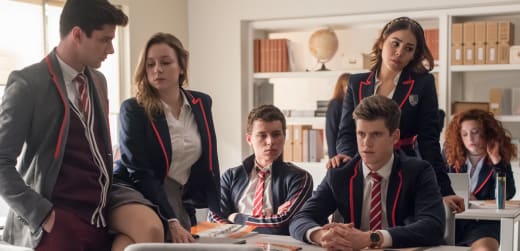 Samuel is out for revenge after his brother has been incarcerated for the murder of his girlfriend Marina.
He vows to go to any lengths necessary, making for a formidable foe for all of the students at the Gossip Girl-esque private school that was the basis for much of the drama on Elite Season 1. 
Related: Elite Renewed for Season 2 at Netflix
The issue is that none of the students seem remotely enthused by the idea of Samuel returning to the school. 
The people who know the truth don't want him there and the people who think his brother murdered the most popular girl in the school want him well away from the area. 
Will Samuel be able to unmask the actual killer before his tenure at the school comes to an abrubt conclusion?
Related: Orange is the New Black Canceled After Seven Seasons
If this teaser is anything to go by, then Polo, the person who carried out the heinous deed is trying to keep his cover by acting like the snobby teenager he acted like throughout Elite Season 1. 
But cracks will likely start to appear, and that could be his ultimate downfall. 
Guzman will also be out to find out the truth, and unfortunately for him, he has no clue that his BFF is the one who killed his sister. 
It's a convoluted web of deceit but it will surely make for a dramatic second season. 
Watch the full trailer below and hit the comments with your thoughts on it. 
Elite Season 2 debuts September 6.