Outlander Season 3 Episode 7 Review: Creme De Menthe

Elizabeth Harlow at . Updated at .
Sexy time is over folks!
And after Fergus' big reveal about Jamie's secret on Outlander Season 3 Episode 7, I wouldn't cross your fingers that it'll be back very soon. 
It's a good thing there's more to Outlander than sex right?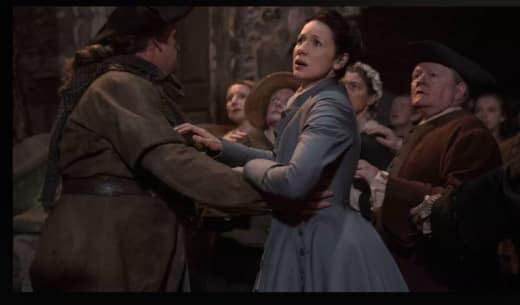 Don't get me wrong, I love a good shot of Sam Heughan's bum as much as the next girl (I'm still mad that it took so long for a tush shot during Outlander Season 3 Episode 6), but eventually, you have to get to the exposition. 
And boy was there a lot of it! Since so much of the 80 minutes of Outlander Season 3 Episode 6 was spent in the boudoir, a lot got crammed into this one. 
There was more than just moving the plot forward, though. Ian Murray's arrival prompted the revelation of some of Jamie's closely-held resentments. 
Christ. I'd forgotten how bloody rigid this century is. A woman is either a Madonna or a whore.

Claire
Obviously, there were going to be some adjustment pains for Jamie and Claire. If they were just going to live happily ever after with a print shop and a medical clinic in Edinburgh for the rest of their days like Claire was fantasizing, this would have been the series finale.
And nobody wants that.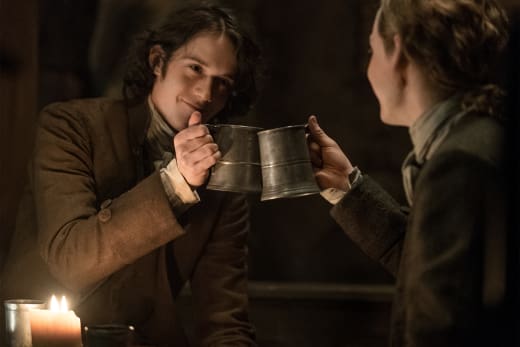 I was most excited about Ian's return, even if it was brief. He set off the scene with the most emotional payoff, and his appearance means we're one step closer to having Jenny back.
Claire: And you just lied.
Jamie: Aye. And you shouldna judge me for it. Have you forgotten about all the deceptions we've colluded in? Yeeah, we lied our way through Paris, did we not? Did we not just lie to Ian about where ye've been for the past 20 years?
Claire: A white lie to conceal something Ian can't possibly understand--
Jamie: Oh I didna realize lies had shades.
I really loved that Claire, who had been so nervous about how Jamie would react to her grey hairs and aged body had absolutely no problem taking him to task for his deception of Ian. I mean, I get WHY he's doing it, but Claire is in the right on this one. 
Besides, trying to recapture the opportunity for fatherhood with your nephew and using that opportunity to let him do whatever he likes so that he thinks you're cool is just never going to be okay.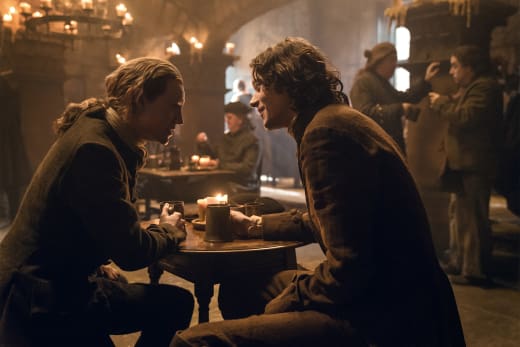 Since so much is revolving around Young Ian, it's a good thing that he's turned out to be a pretty honorable lad, which is saying something with Fergus and Jamie leading him astray so often. 
Fergus: The art of seduction can be mastered thus. First, you must look into her eyes and tell her how beautiful she is. Second, offer her a drink, whatever her heart desires.
Young Ian: Simple enough.
Fergus: And the pìece de résistance is perhaps the most important part.
Wee Ian: What is it?
Fergus: Repeat one and two.
I want to like Fergus and Young Ian's relationship. But I just can't be comfortable with a 30-something arranging for a teenager to get laid.
Fergus, who I was ready to adore, kept acting like the high school football star who busted a knee his senior year, never left his small town and spends all his time buying beer for kids, trying to relive his glory days even though he's lost half of his year.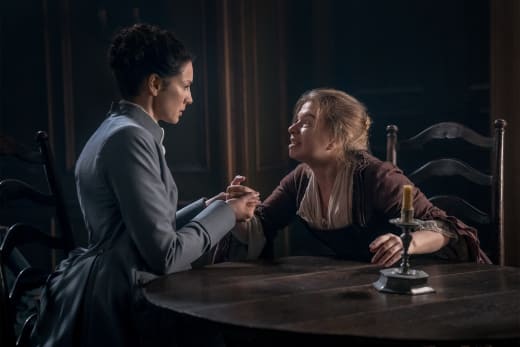 Except, ya know, Fergus is still hot. 
Young Ian: How old were you when--
Fergus. Fifteen. A ménage à trois.
Young Ian: A what?
Fergus: Two women and one moi.
Young Ian: Christ.
Fergus: It was a rather religious experience.
Even more upsetting than his behavior with Ian is his less than full-throated loyalty to Claire.
If I step back and think about it objectively, it probably shouldn't be surprising. Claire was part of his life for only two years or so when he was a kid. And then she disappeared. After 20 years, memories fade and distort. How accurately do would any of us remember that?
But screw objectivity, it's only been a year for us, she was basically his mother, and why is he gossiping with Young Ian about her, even if it is his cousin?
Fergus: Milady was fearless in the battles prior to Culloden. She would heal men who'd been cut in half by swords, blown to pieces by cannon fire...without flinching. She saved many lives, though there were rumors.
Young Jamie: What kind of rumors?
Fergus: That Milady took a few lives as well. She's not a woman you want to cross, mon ami.
Somehow, Young Ian, who also knows about Jamie's new wife and presumably would have some kind of relationship with her that would trump fantastic stories of a woman's presumed dead, had the response that should have been coming out Fergus' mouth. 
And he started off thinking she was a whore and then a fairy. 
Young Ian: If Auntie Claire was forced to kill men, likely they deserved it.
Fergus: Even so, she has created a bit of a catastrophe, no?
At least someone respects Claire. Jamie may love her, but he's having a bit of a struggle remembering she's not exactly as docile as other women of his era.
I mean, in what universe would Claire refuse to help a wounded person? Remember how she tried to save the Comte back in Paris? He had tried to kill her too, just not as effectively or personally as the scary bald guy. 
The only person that she was ever willing to let die was Black Jack Randall, and even then she negotiated a stay of execution. What was Jamie thinking? 
Claire: I can't let him suffer. I have to do something.
Jamie: Why? He attacked you.
Claire: Because I'm a doctor.
I'm expecting that Outlander Season 3 Episode 8 will feature some serious fighting between our two lovers. Not only because of Jamie's impending revelation (which will not go over well) but because they still haven't worked out any of their other issues. Madam Jeanne really has the worst timing. 
I mean, yes, it was vital that they get to the print shop to rescue Young Ian (and that terrible cartoony portrait of Willie), but they were just about to have some real breakthroughs about their time apart! Somehow I don't think anything will be truly resolved at Lallybroch.
I can't help but wonder: will Jenny side with Jamie despite his deception about her son, or Claire despite her deception about her own death?  Also, when will Claire get a second outfit? 
Ian: It is you lass. We thought you were --
Claire: I know. I know what Jamie told you. He thought I'd died in the aftermath of Culloden.
Ian: Jenny and I...we grieved over ye for years.
While I can't wait for "First Wife" and the return of Jenny, Ned Gowan, and so many others, there's still so much to discuss about "Creme de Menthe!" Let us know what you thought down in the comments section!
And remember, if you haven't had a chance to see it yet, you can always watch Outlander online and read our past reviews to catch up!
Elizabeth Harlow was a staff writer for TV Fanatic. She left the organization in October 2018.