Scorpion Season 4 Episode 4 Review: Nuke Kids on the Block

Allison Nichols at .
Junior intern Cabe Gallo was severely underused during the mission.
On Scorpion Season 4 Episode 4, Cabe was demoted to junior intern of Team Scorpion, due to his (temporary) loss of Homeland credentials. It's a little disappointing that not more jokes were made at his expense. 
He could have been a fun way to lighten things up, especially if people other than Toby picked on him. Let's face it, Toby was the obvious choice, but Walter had to have jokes up his sleeve too. Granted, they would have been terrible but still.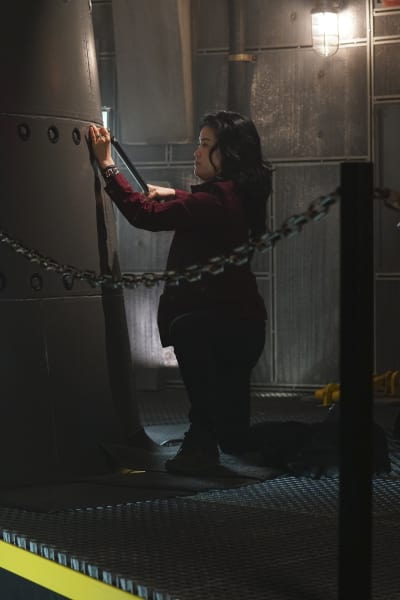 The air force guys could have cracked a couple of jokes or something. Hopefully, this isn't the last time we see that junior intern badge. 
Speaking of Cabe, it's really sweet that Sly decided to step up to be Cabe's lawyer. This will be a fun way to explore not only the sure to be an intense legal battle ahead of Cabe but also the bond between Cabe and Team Scorpion.
Cabe's legal battle could have been something that was off to the side, only mentioned now and then, but instead, it's going to be a prominent part of this season. It's going to be a lot of fun watching Sly become a lawyer.
Hey, I'm sure Team Scorpion will need a lawyer somewhere down the line. It's not like they don't get into trouble constantly or anything.
Is anyone else hoping that Patty somehow joins the fight? She whipped Sly into shape for his role as Alderman, and I feel like somehow she will have a wealth of knowledge on how to win a court case, smooth talk the jury, or something. 
She is a crafty individual.
Toby you said so yourself, we will never find a lawyer that cares about Cabe as much as we do. Well, I care about Cabe. I will scour every law book and memorize every archaic regulation to protect him. I can do this.

Sly
Okay, I know Happy's a genius and therefore reacts differently, but her anger towards Paige got annoying really quickly like basically the moment it happened.
There had to be some better way to get Happy and Toby talking about kids. There just had to because this way made the whole case really uncomfortable. Anytime Happy or Paige made any comment about the other one, I rolled my eyes.
There were parts where it came off like the issue was Happy wasn't sharing Walter, which brought flashbacks to Walter and Happy being married, and not in a "wow wasn't that random and hilarious" kind of way.
It was not good, you guys. Don't you agree?
Petty jealousy was not the issue here, but that's what it was played off to be, as Happy masked and attempted to process the real reason why she was hanging out with Walter, Ralph, and Paige so much.
Now I'm weak and emotional, and it's all because that waitress came to Scorpion. If Walter hadn't hired her, I wouldn't be feeling things right now!

Happy
It would have been better if we saw more of Walter asking or encouraging Happy to tag along. His comment about being afraid to be alone with Paige because it would end their relationship was cute and sweet.
That's more of what we should have seen during this storyline, not the uncomfortable sarcasm and anger.
Walter's continuing to worry about messing things up with Paige. He's running through worst-case scenarios, trying to stop each of them from coming true.
All of this worry shows how much Walter cares about her, and how much he wants this relationship to work. We know he's invested, and so it would be nice to focus a bit more on Paige's views and concerns about this relationship.
Yes, Walter's low EQ is the main "threat" to Waige, but Paige can derail the relationship all by herself. I'm not saying I want that to happen or anything, but it's about time to focus on something other than potential ways Walter could ruin Waige. 
Walter: I'm nervous to be alone with you.
Paige: You've been alone with me hundreds of times. What could you possibly be nervous about?
Walter: My biggest fear is being in a restaurant, droning on about genius things, and then looking up at your face and then seeing boredom. It happens after a few weeks of every relationship I've been in, and then they end, and I don't want this one to end.
Paige: Walter, we are not a few weeks into our relationship. We are three years in. I know you.
They are more entertaining than the minefield they are operating in. Let's see more of them being adorable, like with the train wreck of a dinner. Instead of focusing on everything that could go wrong, let's give Waige some time to be happy.
I'd also settle for some adorable Walter and Ralph moments. What would you like to see, Waige-wise?
Back to Quintis, it was cute that Toby figured out what was really going on, and he assured Happy that everything she was feeling was normal. This is why I love them.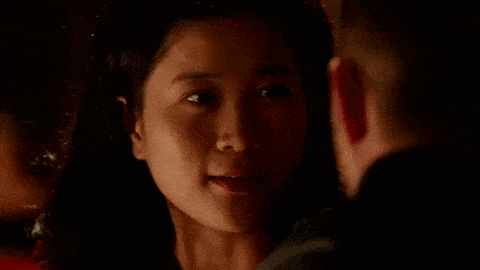 Toby helps Happy not to be afraid or ashamed of what she's going through. He encourages her that she's okay, and then he is adorable when Happy proposes having a baby. Is it too soon to start thinking about baby names?
What did you think of the episode? Share your thoughts in the comments below.
Remember you can watch Scorpion online anytime via TV Fanatic.