The Flash Season 4 Episode 1 Review: The Flash Reborn
Andy Behbakht at . Updated at .
Barry Allen is officially reborn and recharged in the new season of The Flash.
There has been a lot of talk about how The Flash Season 4 Episode 1 would be like a soft reset for the show. It didn't feel completely like a reboot, but I enjoyed that it was a brand new chapter.
I don't know how I would have felt if Barry had been gone for more than one episode. It would have been intriguing to see what the show would have looked like, but it was probably the better move to get Barry out of the Speed Force in the premiere.
I want to get right into The Flash feeling optimistic and fun again.
And it was so much fun to see Iris as the new team leader. I wish the writers had figured out a way to give her a bigger role earlier in the series.
The strongest element of this episode was how realistic it felt in terms of everyone's state of emotion. Some had moved on quicker than others while some were still healing.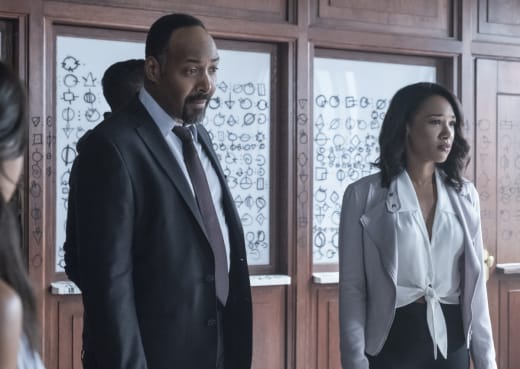 It was hard to understand why Iris was protesting the idea of trying to get Barry out of the Speed Force, but soon it became very clear why she was against it.
Who wouldn't afraid of getting your hopes up only to lose them in case the plan hadn't worked? I sure would have been afraid!
The way they got Barry out of the Speed Force was interesting. Are we meant to believe that the Speed Force, this powerful source, is going to be completely stable now just like that?
Normally, I would have problems with it. But because I want to leave The Flash Season 3 behind, I'm suspending my disbelief with this one.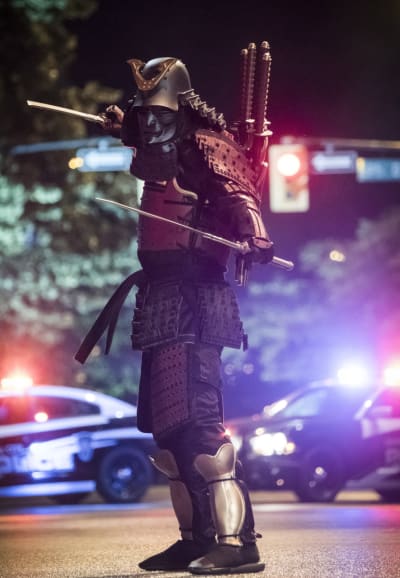 It was just painful enough to see that Barry was punished by having his sanity toyed with. Grant Gustin brought his A-game once again with his powerful and heartbreaking performance.
I'm a sucker for great Iris/Barry moments, and the premiere didn't disappoint. Seeing Iris risk her life knowing that it would get Barry to snap out of his doldrums was one of the best moments.
It is amazing whenever The Flash reminds its viewers how Iris is Barry's lightning rod. That is why their love stands out from all the other couples in the Arrowverse.
Caitlin was one of the biggest mysteries that left me wanting answers right away. I really liked her having an edgier side after everything she went through. 
It was bizarre, though, to see Caitlin with a cold gun just because I miss Leonard Snart. But it was at the end where my eyebrows went up like crazy.
Can Caitlin now shift between herself and Killer Frost? It all depends on where they go from here because God knows where this might lead.
I choose to believe that they have a clear destination for her in The Flash Season 4. I'm going to throw out a suggestion, and you can let me know what you think.
What if Caitlin is literally lost about her identity? That could be the reason why she is shifting between Frost and herself.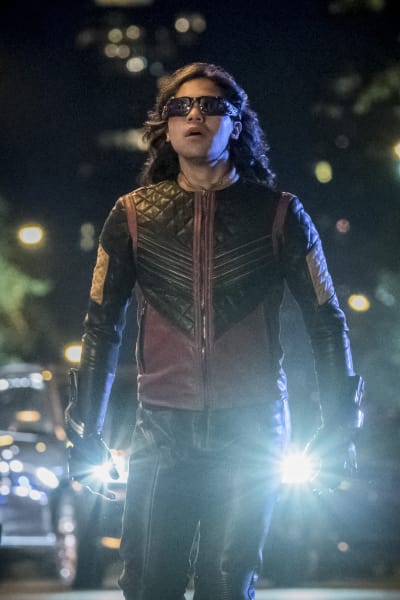 It would be symbolic and empowering if the only way for her to get in control is by choosing her identity. I would be game if that is the road they are taking.
Let's talk about our new villains The Thinker and The Mechanic. I really didn't think they would make DeVoe look so close to his comic book design, but I'm thrilled they did!
The fact that we don't have to deal with a masked villain in The Flash Season 4 is why I'm so excited. Not only is he not a speedster, but he is a different villain altogether.
It will be a cool change that we will have a female villain, too, in The Mechanic. Overall, I loved how sci-fi their lair looked and very comic book-y.
Overall this was an incredibly strong season premiere. It had humor and a lot of heart with lighter emotional moments. 
It feels like a new chapter for The Flash while also returning to elements that made us fall in love with the show. I can't wait to see where they go next in the coming installments.
Now it's your turn to let us know what you thought about The Flash Season 4 Episode 1. Did you love seeing Iris as the new team leader?
What do you think is going on with Caitlin? Are you thrilled that Barry is back? Are you looking forward to seeing The Thinker?
Remember you can right here watch The Flash online via TV Fanatic!