Scandal Season 7 Episode 7 Review: Something Borrowed
Paul Dailly at .
Wait... that was it?
On Scandal Season 7 Episode 7, we finally found out who was involved in Quinn's disappearance, and it was somewhat disappointing.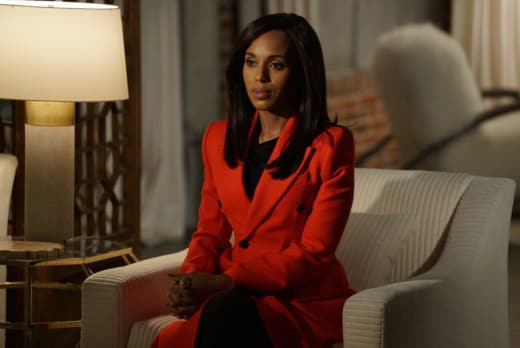 Rowan being involved was predictable. That man has long been one of the most problematic characters on the series, and it's now at a point in which I cannot take any of his scenes seriously. 
Can Olivia just give him his bones and send him out of town? Better yet, can she just get him killed? He's one of those characters who is beyond redemption. 
Kidnapping Quinn just to get back at Olivia was a silly move, and it proved this father-daughter duo needs to stay apart, or they run the risk of killing each other. 
The conclusion was frustrating. Leaving Quinn's fate up in the air was absurd and nonsensical. An hour that should have been filled with shocks culminated in some muffled screams as Rowan tried to imply to Olivia that he killed her.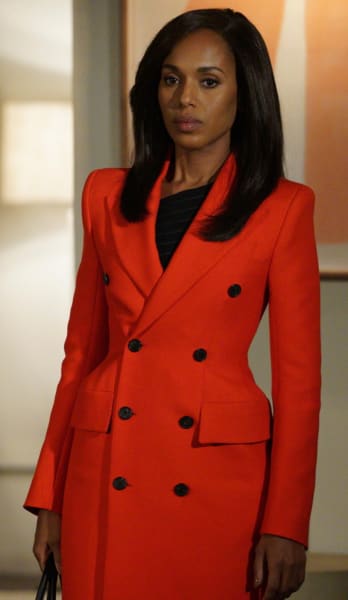 What's more, Olivia did not even go into the room to save her friend. This is yet another reason why Olivia is the worst. 
Her humanity shone on through when the gunshots were heard, but she was thinking about her mother's advice to let Quinn die before acting. 
Yes, Mama Pope was back and she was as sassy as ever. Wouldn't it have been a much better reveal if she was the one to have Quinn?
It probably would not have been possible considering Olivia has her mother under lock and key, but it would have been much more satisfying than Rowan being involved. 
Seriously, the dude needs to go. He's lived a few seasons more than he ever should have when you consider the sheer amount of crap he's put everyone through.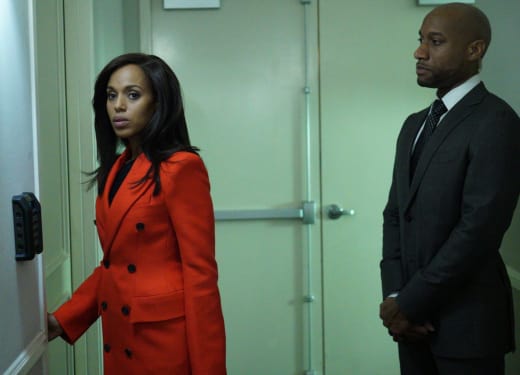 I can't be the only one who loves the one-liners between Rowan and Olivia. They must look like a right pair when they meet for their dinner dates. 
There's eye-rolling, excessive wine drinking, shouting matches and always someone storming off. Olivia is someone who likes to assert her power, and that's precisely why she continued to yell that she was in control. 
She does not want to give Rowan the satisfaction of thinking he has the upper hand, and that's part of the reason why she keeps letting loose on him. 
It's difficult to assess whether Olivia would want to turn back time and not have taken the bones, to begin with, because she would still have to do something to keep Quinn quiet. 
I felt for Charlie. The poor man may have gone to extreme measures on Scandal Season 7 Episode 6 with Fenton, but all he wants is his wife-to-be back. 
In his mind, she's already dead, and maybe that's a coping mechanism for him, but he won't get much in the way of closure until he finds out the truth. 
Curtis being "kidnapped" was another plan that came from the wicked minds of both Jake and Olivia. Curtis has already made it clear he will stop at nothing for a good story, and that's why Olivia is so scared of him. 
He influences the media and can quickly get a bunch of people on board with whatever angle he's playing, but he will likely never be on TV again. 
When Olivia and Jake shoot, they hit the target, and it's hard to imagine them keeping Curtis alive. He was likely dead and buried within the first fifteen minutes of going missing. 
Jake is loving having dark Olivia all to himself, and that's why he reached out to Rowan. It was a mere power play to let the man who used to control him know that his daughter has surpassed him in all aspects. 
Jake is getting so close to Olivia, but their relationship will never extend beyond the state it is now. Their acquaintances who will kill together, but they could never be together romantically. 
Will Olivia getting too close to the dark side, I'm guessing the second half of Scandal Season 7 will involve her returning to the light and fixing the relationships she let go. 
There's no point in worrying about Quinn. Scandal may be dark, but I find it hard to believe she would be killed off-screen if she was indeed departing. 
The cliffhanger was a lazy way to keep viewers talking about the show, but it will be for all the wrong reasons this time. 
"Something Borrowed" was a tedious episode of this ABC drama series. They just don't make twists the way they once did, and it's sad. This show is approaching its end with a whimper as opposed to a bang. 
Over to you, Scandal Fanatics! What did you think of the episode?
Sound off below!
Remember you can watch Scandal online right here via TV Fanatic. Get caught up now. 
Scandal returns January 18 on ABC!
Paul Dailly is the Associate Editor for TV Fanatic. Follow him on Twitter.