The Brave Season 1 Episode 8 Review: Stealth

Lisa Babick at . Updated at .
It's a good day when our heroes can ride off into a stunning sunset, mission accomplished.
But the entirety of The Brave Season 1 Episode 8 was one helluva nail-biter when the team headed into Chinese territory old-school style to get a piece of a crashed Russian drone.
It's hard to imagine doing anything old-school nowadays with all of the technological advancements at our fingertips, but Dalton and team had no choice if they were to be successful.
Patricia wasn't too fond of the team having to go dark either, but had they been caught in Chinese territory, it would have been a diplomatic disaster.
What was scarier was that a similar Russian drone had entered U.S. airspace undetected kicking off the mission and making retrieving a piece of the drone that crashed in China so crucial for U.S. intelligence.
There was a time factor involved as well. Dalton and team needed to get to the drone before the Russians could erase all signs of it.
The mission was intense before they even got on the ground, but the team once again proved how well they work under pressure.
They barely disappeared into the tall grass when the Russians showed up. The mission could have had a completely different outcome if one of those soldiers moved just an inch the other way.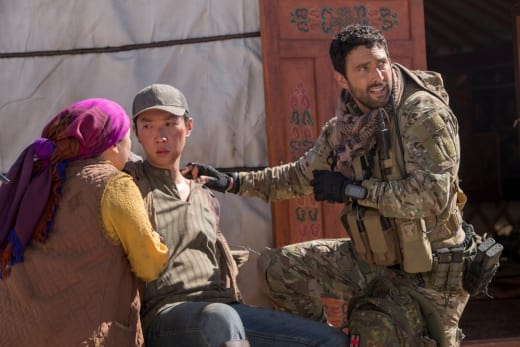 I can't even imagine what it was like having an enemy's boot so close, but if their hearts weren't pounding, mine sure was. It was all too close for comfort.
I don't know if Amir was afraid his watch was going to go off and beep away, but he seemed relieved to be able to get it off his wrist and chuck it once the soldiers moved on.
Amir is a smart guy, so I'm surprised he didn't leave the watch with the Mongolians back at the village. It was a mistake he'll never make again. Guaranteed.
Dalton proved what he's made of when he faced-off against the Russians. He had everything under control even when the convoy stopped after the Russian heard a noise in the back. 
He didn't panic when they investigated, but it was not a good sign when he lost his gun before having to jump out of the vehicle. It was just his luck that the Russian looked in the mirror at that exact moment, but they knew the Americans were there, so they were extra cautious.
The entire sequence between Dalton and the Russian was one of the best of the series and extremely well-executed. The hour as a whole played like a movie instead of a TV show, but that sequence drove that feeling home.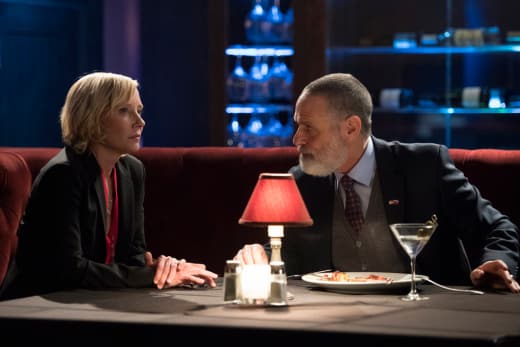 Dalton didn't have a chance to breathe before the Russian was on him, and even though I knew Dalton couldn't possibly die, my heart was still in my throat when they were fighting for the knife because it could have gone either way. 
And he wasn't out of the woods after killing the Russian soldier because there were others on his tail and they weren't about to give up. They wanted the American dead. 
How cool was it when the team came out of the grass to save Dalton? It was like watching a momma lion rise to protect her cub. I got chills watching that scene.
As much as I loved the intensity of the hour, I also enjoyed the lighter moments. Amir has shown that not only is he multi-talented, but he's also got a great sense of humor. He may be the funniest of the bunch.
You three would make terrible spies. You'd be dead in a month, or "smoked" as you would say.

Amir
Riding their horses to and from the battlefield gave them a great opportunity to bond. A family that rides together stays together.
I also liked that we came back to the unresolved cliffhanger of The Brave Season 1 Episode 1. We never learned about the truck bomb and what happened to everyone on the beach, but it looks like we're going to learn more about it on The Brave Season 1 Episode 9. 
And it's also going to tie into the big, bad Russian guy who is still on the loose.
Considering that the past eight episodes have blown our socks off, I can't imagine what the Fall Finale will bring, can you?
What did you think of "Stealth"? What did you think of our heroes riding off into the sunset on horses?
Were you worried at all about Dalton? Did you feel like you were watching a movie instead of a TV show?
Hit the comments and share your thoughts!
If you need to catch up, you can watch The Brave online right here via TV Fanatic.
Lisa Babick is a staff writer for TV Fanatic. Follow her on Twitter.