The Good Doctor Season 1 Episode 7 Review: 22 Steps
Kaitlynn Smith at . Updated at .
The Good Doctor delivers its best and most emotional installment yet with "22 Steps." 
On The Good Doctor Season 1 Episode 7, Shaun meets another person with autism but is hurt when the boy's parents do not want him to scrub in on the surgery. Meanwhile, Jared bonds with an older patient who has lost the will to live.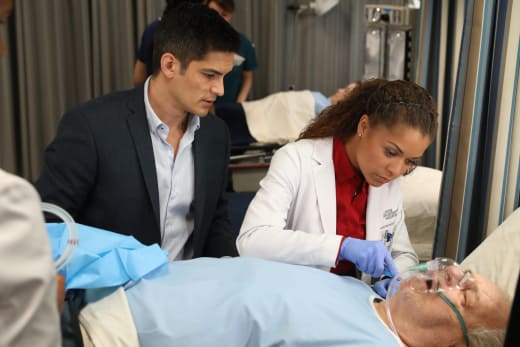 It would be irresponsible of me if I did not start by mentioning Paul Dooley's appearance as Glenn.
Dooley is an incredible actor who has appeared in so many wonderful shows (Parenthood, ER, Grey's Anatomy) and films (Sixteen Candles). As soon as I saw his name as a guest star, I knew we were in for a treat. 
Dooley always brings a certain warmth to his roles. Watching him in any part is comforting to me, and this performance was no different.
The scenes between Glenn and Jared broke my heart. Watching Glenn die at the end made me cry harder than I have in any previous outing of the series. 
Glenn: I told you my wife died. The truth is, she left me. But I gave her good reason for that so I got what I deserved. But you didn't get what you deserved: good parents who loved you. They were lucky to have you, Jared.
Chuku Modu's Jared has quickly become one of my favorite characters. Modu's acting is getting stronger with each new episode, and as we see Jared bonding with his patients, I find myself drawn to him. 
I love that the focus has shifted to feature more of the ensemble. Claire and Jared get adequate screen time, and the audience can know them as more than just the people who originally ostracized Shaun. 
Shaun Murphy is a fantastic character to watch, but getting to spend time with the other characters, and being allowed to like them, makes the show more enjoyable as a whole.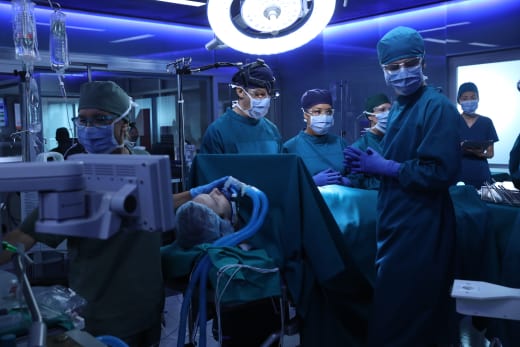 One of the biggest complaints I have seen about the series from people with autism or parents of children with autism is that Shaun falls into the autistic savant trope.
People with autism are rarely portrayed in television shows and movies. Since the film Rain Man came out in 1988, when a character with autism is featured, they usually exhibit savant tendencies. Savant syndrome, though, is extremely unusual in the real world. 
He's not psychotic. He's autistic.

Dr. Shaun Murphy
I am glad the writers decided to feature a character with autism who is lower functioning than Shaun, and I'm even happier that they cast a boy who actually has autism for the part. 
Coby Bird, an autistic actor, did an incredible job as Liam. Bird only has a few credits to name, but his portrayal was harrowing and unforgettable. I imagine his resume will grow after this wonderful appearance. 
As frustrating as it was to see doctors who did not trust Shaun at the beginning of the series, I was angered even more by the behavior of Liam's parents. 
Their refusal to allow Shaun into the operating room was shocking to me.
Since I am not a person with autism or a parent of an autistic child, I cannot adequately speak about how I would feel in their situation. However, I imagine I would be happy to see someone with autism who is successful in his career as a surgeon.
I can tell you he has my complete confidence.

Dr. Neil Melendez
Shaun may not have been able to calm Liam down for the MRI, but he was able to understand Liam in a way that no one else has. He also noticed Liam's red eyes and correctly diagnosed the problem while Drs. Melendez and Browne missed it. 
It seems that they would be more accepting of Shaun as their child's doctor because of that. 
If you have a child with autism, I would love to hear your thoughts on the subject.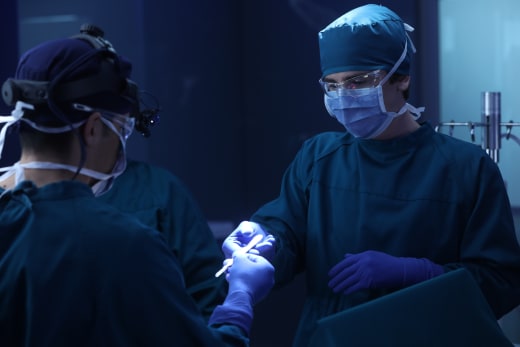 This episode was light on the flashbacks, which made me happy once again. The show now employs them only when the moment indeed calls for them. 
The silent flashback to Shaun holding the toy scalpel from his brother while being handed the real scalpel from Melendez was powerful and tear-inducing.
It was a subtle nod to how far Shaun has come since he was living on a bus and how much Melendez has learned to trust his abilities as a surgeon. 
Shaun: It's not possible.
Neil: That's the first time I've heard you say that.
Claire's unresolved psychological issues about the patient she lost was another highlight, and I look forward to seeing how this storyline plays out in the future.  
Antonia Thomas nailed Claire's masked emotions and guilt. It was believable but heartbreaking to watch, and I was overjoyed to see her find comfort in Jared. I am starting to love them as a couple.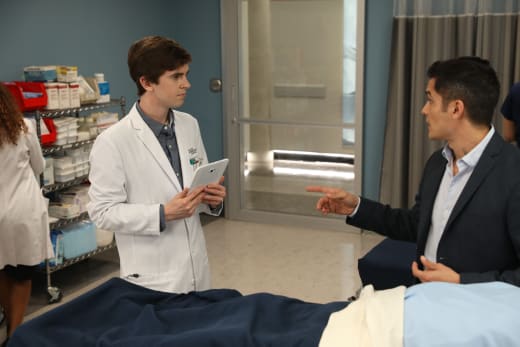 "22 Steps" is my favorite hour of the series so far. 
The Good Doctor seems to have developed the perfect formula for acting, character development, writing, and pacing to make the show emotional and easy to watch. 
You can watch The Good Doctor online! Once you do, share your thoughts on this episode with us! Did you think it was the best of the season too? What did you think of Liam's parents? 
Kaitlynn Smith was a staff writer for TV Fanatic. She retired in May of 2018.